Do you want to visit the Algarve? You probably have a lot of questions…
What to do in the Algarve? What are the best things to do in the Algarve? What's the weather like in the Algarve? How to get there? You'll find the answer to these and other questions in this article.
Read on and we will even share some secret places only the locals know.
Why visit Algarve?
The Algarve is considered by many to be the "Florida of Europe"! A sunny place, located in the southern part of Portugal, cheap, safe and relaxing.
Chances are you have heard about the Algarve. That's no surprise, given the notoriety of the region, not only amongst the Portuguese but also amongst tourists from abroad.
Thousands of tourists visit Algarve every year
Every year, thousands of tourists visit Algarve, coming from the UK, US, Germany, France, Norway, Sweden, and many, many other countries. The majority fly directly to Algarve Airport (Faro Airport), but given the excellent web of motorways in Portugal, you can reach the Algarve in about two hours from Lisbon by car.
See here how to rent a car in Portugal.
Algarve is considered the Florida of Europe
Recognized as "The Florida of Europe," the Algarve is located in the most southern region of Portugal. That means that the Algarve weather is even better than in the rest of the country.
The Algarve coastline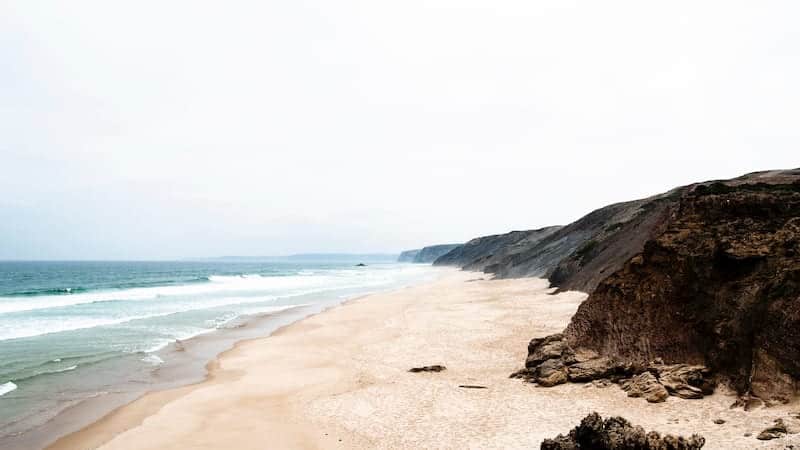 Beautiful, sunny, hot days for many months in a row combine perfectly with the even more beautiful and unique beaches the region has to offer.
You could begin in the most eastern region of the Algarve, near Spain, and drive west. You could stop anywhere, and we can guarantee that the nearest beach will be like no other you have ever seen.
In the meanwhile, it might be interesting to see our top 7 holiday villages in the Algarve that you should consider visiting
The water is calm, inviting, and, usually warm.
In addition to the climate and the beaches, there is the ocean. Usually, the water is calm and inviting. The best part is the temperature! It is so warm, and you could spend your whole day in it.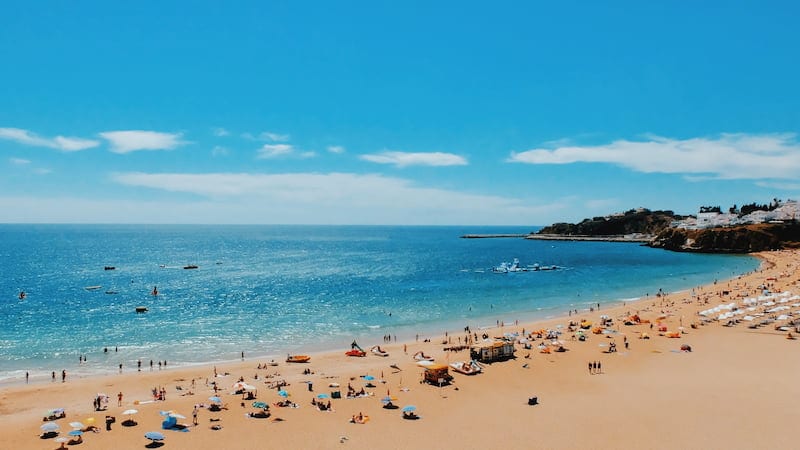 Algarve is safe, relaxing and has a bit of everything
When looking for a place to book your vacation, safety plays a significant role, and the Algarve is one of the safest areas in the world.
And that's important when considering if you should or not visit Algarve.
Everything happens at a slower pace in the Algarve. From shopping to late dinners, nobody is looking at a clock. This mindset allows you to leave the usual stressful day-to-day life you live and rest your mind.
Plus, there's a lot of activities to do no matter if you're coming alone or with your family:
Waterparks
Cave exploring
Sunbathing at the beach
Water sports
"Safaris"
And much more. See in GetYourGuide all the activities and things to in the Algarve available, plan and book in advance.
The Algarve is cheap
The low cost of having holidays is the last reason why, we, bePortugal claim that The Algarve is an excellent option for you and your family to spend some quality time in the southern part of Portugal.
See here more information about the cost of living in Portugal.
But there's also a place for the wealthy
If you're not so worried about the cost of your holidays, but more about having a happy holiday then we also have good news for you. The Algarve hosts many luxurious resorts that include privileged access to the beach, private swimming pool, spa, golf course, and much more.
Some of the best, according to Booking users, are the following:
Let's move on to the sunbathing part of this article.
Best beaches in the Algarve
As we mentioned before, you could stop anywhere in the Algarve and go south, and you would reach a unique and beautiful beach.
It's more than 150 beaches!
Some of the best beaches in the Algarve are, in my opinion:
Praia da Falésia in Albufeira
Praia de Tavira, in Tavira
Praia da Marinha in Lagoa
Praia de Odeceixe in Odeceixe
Meia Praia in Lagos
Praia de Benagil near Lagoa
Praia de Cacela Velha near Tavira
Praia da Arrifana in Aljezur
Praia da Rocha in Portimão
Praia da Luz in Luz
Let's talk about some of the most popular ones in detail now.
Rocha Beach ("Praia da Rocha")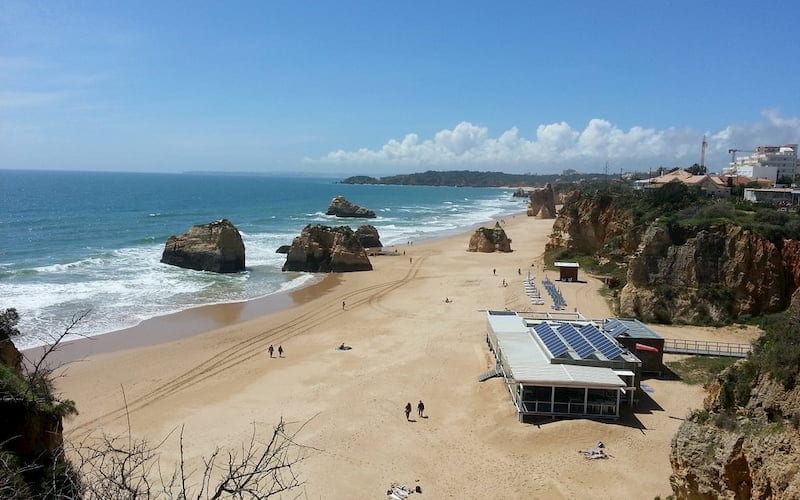 Rocha beach is close to the city of Portimão. With its 1.5 km (0.93 miles) of shoreline, it is one of the most popular beaches in the zone (and maybe in Portugal). Its name, Rocha (meaning rock), comes from the stones you can see between the sand and the water.
We've also written an article about spending holidays in Portimão in Portugal.
Faro Beach ("Praia de Faro")
A little more to the east, about five minutes from Faro, the central city and main entrance to the Algarve, you can find the main beach of Faro.
Technically, it is a narrow, 5 km (3.1 miles) island, connected to the city by a bridge through the natural park of "Ria Formosa."
In the little island, you will find the main road parallel to the beach. On one side of that road, you have the ocean; on the other hand, you have many bars, restaurants, and holiday houses.
Find out more about visiting Faro here.
Tavira Beach Island, ("Ilha de Tavira")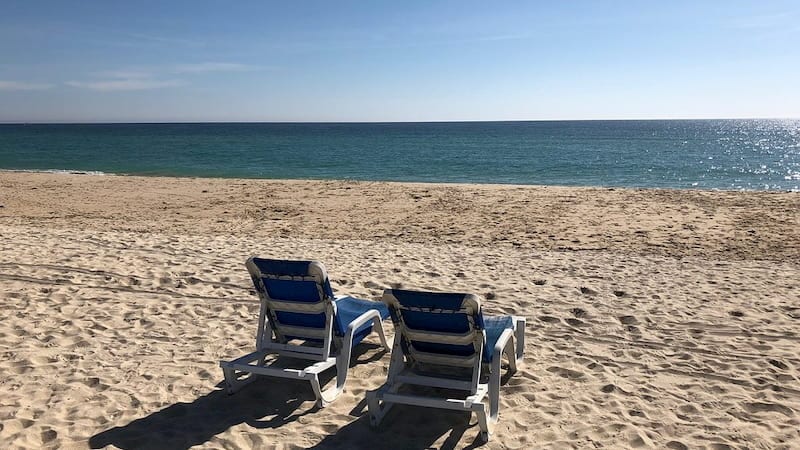 Tavira beach can be accessed mainly by boat, and we recommend you consider this beach (or any of the other three beaches of the island) to experience the magic yourself.
Just like the majority of the beaches in the Algarve, Tavira beach has calm and warm water and the beach is clean and tranquil.
You can either enjoy the sun or enjoy a delicious meal at one of the restaurants in the area.
Benagil beach near Lagoa
Benagil beach is something special.
It's not by chance that many call it the best beach in the Algarve. I've been there, and I've loved it. It's a bit hard to reach even with a car but once you get there.
WOW.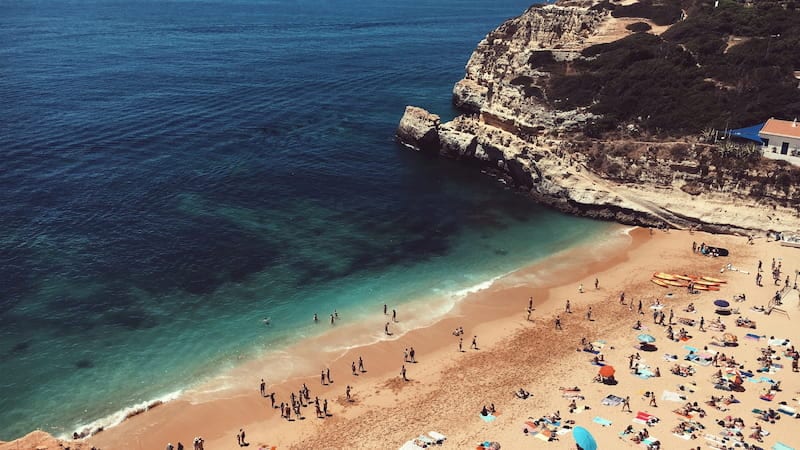 You'll take enough pictures to fill your Instagram account for one year.
To access the beach, you need to go through a "tunnel" inside a huge rock which may not be advisable if you're claustrophobic. Once inside the beach area, you will be surrounded by rocks, so it's unlikely you'll feel any wind. There's also a cliff where you can do some acrobatic jumps into the water.
Amazing right?
There are many other beautiful and amazing Algarve beaches. The choice may also depend on where you decide to spend your holidays. Now let's take a look at where you should stay in the Algarve.
Where to stay in the Algarve – the top cities and villages
Choosing the best place to stay in the Algarve is not an easy task.
Some of the most popular cities from people coming from outside of Portugal:
Note that it doesn't mean you're not going to find any Portuguese there!! Albufeira is usually very popular with Brits during summer (as many have picked that destination to buy a property in Portugal).
I'll explain a bit about each destination now.
Holidays in Vilamoura
Vilamoura is a resort area known for its golf courses, its famous beach "Praia da Falésia," casino, bars and clubs, a wide variety of restaurants and so much more.
Visiting (or staying in) Quarteira, a village near Vilamoura
Near Vilamoura there's a small village called Quarteira, which also has it's own beach, restaurants, nightlife, etc. The advantage is usually the cost, as it is cheaper.
Some opt to rent accommodation in Quarteira and go to Vilamoura during the day.
Things to do in Vilamoura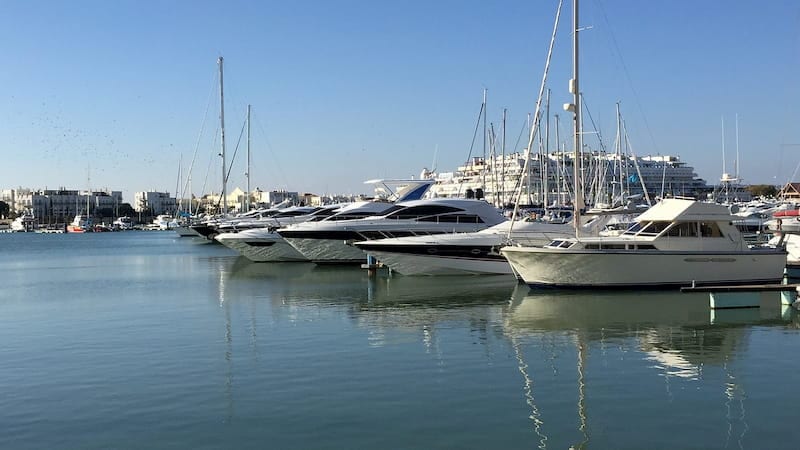 It's a lively village with something to do for everyone.
Many people enjoy a night walk around the famous Vilamoura Marina, to get a drink, an ice-cream or walk around the Marina and see all the fancy boats (or sleep in it, if you own one).
But that's during the night.
What about during the day?
Beaches in Vilamoura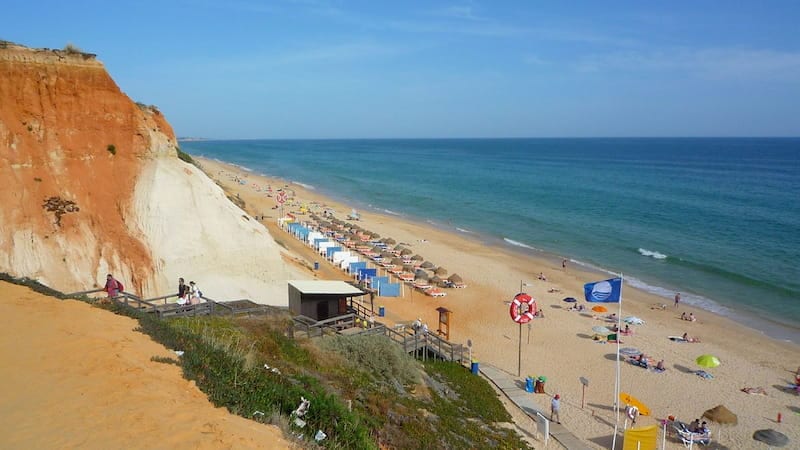 During the day, some stay in their private or communal pools, others go to the beach.
The Praia da Falésia is the most popular beach, as it already mentioned. But there are others around, such as:
Praia da Marina (you can reach walking)
Praia da Quarteira
Praia dos Tomates
Old Well Beach
The bad news is that you will likely need some means of transportation, such as a car, to get to any of these beaches.
Costs of holidays in Vilamoura
But don't fool yourself. Vilamoura is not cheap when compared to other places in the Algarve. Maybe not expensive as spending holidays in Italy, but not the same as spending 14 days in Monte Gordo (still in the Algarve). But it's an excellent place for families with teenagers or a group of friends.
If you're interested, you can see here the top 3 hotels in Vilamoura.
Holidays in Albufeira
What to say about Albufeira?
For many years it's has been the number one choice of British who wish to retire in Portugal or visit Portugal.
Albufeira Strip and nightlife
It's known for it's famous
Albufeira strip
and it's lively nightlife. It's the place to go if you're someone who enjoys loud music, bars in every corner, cheap drinks, and dancing until morning.
But it's also a place for families
There's also a place for families in Albufeira. Albufeira is quite a big city (in the scale of the Algarve, I mean), and there are many other areas to take a drink, have an ice-cream, enjoy great food in great restaurants and much more.
It's more affordable than Vilamoura, especially if you compare it in terms of accommodation, as you can see here on booking.
Prices vary as there, but you can get a double room in a hotel for 2pax for 165€, in August.
Beaches in Albufeira
And let's not forget that there are many beaches around Albufeira, especially if you have the chance to rent a car.
Praia da Oura
Praia de Albufeira
Praia do Peneco
Praia da Baleeira
We've also written an article about the Top 7 Holiday Villages in the Algarve that might be useful to read.
Holidays in Quinta do Lago
Quinta do Lago stands out from all other places in the Algarve.
Everything in Quinta do Lago is luxurious.
The gardens are beautiful
Hotels are luxurious
Golf courses are huge
The roads wide
Service is excellent
Access to the beach is easy
Quinta do Lago is very famous for hosting celebrities and its' golf courses.
Accommodation in Quinta do Lago
They call it the resort of the rich.
It's tough to find accommodation for less than 350€ night for a couple in the high season in Portugal.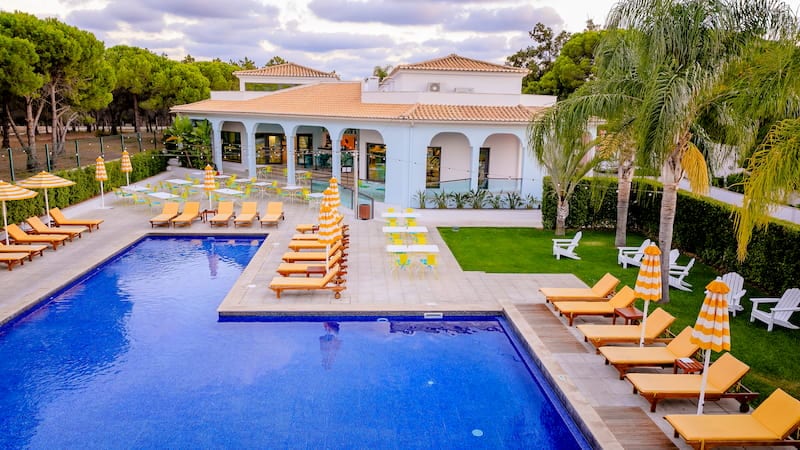 Holidays in Lagos
Lagos is a small size city but very beautiful and with a distinguished history as it was one of the main ports for Portuguese Maritime Discoveries (source).
Beaches in Lagos
There are several beaches near Lagos:
Praia D.Ana
Meia-Praia
Praia do Camilo
Praia dos Pinheiros
Praia Porto de Mós
Other things to do in Lagos
Lagos is a very vibrant city, especially during summer, with plenty of bars and clubs.
So there's no lack of fun, that's for sure.
It's also delightful to walk in the historic city center or the marina.
If by chance you get to visit or stay in Lagos, I'd advise doing a day trip to Sagres in Portugal.
Accommodation in Lagos
Prices are similar to staying in Albufeira. You can expect to spend between 150 to 250€ for 2pax if you want to stay in a 4-star hotel.
If you are flexible and prefer to cook your meals and rent an apartment, you might save some money, and maybe find some options starting at 100€.
There's also luxurious accommodation in Lagos, but in this case, prices can rise to 400€ per night.
See more options for Lagos on booking.
Holidays in Carvoeiro
Carvoeiro is yet another southern Portuguese beach resort. Formerly a fishing village, today Carvoeiro attracts thousands of families who're looking to retire in Portugal.
With less than 2,721 habitats, this village transforms itself during summer.
Things to do in Carvoeiro
Relax.
Relax
And did I mentioned, relax?
Yes, this is the perfect place in the Algarve to go if you're looking for a peaceful place to enjoy your holidays.
There are some other things you can do, such as:
Hike the steep hills and sheer cliffs of the coastline
Go to the Zoomarine
Day trip to Silves ( historic village)
Sunbathing
See more ideas for your holidays in the Algarve.
Accommodation in the Algarve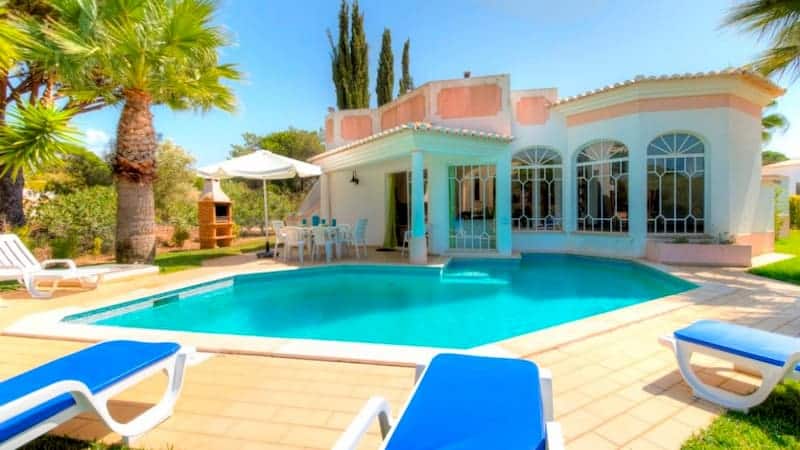 Ok, we have talked about a few things so far, the cities, the beaches and why it's worth visiting the Algarve.
It's time to talk about:
How much you can expect to spend
The best accommodation in the Algarve
Prices for accommodation in the Algarve
In average rates vary according to the season. See here more information about the weather in The Algarve.
During Spring and Autumn
Prices for a 2pax bedroom in a village, such as a Praia da Rocha, can cost on average, 50€
Exceptions: are national holidays
During winter: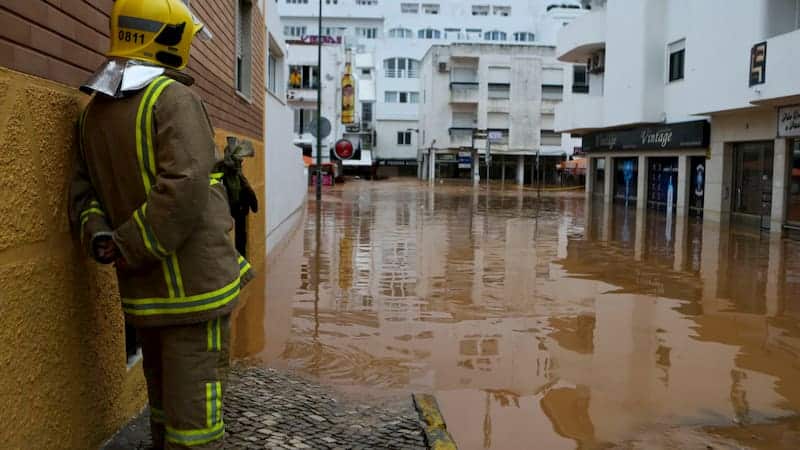 Prices can go as low as 35 for 2pax bedroom, again in Praia da Rocha.
Exceptions: Christmas in Portugal and New Years' Eve
During Summer
Prices go up from June to August where they reach their peak. The same room that costed 35€ can now cost 150€.
In September, prices start to go slowly down.
Is accommodation expensive in the Algarve?
Overall I'd say no.
Of course, there are different prices for different types of accommodation.
Choosing a villa in Quinta do Lago is going to cost you much more than a simple room in an apartment Praia da Rocha.
It might also be useful to see what we have written about renting an apartment in the Algarve.
Best accommodation in the Algarve
Four Seasons Country Club, Quinta do Lago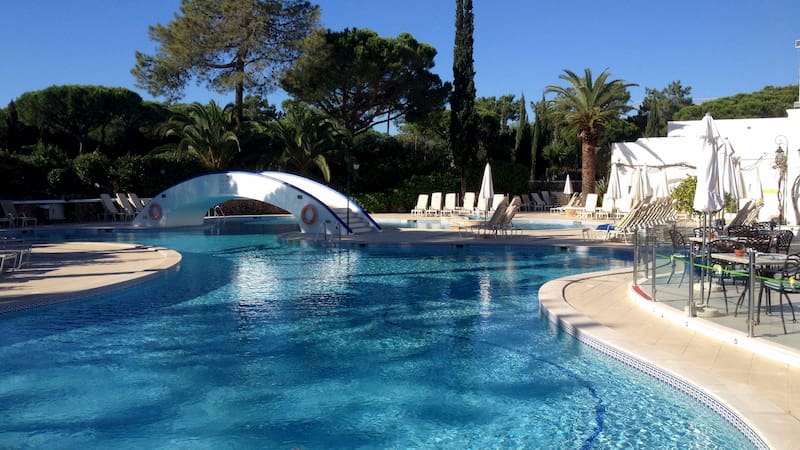 If you are interested in the best of the best, no matter the price, then you should check out the Four Seasons Country Club in the Quinta do Lago. It is considered to be one of the best hotels in Europe.
Its proximity to the beaches, services, golf and tennis courts, and their friendly staff make it the tourists' favorite.
Vila Joya, Albufeira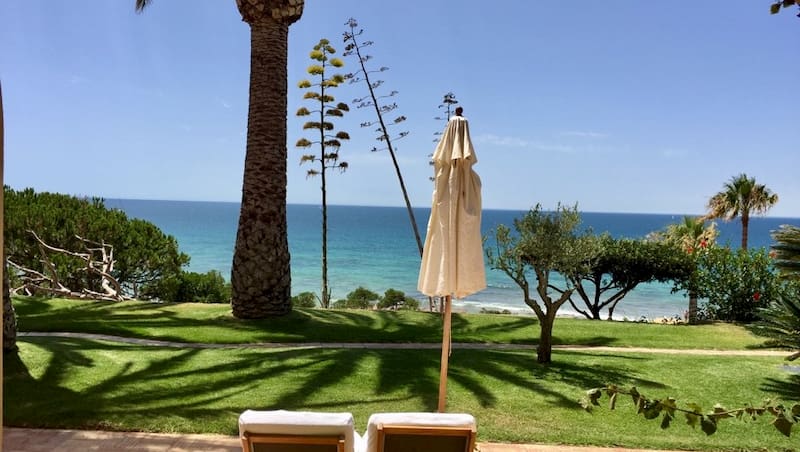 Vila Joya, located near the city of Albufeira, is known not only for its excellent services but also for its restaurant. Many tourists consider the hotel to have one of the best restaurants in the world.
Its location enables you to enjoy the beaches nearby and see the beautiful sunset from your room.
Salema Beach Village, Salema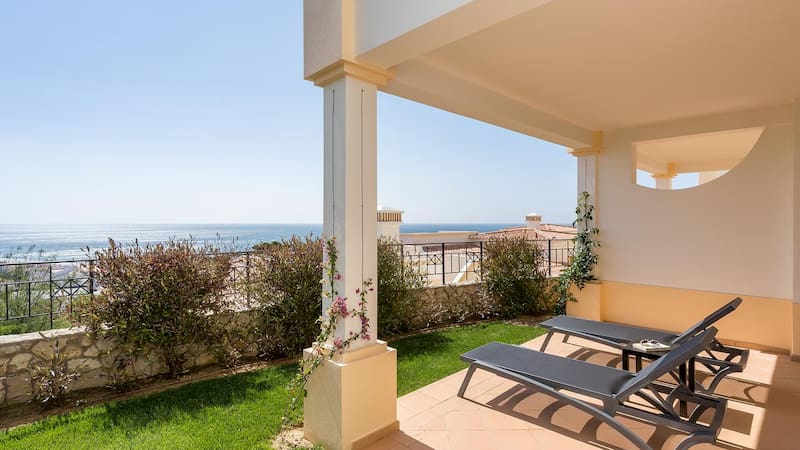 Another excellent option is Salema Beach Village in Salema, between Lagos and Sagres. Salema is a perfect place to stay if you are traveling with your family or a group of friends.
They offer several services, but one of the most appreciated is the shuttle service to the beach and back.
One thing that characterizes Salema Beach Village, according to those who stayed and enjoyed their services, is the concern with their client's well-being and experience.
If you would like to know more about visiting the Algarve, subscribe to this exclusive mailing list, that only tourists interested in Portugal have access.
Advice choosing accommodation in Algarve
There are many other options, and you can see them all here on the main front page of booking, and search according to hotels (or different kinds of accommodations best reviewed) or according to the aspects that are important to you.
Our main advice is: do it in advance.
People start planning their family holidays in the Algarve in January, which means the best opportunities will be gone.
What's the real cost of spending holidays in the Algarve?
So to sum up costs, I'd say that for the average family of four, two parents, two children, the costs would be as follows:
accommodation: 250 euros per night
Food: 150 euros per day  (assuming you have one meal out)
Rent a car: 40 euros per day + 50€ for the tank (for one week)
Fun and activities: 350€ per week
Calling a Taxi or Uber: 30 euros per week
Flights 250€ come and go (if bought in advance)
Total: 4940€
So you'd need at least 4940€ to spend a decent time in the Algarve, for 4pax.
From there, the price can decrease if you cook at home, if you don't do activities, or increase if you want a better accommodation and more comfort.
Reading our article about the cost of living in Portugal might help plan your expenses.
Ok, we finally get to the "tasty" part of the Algarve, food!
Best Food in the Algarve
The Portuguese food is full of fresh fish and seafood, and that's even more prominent in the Algarve, where the ingredients are so readily available each day.
It is difficult for us to pick some dishes you should ask for when visiting the Algarve. The offer is impressive, and the most straightforward answer would be: "Try them all!".
Eating fish in the Algarve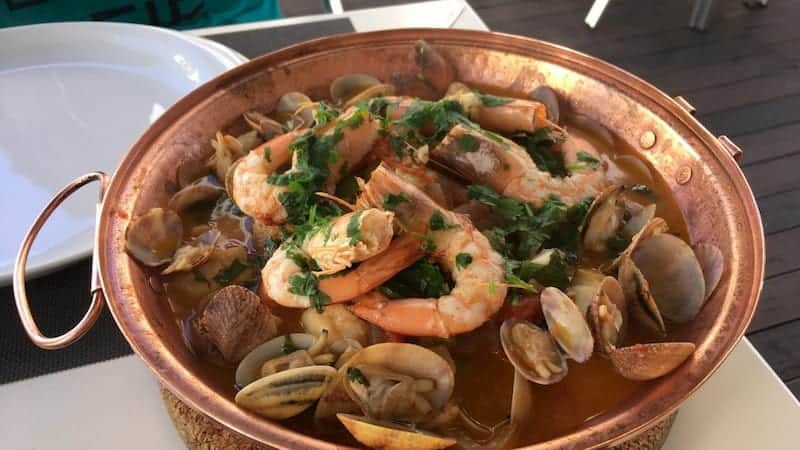 However, if we would have to choose, then you should ask for 'clams in Cataplana' or 'Algarvian-style conquilhas' for starters.
The soup could be any fish soup. The monkfish rice ("Arroz de tamboril") is an excellent choice as a main course.
Let's face it, and you can't go wrong with seafood.
Eating chicken
You can also try to find Frango da Guia (similar to Nandos). Although Frango da Guia is originally from the small village "Guia" near Albufeira, it quickly spread throughout Algarve, and you can find it in several restaurants.
Other options
There's plenty to taste in the Algarve, and that includes:
Traditional Portuguese cuisine
Chinese restaurants
Japanese restaurants
Italian restaurants
Churrascarias (bbq spots)
Algarve Desserts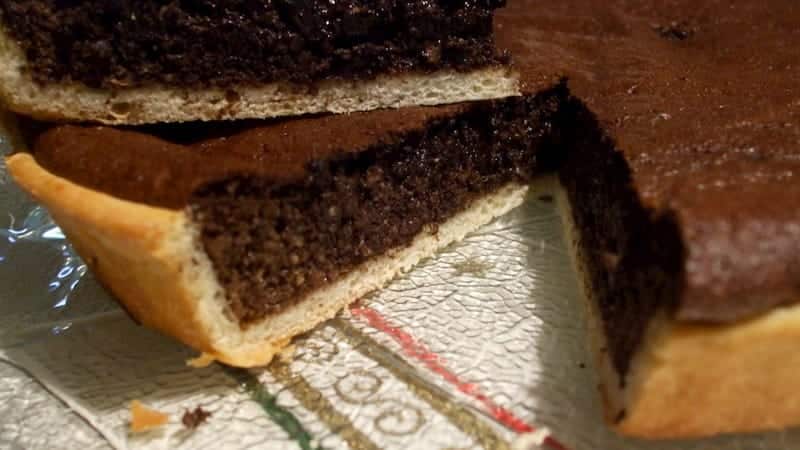 And, if you still have some room for dessert, try the egg threads ("fios de ovos"), carob pie, or almond and chocolate cake. Oh well there's plenty of options as you can see here in this Portuguese desserts website (not in English)
If you are wondering if there are any places you should stop by and eat some excellent food, we have some ideas for you.
Best Restaurants in the Algarve
Vivendo Restaurant, Meia Praia, Lagos
Vivendo Restaurant is one of the best surprises people encounter when visiting the Algarve. Although it is considered to be a little hidden and could be a little heavy on the wallet, their quality and attention to detail will undoubtedly add something special to your experiences in the Algarve. Make sure to try it out.
Restaurant The Cockerel, Albufeira
If you are interested in something reasonable and local, give Restaurante The Cockerel in Albufeira a try. Their excellent food, desserts, and service will impress you, we guarantee it.
If you enjoy eating fish or seafood, you can't miss this. If, on the other hand, you wish to eat some good meat, try out their barbecue dish.
Fábrica Velha Pastelaria e Padaria, Carvoeiro
Fábrica Velha is one of the best beach hotels in the Algarve, but it is considered one of the most beautiful places to eat in the Algarve.
If you would like to eat some traditional national pastry, give this café a try. The staff's friendliness and the vibe of the place are guaranteed to impress you and to give this place a stable position on your "go to list" whenever you return to the Algarve.
How to get to the Algarve
There are essentially four ways to get to the Algarve:
Reaching Algarve by airplane
Flying to Faro: this is the ideal scenario.
Flying to Lisbon or Porto Airport and then taking a secondary flight/train.
Reaching Algarve by train or bus
If you're already in Portugal or you live in Portugal, using a public train (cp.pt) might be an option.
Tickets from Lisbon start at 25€ and it takes 2.5 hours to get you to Albufeira. From there you can either take a transfer or a regional train which costs 3-5 euros, to your final destination.
If you opt for the bus, it takes a bit longer, about 3.5 hours, but it's a bit cheaper. You can buy the ticket in advance in Rede-Expressos, for example.
Reaching the Algarve by car
This is by far the most comfortable option, because the roads to the Algarve are very good, but also quite expensive. A normal sedan will take on average €35 of gasoline and €28 of tolls. Just to get to the Algarve. If you have a bigger car, the costs will also be higher.
See more about transportation in Portugal here.
Visit Algarve is a good option
To visit Algarve is to have a great time.
No matter the beach you choose, the place you stay, the restaurant you go to or the activities you choose to do, one thing is guaranteed,
Have you been to the Algarve? What's your favorite place in the Algarve? What other recommendations would you share?

Disclaimer: Our posts might contain affiliate links, which means we earn advertising fees if you make a purchase. There's no extra cost to you, it just helps us keep the website going.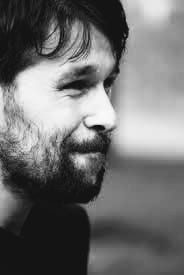 Jack Johnson
A man only has maybe two or three chances to decide to change his life completely. In one of those moments, I discovered Portugal and fell in love. Since then, I divide my time between Portugal and New Zealand searching for the perfect wave and scribbling for a living.