So there's a new banking service in the game, well not really new, but definitely improved.
Want to know all about how to use TransferWise in Portugal?
We're here today to give you all the answers you seek on this very versatile way to move your money around.
What is TransferWise?
TransferWise is an online, international platform for sending and receiving money across borders without the hefty bank fees.
The company was founded by two Estonian innovators, Taavet Hinrikus (Skype's first employee) and Kristo Kaarmann, who were fed up with the high costs of international bank money transfers and wanted a solution. Founded in London, the company has grown immensely since its launch in 2011.
The demand for cheap, easy, international money transfers continues to increase as we become more interconnected and financially interdependent across borders.
TransferWise is known for its transparent approach to international money transfers, which is why millions of people have signed up and well over $1 billion is sent through the service each month.
TransferWise is cheap, quick and easy to use.
How TransferWise works in Portugal
The concept behind TransferWise is to simply eliminate the 'middleman' which allows the service to charge significantly less than national banks. The platform matches transfers from both ends of one currency pairing.
For example: One client is transferring euros for pounds and another is buying pounds for their euros.
The process occurs almost instantaneously and the margin is always fixed. This means, you will know exactly how much you pay in fees every time you make a transfer and for most currencies, TransferWise also guarantees the exchange rate, so you will know exactly how much the recipient will receive.

What are the fees for TransferWise?
It is free to set up a borderless account with TransferWise and free to receive money on the platform. There is a small fee to convert between currencies, either in the account or with the TransferWise debit Mastercard but you can always see what it is.
The conversion fee is always shown up front and is usually between 0.35% to 2% of the transaction amount, depending on the currency. There is a fixed fee of £0.65 (€0.60) to move funds from your account to another account in the same currency.
There are no ATM withdrawal fees if you keep withdrawals under £200 (or €200) for 30 days. 
What you should consider before signing up to TransferWise
Advantages:
Transparent, clear pricing;
Transfers take one to two days;
Large trading volumes across the globe;
Safe and credible;
Applicable for all transfer sizes;
Offers a TransferWise multi-currency debit card;
Allows you to make payments and withdrawals anywhere in the world that accepts MasterCard;
No ATM fees up to £200 or €200 per month;
Offers mid-market exchange rates;
User-friendly online platform for desktop and mobile apps.
Disadvantages:
No cash pickup facility;
Does not handle cheques;
No discounts for high volumes;
Must load £20 into the account when you sign up;
Longer transfer time for some routes;
Technical support not available in some countries;
You cannot earn interest on the money in your borderless account.
Is TransferWise safe and legal to use in Portugal?
Yes, TransferWise is an authorized electronic money institution independently regulated by the Financial Conduct Authority in the UK. This means that TransferWise is required by law to keep your money safe by storing it in a low-risk, financial institution.
In Europe, your money is stored in their UK account with Barclays and in the US, their account is with Wells Fargo.
These accounts are reserved for customer's money only, which means your money is kept separate from the account used to run the business. In the unlikely event that TransferWise does cease to exist, your money would be paid back from these accounts.
The TransferWise debit Mastercard is issued by TransferWise Ltd. under license from Mastercard International Inc.
Creating an account on TransferWise in Portugal
TransferWise is a very simple online platform to use, which has a three-step sign-up process:
Go to TransferWise.com and select the currency pair you wish to convert. Enter the amount you want to send to see the converted amount at a mid-market rate. Click on "Get Started" and sign up with either your email, Facebook or Google account. Once you have submitted your details you will need to complete a verification form online. Verification can take one to three days, then you are ready to start transferring.
Now enter the recipient details. You can send money to yourself, someone else, businesses and charities.
Transfer the amount from your national bank account to TransferWise. You can pay using your own currency from a debit card, credit card or money transfer using online banking.
↪️ Click here to create a free account or calculate the exchange rates on Transferwise.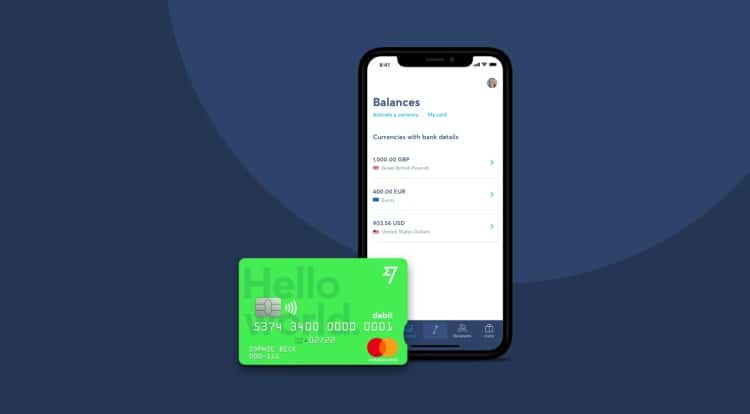 Using TransferWise to send money to Portugal
If you want to send money to Portugal from the UK, it will cost you as little as £4.29 through TransferWise. When logging in to the service, you will be given a fee breakdown, showing you the small transfer fee and the exact amount that the recipient will receive.
Alternative services for sending money to Portugal include PayPal and Western Union, which are probably the fastest options. Western Union is convenient if you want to pick up cash.
Another service like TransferWise is OFX. This service, however, charges a $15 flat fee unless you transfer over $10,000 in which case they waive the fee. For most currencies, OFX transfers within one to two business days but for US transactions, they are often received the same day.
As for the rest, TransferWise does have a lower exchange rate and a smaller minimum transfer amount. We think that OFX is good for larger transfers, while TransferWise, overall, offers a better service.
TransferWise in Portugal just works
TransferWise is quickly becoming the new go-to service to move money abroad. Its simple on-boarding process, transparent fee structure and user-friendly online platform have seen the company skyrocket in the last four years.
More than $116 million has been invested in the company since its launch by some of the world's most famous investors including PayPal's co-founder, Peter Thiel and Virgin's founder, Richard Branson.
With this sound financial structure, constant media attention and authorization from the FCA (UK), your money is safe to send through TransferWise.
Did you find this information about TransferWise useful? Do you have any experiences to share? Feel free to leave a comment below.
We publish new content every day so be sure to subscribe to our newsletter to get notified of the latest tips for your visit or move to Portugal.

Disclaimer: Our posts might contain affiliate links, which means we earn advertising fees if you make a purchase. There's no extra cost to you, it just helps us keep the website going.

Sindy Smith
I'm a freelance copywriter and free-spirited traveller from Australia. I fell in love with Portugal when I arrived here and hope to share with you all the reasons why.