Does the idea of sending money overseas give you a headache?
Are you worried about losing your money when sending it to Portugal?
Don't stress, we have the best expert advice for you right here on how to send money to Portugal.
We will let you know the various methods you can use in order to send money to a person, a company or to yourself in Portugal.
Best ways to send money to Portugal
In order to make it easier, we thought we could make a list. These are some of the possible ways to transfer money to Portugal. Keep in mind that the conditions may vary, therefore, we recommend that you visit the websites of the institutions you wish to use and do some research for your situation.
Online transfer services to Portugal
If you are not in a hurry and wish to send money to Portugal from the comfort of your own home, this might be the perfect solution for you. You and the recipient just need to be registered as a user of one of these platforms. From there on, it's as simple as clicking a button.
PayPal in Portugal
One of the most well-known online payment services in the world is PayPal.
Sending money through PayPal is easy and convenient. Nowadays, using PayPal, you can send money to 90 different countries in 20 different currencies.
To send the money all you need is the recipient's email or mobile phone number.
It's that easy!
One of the coolest features of PayPal is the fact that you are able to see exactly what the costs are, the exchange fees and the sum the recipient will receive immediately.
How long does a PayPal transfer take?
Sending money by PayPal is usually instantaneous.
Keep in mind, however, that PayPal is not the same as transferring immediate cash. The recipient will receive the money in his or her PayPal account. From there, if they wish to withdraw the money from their PayPal account to their bank account, it could take a few more days.
Costs for PayPal
The costs of a PayPal transfer vary depending on if you are sending money domestically or internationally. Typically, the fees are based on the recipient's country, but keep in mind that it could cost you between 1% and 4% of the amount you are transferring.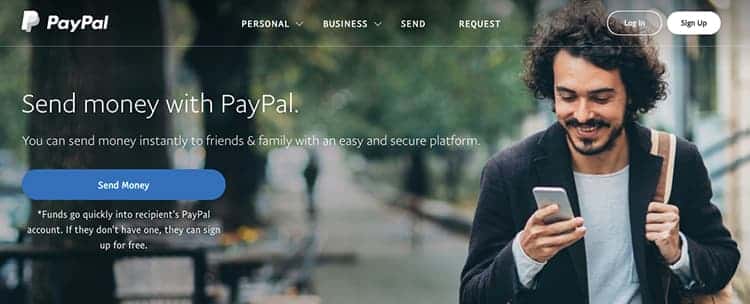 TransferWise to send money to Portugal
TransferWise is considered to be the best online payment service for international transfers you could find. You will find the fairest exchange rate, it is safe and reliable, easy to use and the fees are some of the lowest from all of the other options.
As you would with any other online transfer service, in order to send money using TransferWise, the first step you have to take is registering yourself.
Then, you just have to select how much and to whom you would like to send the money. This will create a "bill" that you will have to pay to TransferWise from your own bank account and as soon as your payment is confirmed, it goes to your recipient and that's it.
It's so great because you can have a TransferWise account set up for almost every currency in the world.
How long does a TransferWise transfer take?
TransferWise takes up until 72 hours to send the money.
Costs for using TransferWise
As an example, imagine that you wish to send US$1,000  to a friend that lives in Portugal. TransferWise will charge 0.38% of the US$1,000  + US$1.09 so that's going to be US$4.89 in costs.
You can make a simulation with TransferWise here.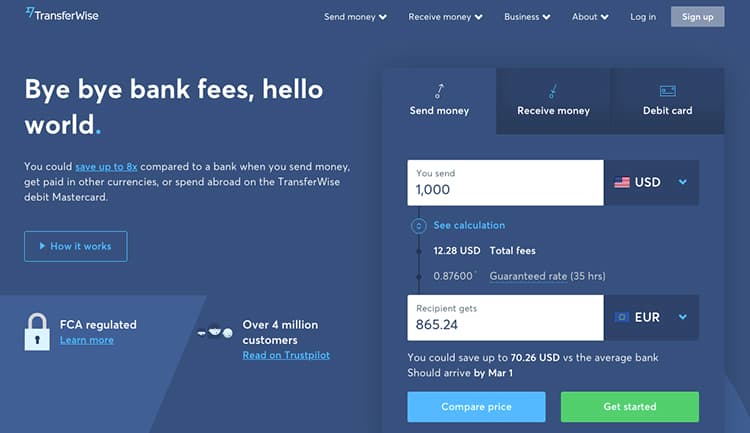 Want to know more about TransferWise in Portugal? Check out our article: TransferWise in Portugal.
N26 partnership with TransferWise
N26, the online bank, has partnered with TransferWise, so you can make international transfers from within the N26 app on your phone. It's up to six times cheaper than using traditional banks.
Did you know that you can get an N26 online bank account in under eight minutes?
Alternative online options to transfer money to Portugal
There are some other similar companies that you can check out, like:
Google Pay;
Amazon Pay;
Skrill; and
Xoom.
Google Pay
Google Pay is a way to pay for the things you need every day with your phone so there's no need to use a card anywhere. You just set it up with your Google account and your card and then you can pay for things anywhere there is a contactless point of sale machine (like at the supermarket), online shopping or to a friend just by using their phone number or email address. It's super easy and secure.
Amazon Pay
If you already have an Amazon account, you can use Amazon Pay to pay for many online products and services without having to re-enter all the payment and shipping details as it uses the same information as your Amazon account. Using the app on your phone make it even easier.
Skrill
Skrill is an online transfer platform that lets you transfer funds to a bank account in many currencies and countries for free. You can also transfer money to someone's email address or buy cryptocurrency. They have some interesting deals and offers and even some online gambling where you can win money.
Xoom
If you're familiar with PayPal, you would probably like Xoom, a PayPal service which allows you to send US or Canadian dollars to a bank account almost anywhere in the world (including Portugal) for a very competitive rate. They also have a 100% money back guarantee in the rare case that something gets lost on the way.
Traditional companies that can send your money to Portugal
Money transfer operators are companies specialised in quickly moving money between their own agencies. This is valid even between countries. That's why a money transfer operator is one of the fastest ways to send money to Portugal from abroad.
These kinds of companies usually have both an online and a street location all around the world.
The two best-known companies are:
Western Union; and
MoneyGram.
Send money with Western Union to Portugal
With Western Union, you can send money via their website, at a store location, through online banking and even from your mobile. The service has thousands of locations worldwide where (and from which) you can send money.
It is your choice if you would like to send money directly to a bank account, or if you want the recipient to receive the money at a location.
Sending money to Portugal using the services of the Western Union is perfect if your recipient from Portugal needs cash in a hurry. However, keep in mind that usually, the less time you lose, the more money it costs you. Although to be fair, the fees have been going down in the last few years.
How long does a transfer with Western Union take?
As said above, these kinds of transfers can be very fast (even minutes).
Costs for using Western Union to send money to Portugal
The costs charges for a Western Union money transfer vary depending on the country and the value. The easiest way is to check is to use their price estimator here.
Send money with MoneyGram to Portugal
MoneyGram is a service very similar to Western Union. It has more than 300,000 pick up locations around the world.
How long does a transfer with MoneyGram take?
After the sender sends the money with MoneyGram, it will be available on the same day, just like Western Union, it is ideal for the times you need your money as soon as possible.
How much does it cost to use MoneyGram to send money to Portugal?
Again, as with the Western Union service, MoneyGram also varies their pricing depending on the country and the amount of money you wish to transfer. It also depends on whether you are sending money to a pickup location or directly to a bank account. Either way, you can always use their price estimator here.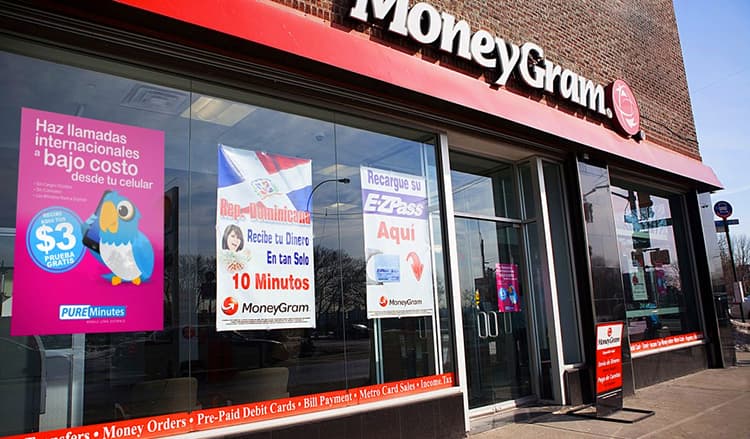 How to send money to Portugal with a bank transfer
These are the typical bank transfers we all know about. It means that you transfer money or funds from your bank account to the account of the recipient. What makes this type of transfer special is the fact that both parties need bank accounts.
Requirements for a bank transfer
If you wish to send money to somebody in Portugal, that person will need to have a Portuguese bank account.
Remember that to send a bank wire transfer, there are many details you need to know about the recipient.
For example, you will most likely need their:
Full name;
Bank account number;
IBAN;
SWIFT Code; and
Address (sometimes they ask for this).
There is a specific form you will have to fill in, whether you do this online within your bank's online banking platform or in person at a branch.
The biggest advantage is that by using this method, you are sure that even if you are sending a really large amount of money, your recipient will receive it and you won't have any problems. Sometimes sending large sums of money can be complicated using other methods described earlier.
How long does a bank transfer take send money to Portugal?
It can take between one to five working days, depending on the bank.
Costs of using a bank transfer to send money to or from Portugal
The cost varies from bank to bank. In some countries, you may pay as little as €3 to make an international wire transfer, while in other situations you may pay as much as €40 plus the totally ridiculous exchange rates set by the bank which may be far higher than the world standard on the day.
You can check today's currency exchange rate at Bloomberg.
Find out how to open a bank account in Portugal.
Using Money Orders to send money to Portugal
A Money Order is a really "old school" way of sending money overseas. However, the fact of the matter is, that it is a totally reliable and secure way of sending money.
Basically, it implies that you go personally to a bank or a post office and pay the amount you want to send to someone in advance. You must indicate the recipient's name and address.
The best thing about this method is that since you pay the value in advance, there is no doubt that the money will get to your recipient. Even if something goes wrong, the fact that there is written evidence of the transfer allows for it to be traced back and see what went wrong.
It is still one of the favourite payment methods of some institutions that do not have PayPal or don't want to undergo the risk of not receiving the funds they are expecting.
How long does a money order take to send money to Portugal?
This process could take several days, depending on the post office or the bank service. Before you choose to send money by money order, please ask the agent at the bank or post office how long they expect it will take.
Cost of a money order
Once again, the costs can vary. For example, in the US, the cost to send a money order ranges between US$10 and US$50.
Other ways to send money to Portugal
Of course, there are a lot of other ways you could send money to Portugal. One that comes to mind is using Foreign Exchange Brokers. And there are more, but we consider them to be less common for sending money to Portugal.
Interested in a borderless bank account? Find out more about a Revolut card for Portugal and how it works here.
5 Expert tips for sending money to Portugal
As you are probably used to by now, we like to not only inform you about the topic at hand, but also to give you the best advice possible.
Tip 1: Try avoiding other types of so-called "money transfer" businesses. Even if you are promised a low fee and the best exchange rate possible, you could lose all your money by choosing someone who is a fraud.
Tip 2: If you are going to use Western Union or MoneyGram, be careful with the order number you get from the service. That's the only thing somebody needs in order to gain access to the money you just transferred. Keep this number safe!
Tip 3: Never throw away your receipts, paper or digital. Just keep them until the person you have sent the money to has received it.
Tip 4: If you are sending money using an online platform, keep in mind that you should only use a private computer connected to a private internet connection (or VPN). Do not use a public computer or a public wifi connection. You never know who might have access to your personal information, making your life very difficult.
Tip 5: Consider the amount of money you could save by using TransferWise because it really is the fastest and cheapest way to send money to different countries in different currencies and completely safe and secure. The recipient will be notified immediately and automatically when their money is coming.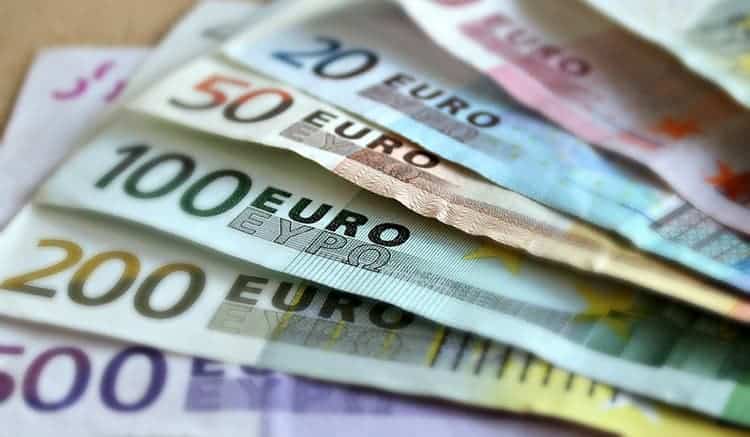 Things to think about when sending money to Portugal
There are many situations in which it is worth knowing: What is the best way of sending money to Portugal?
Regardless of the reason behind your decision, the fact of the matter is that you need to consider a series of factors.
There are:
Currency exchange rates that make it expensive;
Bank fees;
Time requirements;
A lot of information about the recipient;
and usually a few more factors.
What about bank transfers to Portugal?
You would think that the simplest way to send money to Portugal is to go to the bank and simply send it.
Well, that is one possibility, but it is the 21st century and there are better ways to transfer your money.
In our opinion, the first thing you should do if you want to send money to Portugal, is to go to your bank and ask for the specifics.
Run a simulation
Give your bank all the details they need and just run a simulation.
Then, go home and do the same thing using all the information we just gave you and any other resources you might find online.
Consider the amount of money you need to send
How careful do you need to be? Is it a large amount of money?
Think about timing
Are you in a hurry? Does your recipient need the money as soon as possible or can they wait a few days?
Don't forget about the weekends as most banks do not include these days when they quote how long it will take. They will say "business" days or "working" days. Many online methods will be pretty quick, sometimes only taking a day to transfer your money.
Consider the bank fees
Not only are the exchange rates quite bad at a bank, so are their transfer fees. Are you willing to pay for that?
What is the currency in Portugal?
Before sending money to Portugal from abroad, remember that Portugal is a part of the European Union (EU) and the currency is the euro (EUR – €).
You can find out more about the Portuguese currency here.
This means that if you are going to send money from abroad from a country that is outside the EU or in the EU but that does not use the euro as its currency, fees might be charged.
You can check today's currency exchange rate at Bloomberg, it's very close to what you'll get.
My conclusion on sending money to Portugal
Depending on all of these factors, it should be less complicated to make your choice to save you the most amount of time and money.
Just be sure you are tracking your money the whole way.
I personally love TransferWise, because I have a Borderless Account set up in four currencies (it's possible to have more!) so that I can receive money in Portugal from all over the world where I have friends and clients, so all my money is in one place.
The best thing is, I can transfer these currencies into euros when I think the rates are the highest so I save money on the exchange rates.
I also have a card which I can use in the shops and restaurants here. And on top of all that, the website and the app are so easy to use, I never make a mistake when moving my money around.
Plus, my friend can get a huge discount (and sometimes removal of the fee altogether) when I invite them to use TransferWise for the first time. Want to try? Read about this deal on TransferWise's website here.
Did you find this information about sending money to Portugal useful? Do you have any doubts or wish to find out more about sending money to Portugal? Feel free to leave a comment or a question below.

Disclaimer: Our posts might contain affiliate links, which means we earn advertising fees if you make a purchase. There's no extra cost to you, it just helps us keep the website going.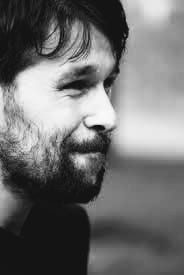 Jack Johnson
A man only has maybe two or three chances to decide to change his life completely. In one of those moments, I discovered Portugal and fell in love. Since then, I divide my time between Portugal and New Zealand searching for the perfect wave and scribbling for a living.