Looking for a fully functioning bank account without the fees?
Let's take a look at Revolut card and if it will work for you in Portugal.
Read on and find out if it's the right travel card for you.
What is the Revolut card?
The Revolut card is a prepaid card that allows you to spend money across the globe at real-time exchange rates.
It was launched in 2015 and has gradually become a great way to exchange money to local currencies while you are in a foreign country.
How does the Revolut card work?
It is very easy to use and free to create an account.
You only have to download the app, create a Revolut account and connect your domestic bank account.
You will also need to verify your identity, and once you have done that, you can add money to your account, receive money, transfer money internationally and exchange 24 currencies at the real exchange rate.
However, Revolut is currently only available to legal residents of the European Union (EU), European Economic Area (EEA) countries and Switzerland.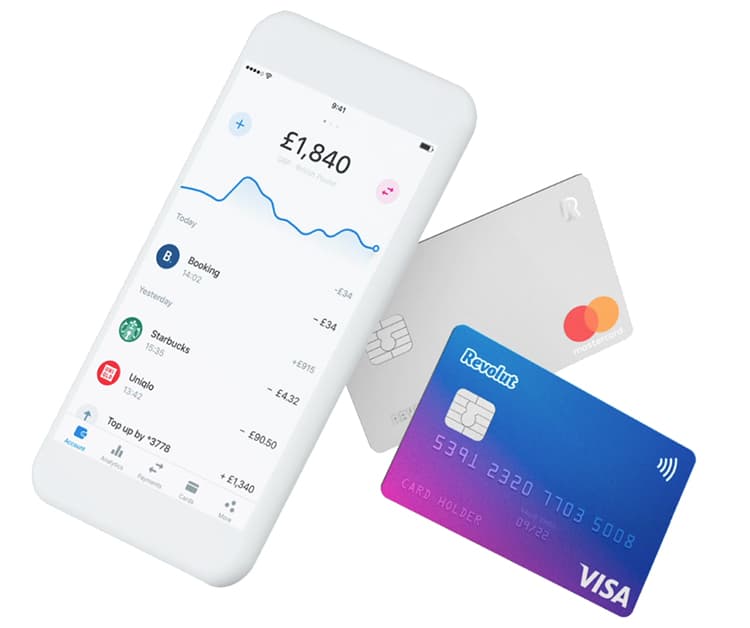 If you are looking for a cheap and easy way to transfer money to and from Portugal, take a look at: TransferWise in Portugal.
Can I get Revolut credit card?
As of right now, Revolut does not offer a credit card.
What can I get from Revolut?
Revolut offers two types of paid plans with cards: Premium and Metal with a monthly payment of €7.99 and €13.99 respectively.
The plans have lots of benefits like overseas medical insurance, delayed baggage & delayed flight insurance, instant access to five cryptocurrency and many others.
There is also a Standard plan with no monthly payments. This includes the free UK account, a European IBAN number and the app to manage your account, no ATM fees up to€200 per month and free currency exchanges in 24 currencies.
Want more information on Revolut's prices? Click here.
Can you use Revolut in Portugal?
Yes, you can use it in Portugal. It is accepted at every ATM, as all ATMs in Portugal accept VISA and Mastercard.
Although some merchants don't accept it because of the charges they incur when a payment is made with a foreign card.
Get your free Revolut Card right now.
Are there problems with Revolut in Portugal?
We heard that some Point of Sale (POS) (in Portuguese: "Terminal de Pagamento Automático" (TPA)) machines don't recognise the Revolut cards sometimes?
At times the Revolut card doesn't work on some POS machines in restaurants and shops depending on the system the merchant has in place.
In Portugal, the default system is Multibanco which does not work with the Revolut card, but, if the merchant's POS includes payment with VISA and Mastercard, then a Revolut card will work on that POS machine.
What are the advantages of having a Revolut card?
Real-time exchange rates
One major benefit of using a Revolut card is that you are charged the real-time rate banks use to exchange currencies between one another. So, you get the best possible exchange rate whether withdrawing cash or making payments online.
Security features
The security features of the Revolut card is very up-to-date and high-tech. With the location security feature being an innovative move to guard against fraudulent transactions.
Once you turn this feature on in the app, it accesses your phone's GPS location to determine if your card has been compromised. If you are with your phone in one location and the card is being used to purchase in another location, the transaction will be stopped. You can also disable ATM withdrawals, contactless payments and magstripe payments.
Multiple accounts in different currencies
The Revolut card offers the possibility of keeping balances in different currencies. This feature is very advantageous for frequent international travellers as you don't need to keep changing currencies all the time for each place you want to visit.
Global medical insurance
For Premium and Metal account holders.
If you are using any of the paid plans offered by Revolut, you will have overseas medical insurance at no extra cost.
You don't have to worry about getting travel medical insurance for Portugal as it allows you access to an extensive network of medical centres across the globe. The insurance covers emergency medical assistance and expenses and also dental treatment while travelling abroad. You will also get reimbursed for medical expenses into your Revolut account.
There are a few disadvantages you should know about the Revolut card
Increased weekend rates
On weekends (from Saturday to Sunday in the Portuguese and UK time zone), Revolut applies a markup of 0.5% on major currencies and between +1% to +2% on other currencies. This means spending during the weekend is a bit more expensive. You can avoid this by making crucial expenses during the week.
Limited access to Cash
You are limited to only free cash withdrawals of up to €200 per month! This amount is quite low if you prefer spending lots of cash abroad. For withdrawals, after reaching the monthly limit you will be charged.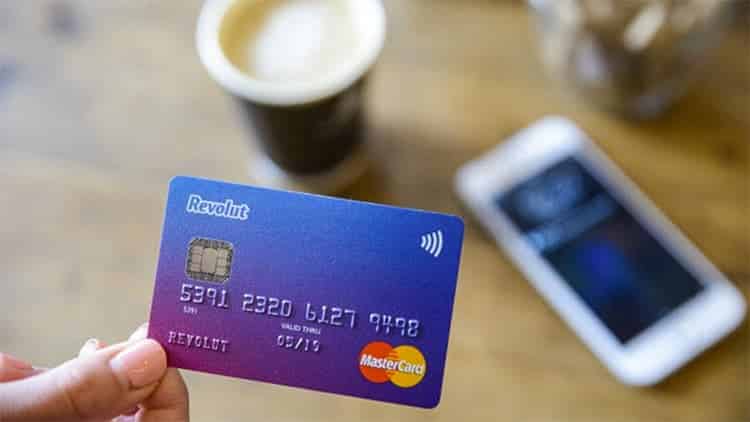 How to get the free card
To get a free Revolut card, follow these eight steps below:
Go to this page on Revolut's site;
At the top right of your screen click on Get the App;
Fill in your phone number and you will get a text message with a link;
Click on the link and then you will be redirected to the Google Play or iOS store to download the Revolut app for your phone;
Download the app;
Top up a minimum of €10;
Tap 'Card', select the Standard Revolut card and order it;
Verify your identity (Tap more -> Profile -> Verify identity)
Note: this is only available to new users.
Learn more about Revolut business, for companies.
How long does it take for a Revolut card to be delivered?
Standard delivery of a Revolut card takes up to nine working days after you have ordered it in Portugal. This costs £4.99 (or around €5.73 depending on the exchange rate on the day).
Express delivery to Portugal will cost you €19.99 and will be there in three business days.
You should also be aware that delivery times can vary as these are estimated delivery times.
Check out the delivery fees in other countries if this applies to you.
How to get the Standard account
To create a Revolut Standard account follow these seven steps:
Download the app from the Google Play or the iOS store for your phone;
Enter your phone number and tap 'Continue';
Create a 4-digit passcode and tap 'Continue';
Enter the 6-digit code sent to you via text message;
Add in your personal details and tap 'Continue';
Add in your home address and tap 'Continue';
Add in your email address and tap 'Continue'.
How to top up your account
For the first time you use your Revolut account, you will have to link your main bank account to your Revolut account.
Follow these five steps:
Open the Revolut app and tap 'Top-up';
Fill in your bank details to link with your Revolut account;
Add your correct card details including the 16-digit card number, expiry date, CVC code, and billing postcode;
Enter the amount you would like to top up;
Tap 'Top Up' and if successful, your top-up will appear instantly in your 'wallet'!
Note: If the postcode is incorrect, your top-up will fail the security check and it can take up to five working days for the money to return to your account.
Also, it is recommended you should top up your account in your local currency.
There are some different ways to top up your account, so for more information, visit the Revolut website.
Is Revolut a good travel card?
The Revolut card is definitely a good travel card when compared to other travel credit cards or traditional money exchange agencies. Revolut offers on-the-go access to your funds around the world, currency conversion with real-time exchange rates and real-time monitoring of expenses with the app as well as zero transaction fees on the international transfer of funds.
Definitely worth having for spending money while abroad on holidays.
If you like Revolut, you might also be interested to know about a TransferWise Borderless Account.
Do you have any experience with a Revolut card in Portugal? Let us know in the comments below.
Stay up-to-date with everything about Portugal by subscribing to our FREE newsletter today.

Disclaimer: Our posts might contain affiliate links, which means we earn advertising fees if you make a purchase. There's no extra cost to you, it just helps us keep the website going.

Temidayo Soyinka
I'm a freelance writer, who's very passionate about economics and everything that is related to business. I'm pursuing a Masters Degree in Management in Portugal, where I live. I love photography, traveling and experiencing new cultures.