Portugal is often ranked as one of the best countries to retire in.
Why?
Because of benefits such as low cost of living, pleasant all-year-round weather, beautiful coastlines as well as relative cheaper prices of property.
For anyone thinking about retiring in Portugal, in this article we will discuss what you need to consider and know about retiring in Portugal.
Why retire in Portugal?
Portugal in recent years has seen a rise in foreigners spending their retirement years in Portugal. It is common to find many British, Irish, Americans, Scandinavians and even Canadian retirees in Portugal. This is probably because of the cheaper cost of living and the relaxed tax regime for foreign pension income.
Also, the Algarve region, a place voted as one of the best places retire in the world attracts many retirees because of its lovely weather and numerous golden beaches.
Central Portugal also attracts foreign retirees looking to live in very peaceful and slow pace towns like Coimbra, Viseu, Castelo Branco, Tomar and Óbidos.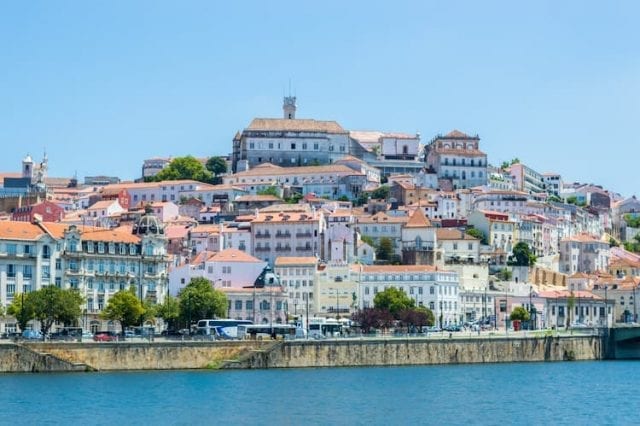 So, what are the pro and cons of retiring in Portugal?
Pros of retiring in Portugal
Some of the pros of retiring in Portugal are the following.
Retirement income is free from taxation
One of the big perks of retiring in Portugal is the favourable tax regime for foreign retirees in Portugal. The Portuguese government allows foreign retirees to receive pension income in the country tax-free.
With the Non-Habitual Resident (NHR) status it is possible to be exempted from tax payment in Portugal for a ten-year period on income earned abroad such as rental income, capital gains on real estate, interest and dividends. You can find more information here.
Affordable cost of living
The general cost of living in Portugal is lower than that of the US, UK and most countries in western Europe. Although the cost of living in Portugal is currently on the rise especially in cities like Lisbon, Porto and Algarve it is still affordable when compared to other European countries and the US.
As a retiree (couple) in Portugal, you will spend about €1500 monthly on living cost in smaller Portuguese cities especially areas in central Portugal and outskirts of northern Portugal. In the major cities (Lisbon, Porto and Algarve) you can expect to spend around €2.500 monthly on the cost of living majorly because the rents in these cities are higher.
The cost of living can also be as low as €800 to €1.000 per month if you decide to live in very small towns and villages but beware that day to day living amenities may not be the best.
I will also suggest you check Numbeo to see estimates of the cost of living in different cities in Portugal as well as compare them.
Portugal is a safe country
Another important pro for retiring in Portugal is that Portugal is a very safe country to live in. It is ranked the 4th safest country to live in the world according to the Global Peace Index. Violent crime is not prevalent although there are pickpockets in the touristic areas of the country.
Enjoy a mild climate all year round
Portugal enjoys a Mediterranean climate on most of its territory. There are about 300 days of sunshine yearly as well as the winters being mild. The temperature rarely falls below 00 C (32°C ) during the winter but can be as high as 40°C (104°F) during the summer. But in general, all year round the weather is favourable.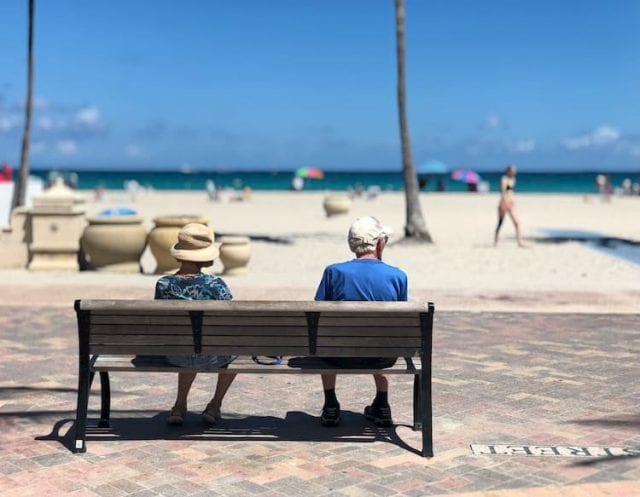 Quality healthcare System
Portugal as a national healthcare system like the UK's NHS. It is known as Serviço Nacional de Saúde (SNS). It is also well developed, accessible and affordable.
Alternatively, there is also the option of private healthcare services with a wide range of private hospitals and clinics.
So, you can retire in Portugal and be rest assured that your health needs will be covered. You should also know it is better to get private healthcare insurance if you would prefer to use Private health services.
Portuguese Hospitality
The Portuguese are incredibly welcoming, hospitable and helpful to foreigners. They try to assist you however they can even when they cannot speak your language.
More about getting private health insurance in Portugal here. 
Cons of retiring in Portugal
Of course, there is nothing without a downside, here are some of the disadvantages of retiring in Portugal:
Bureaucracy
The biggest disadvantage of retiring in Portugal is the systemic bureaucracy. The administrative process of doing things in Portugal can be quite tedious and sometimes frustrating.
Harsh weather in the Summer
The weather conditions in the summer especially in July and August can be unbearable. The temperature can climb as high as 40° C (104° F).
Language Barrier
Generally, you can get by speaking English in Portugal, but it still poses a problem from time to time especially if you are living in the hinterlands or remote towns and villages. Also, the Portuguese language is somewhat difficult to learn and understand.
Best places to retire in Portugal
You will be spoilt with choices when deciding the best place for you to retire in Portugal. Each region is unique and offers different experiences.
The type of retirement life you would like to live in Portugal would also influence your decision on where to retire in Portugal.
Putting into considerations the lifestyle and cost of living here are the best places to retire in Portugal.
Retiring in the Algarve
In Portugal, The Algarve is one of the most appealing regions and best places to retire in Portugal. The beautiful landscape, lovely golf courses, sublime coastline and beaches and sunshine are some of the reasons why retiring in the Algarve is popular amongst many Brits, Irish and Americans.
Some of the major towns and municipalities most retirees choose to live in are Lagoa, Tavira, Albufeira, Portimão and Faro.
Other places inland in the Algarve that could be an option with a few retirees already living there are Alvor and Silves.
Curious about what life in the Algarve would look like? Check it out here.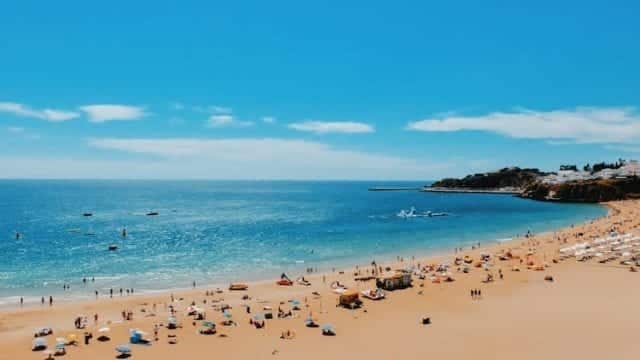 Retiring in Cascais and Estoril
These two places are about a 40 minutes drive from Lisbon. They are both metropolitan and less hustling and bustling than Lisbon.
The main advantage of living here is its proximity to Lisbon and the airport. These neighbourhoods are also well served with all the amenities you will need for comfortable living. You should also know that the property prices here are on the rise but it is still affordable when compared to Lisbon.
Live by the beach in Cascais, here's what living in Cascais is like.
Retiring in Porto
The main city in the northern region of Portugal is also a good place to retire in Portugal. You will get to experience a more authentic Portuguese feel living in Porto. It also has a beautiful landscape as well as having a lovely mountainous range.
Generally, if you are looking to live your retirement years in Porto you should look to live away from the Porto district itself and rather stay on the outskirts to have a quieter life. Some places I would suggest are Braga and Guimarães.
Get the top tips for living in Porto with the help of our expats.
Retiring in Lisbon
Lisbon for me makes this list because it's the capital city. Though the main neighbourhoods in and around the city centre are very busy and expensive to live in, living in areas such as Odivelas, Beato, Oeiras, Santos and Lapa are good places to live in Lisbon. Sintra too is a good alternative though it's about a 30 minutes' drive from Lisbon.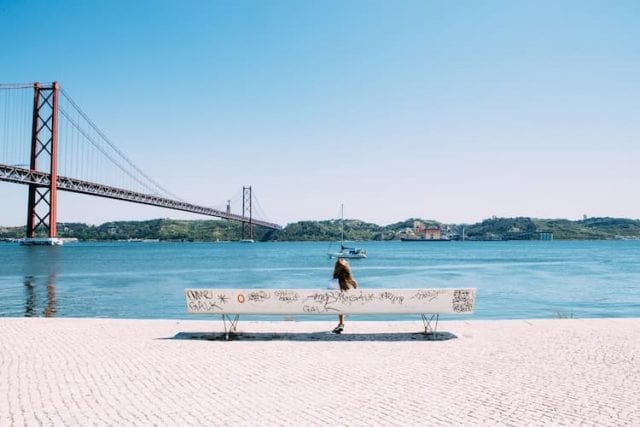 Retiring in Central Portugal
The central region of Portugal is also a great place to retire in Portugal. Life in most towns and villages in this part is generally at a slower pace and the cost of living is also low. The landscape is also incredible. Some places to live in central Portugal are Óbidos, Aveiro, Guarda, Coimbra, Viseu, Castelo Branco, Tomar and Leiria.
I would, however, suggest before choosing a place to call home in Portugal that you take time to visit different region and cities before deciding on where to stay long term. So, that you avoid moving around often looking for the best place that suits you.
To find out more about Portugal and where to go? Subscribe to our newsletter for all the latest insider tips and advice.
Requirements to retire in Portugal
EU Citizens
The process and requirement for EU citizens looking to retire in Portugal are straightforward.
Most times all you need to do is to apply for residency in Portugal at the local council office/town hall (Câmara) or SEF office (Serviço de Estrangeiros e Fronteiras).
EU citizens will enjoy virtually the same benefits as Portuguese citizens.
Non-EU Citizens
For non-EU nationals, the process is different as you must apply for a residence visa in your home country.
Most retirees from non-EU countries like the US and Australia will need to apply for a "Type I Visa" or "D7 Visa". This is generally designed for anyone looking to relocate to Portugal and have a regular passive income.
The D7 visa is a good alternative to the golden visa program for people looking to actually live in Portugal and do not have large amounts to spend on securing Portuguese residency.
Another important thing to know is that retirees from non-EU countries are not entitled to free healthcare until they become permanent residents.
However, the cost of seeing a doctor in a public healthcare facility is inexpensive but the downside with national healthcare in Portugal is long waiting times.
Because of this most expats and retirees take out private healthcare insurance to access private healthcare.
Here are the different types of VISAS you can apply to in Portugal. Find the one which suits you better. 
The general documents needed to apply for a retirement visa for Portugal
Application form
Valid passport
Valid travel insurance
A criminal record certificate from the country of origin or the country in which you have been a resident for over one year
Proof of accommodation in Portugal
Proof of financial means/ proof of retirement income
Two recent passport-size colour photos
Declaration outlining the reasons why you wish to obtain Portugal residency
Who can retire in Portugal?
Both EU and non-EU nationals can retire in Portugal, but non-EU nationals need to obtain a retirement visa from the Portuguese consulate in their country.
For example, as a U.S. citizen, you will need to apply for a residence visa in the Portuguese consulate in the US. You will need to complete an application and provide some documents, such as proof of income, criminal record certificate (FBI), proof of accommodation in Portugal, evidence of health insurance and of course a valid passport.
The process above also applies to citizens of countries like Australia and Canada.
For British citizens looking to retire in Portugal after the BREXIT, it is quite difficult to say what the new procedure for retiring in Portugal would be. But you can check Portugal's diplomatic website to keep up with BREXIT developments
Tax in Portugal for retirees
In Portugal, foreign retirees can avoid paying taxes on their pension and income from abroad thanks to the relaxed taxation scheme like the NHR.
The non-habitual resident scheme
As a retiree in Portugal, you might be eligible for the Non-habitual Residence (NHR) status which applies to people who have not been tax-paying residents of Portugal in the previous five years prior to their application.
If you qualify for this scheme you would be exempted from paying Portuguese income tax for 10 years on income from work, investments, capital gains, pensions and rental income.
Transferring pensions to Portugal
Retirees who wish to live in Portugal and are receiving a UK pension can choose to have their pension paid to them in a Portuguese bank account instead of a UK bank.
For EU citizens it is possible to transfer social security contributions from both your home country and other EU countries where you have worked to count towards your state pension in Portugal.
For nationals of non-EU countries, it will depend on if there is an agreement in place between your country and Portugal. So, it's advisable to check in advance whether your country has an agreement in place.
Inheritance tax implications in Portugal
There is no inheritance tax in Portugal.
Beneficiaries of Portuguese assets passed on as an inheritance or lifetime gift, however, need to pay is a stamp duty of 10 per cent on the estate.
Help to retire in Portugal
Some Facebook groups where you can get some information about living in Portugal and connecting with other expats:
Some Official Government Website
The following sites are sources of information for foreigners and expats in Portugal.
Useful websites to get information about Portugal
Beportugal – It is a reliable and honest source of information on everything about Portugal.
Retire in Portugal vs Retire in Spain
The truth is that Portugal and Spain share almost similar pros and cons for those looking to retire in the Iberian Peninsula.
However, Portugal has a lesser cost of living than Spain, favourable tax scheme for pension income and better weather than Spain.
Also, Portugal is ranked 7th while Spain is ranked 10th according to the international living retirement index for 2019.
You can see the top ten list here international living.
If you considering retiring in Spain, places like Alicante, Costa del Sol and the coastal towns in Spain can be an option. These places attract many expats and retirees because of the warm weather conditions all year round.
In all, Portugal is a very lovely country to retire especially the Algarve which is popular amongst the English-speaking retirees in Portugal.
Get expert advice on retirement in Portugal
Investment consults, real estate portfolio strategy, tax residency advice or second home location planning - we're on hand to help with whatever you need.
Global Citizen Solutions -
Schedule a free 15 min call with our specialists

Disclaimer: Our posts might contain affiliate links, which means we earn advertising fees if you make a purchase. There's no extra cost to you, it just helps us keep the website going.

Temidayo Soyinka
I'm a freelance writer, who's very passionate about economics and everything that is related to business. I'm pursuing a Masters Degree in Management in Portugal, where I live. I love photography, traveling and experiencing new cultures.