Buying the right gifts or souvenirs for friends and family from abroad can be a difficult task because many items can be found almost everywhere.
When you visit Portugal however, you will have no problem finding an authentic "Made in Portugal" souvenirs to take home, be it a food item or a bottle of wine or a traditional hand-painted tile.
To make this task easy for you, in this article we'll suggest different inexpensive and unique things to buy in Portugal.
Typical souvenirs from Portugal to take home
What is Portugal known for?
Portugal is undoubtedly known for its uniquely designed glazed tiles ("azulejos"), Port wine and intricate handmade crafts.
Forget fridge magnets made in China, here are some ideas that are truly unique to Portugal.
13 unique Portugal souvenirs things to buy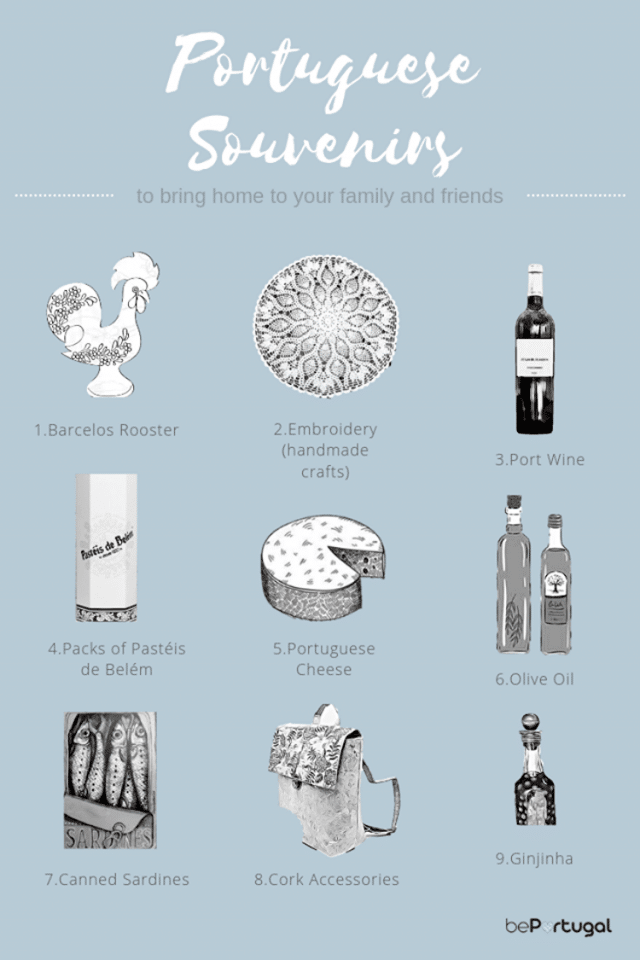 There are many items in the souvenir stores to buy, but we want to show you the truly authentic Portuguese products that you just can't buy in other countries. Here are our favourite 13 Portugal souvenirs that we think you will enjoy and remind you of your holiday to Portugal long after you get home.
Food items
1. Canned sardines
Canned sardines has been part of Portugal's culinary tradition for many centuries. These days you can find them in fancifully packed tin cans in many shops in Lisbon.
One of the best places in Lisbon to buy canned sardines is at Conserveira de Lisboa, located in downtown Lisbon.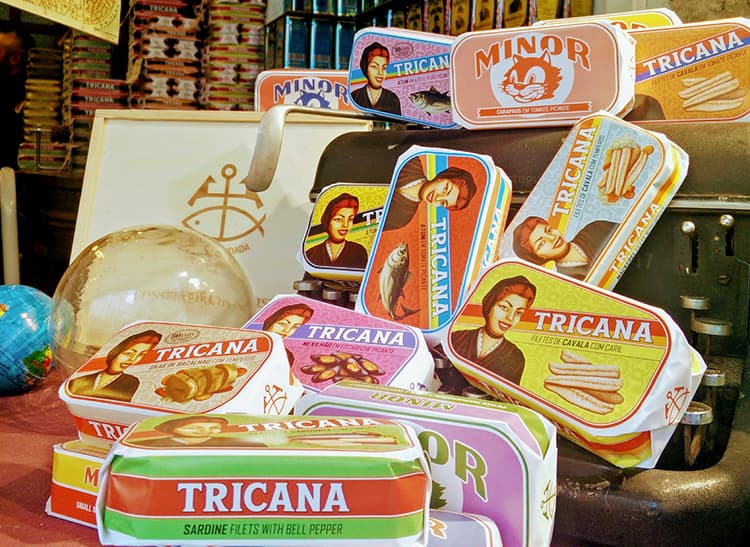 2. Packs of Pastéis de Belém
If you are a sweet tooth or a pastry lover, going back home with a few packs of the uniquely made Pastéis de Belém is another perfect Portugal souvenir to share with your family and friends. To buy the best Pastéis de Belém in Lisbon you should go to the original Pastéis de Belém factory and restaurant in the Belém neighbourhood.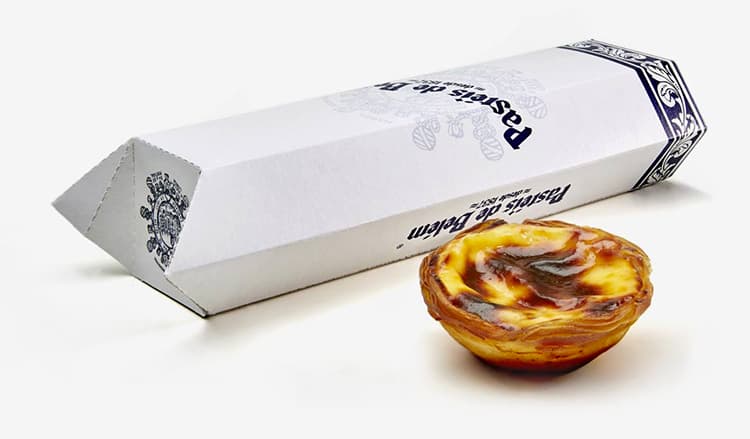 Subscribe our FREE newsletter before you visit Portugal so you can receive all the latest tips and advice to help plan your trip.
3. Portuguese cheese
In Portugal, you will find a wide variety of different tasty cheeses which are made from cow's milk, sheep's milk and goat's milk or sometimes the combination of the three. To get the best cheese from all parts of Portugal you should visit Queijaria Nacional in Lisbon but you can find a great range in most supermarkets all around the country. Any of these make an excellent Portugal souvenir.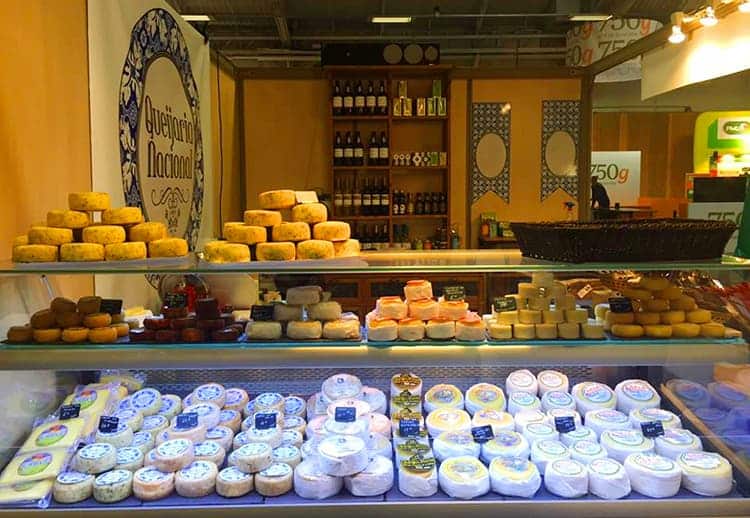 4. Port wine
Port wine, the famous wine from the Douro valley in Porto  is easily one of the most prestigious wines to come out of Portugal. Port wine is usually sweet in taste and often made as red wine but you can also get white and rosé Port wines. A good bottle of Port wine could cost you between €10 to €20 while a vintage bottle of Port wine can be as expensive as €100.
To buy a bottle of Port wine in Lisbon you should go to one of the Napoleão Wine Shops & Gourmet stores. If you don't make it there, don't worry, as most supermarkets around the country (and especially in Porto) also carry a good range of traditional Port wines for you to choose from.
If you would like to more about Port wine, check out: Port Wine, Your Travelling Guide to Portugal's Finest Wines
5. Portuguese wine
If you think of Portugal as a country, it is impossible to separate it from the production of excellent wines that are recognised the world over. Going back home with a bottle or two of some of the best wines in Portugal wouldn't be a bad idea. Be it Vinho Verde, Alentejo wine, Setúbal wine or even Madeira wine, you can't go wrong.
You should check these stores in Lisbon if you want to purchase some quality and vintage Portuguese wines as a Portugal souvenir:
And again, most supermarkets around the country have an excellent assortment of Portuguese wines. You can buy good wine everywhere.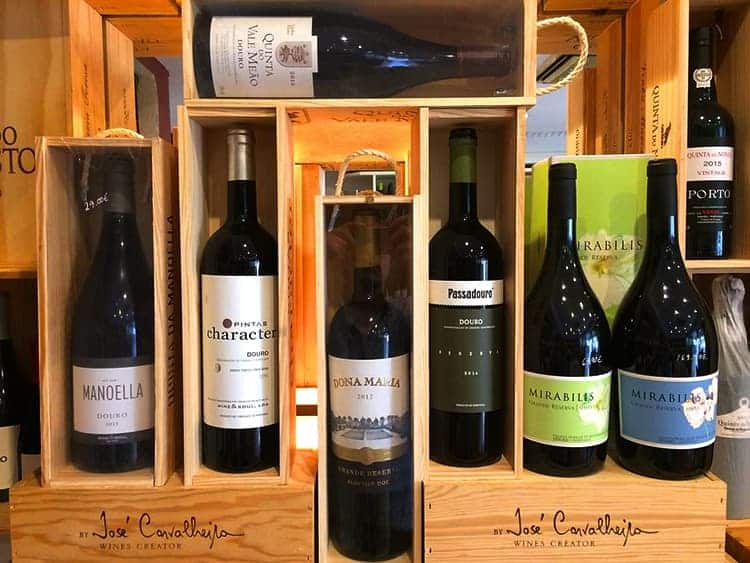 6. Ginjinha
Drinking some original Portuguese Ginjinha (or Ginja) is a must when you visit Portugal and so going home without a bottle of this local, sweet cherry liqueur from Portugal would be 'criminal'. They are also inexpensive and found in most liquor stores and supermarkets in Portugal.
To buy a Portugal souvenir bottle of Ginjinha in Lisbon, A Ginjinha Espinheira is the store to go to. It is the oldest Ginjinha maker in the city.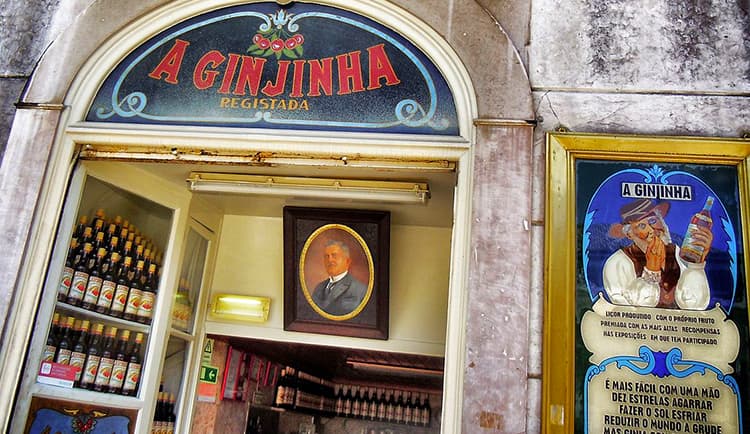 7. Olive oil
Another Portugal souvenir you can take back home with you from Portugal is a bottle of traditional Portuguese olive oil. The olive oil in Portugal is considered one of the best in the world and comes in seven different varieties. They are widely available throughout the country, inexpensive and of a very good quality. A good souvenir to take home for your cooking or to give as a gift. Olistori is the best shop to buy any kind of olive oil you want in Lisbon.
Handmade crafts
8. Embroidery
Traditional Portuguese embroidery like handmade tablecloths, blouses, scarves and much more, have been a feature of Portuguese culture and history for many years especially in Madeira. These handmade clothes are beautifully crafted, inexpensive and quite unique to Portugal and therefore they would make great Portugal souvenirs to take home with you.
A Vida Portuguesa in Lisbon and Porto is a good place to buy these beautiful handmade linens. You can also get something nice at Paris em Lisboa.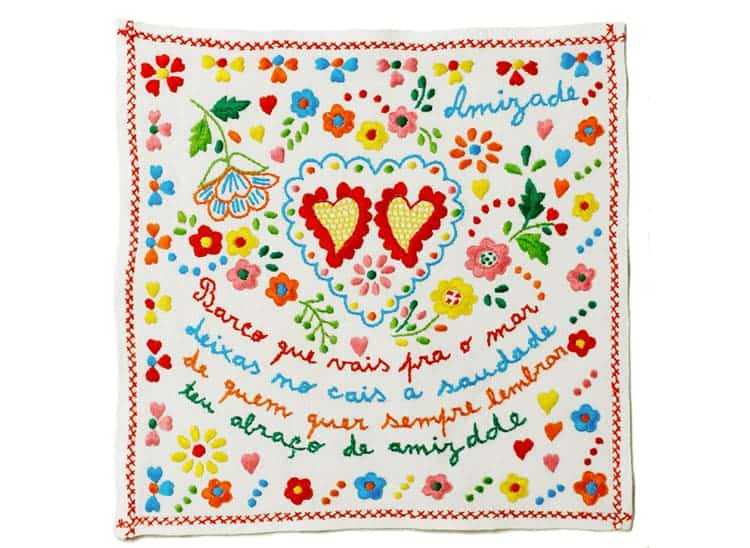 9. Jewellery
If you're a jewellery lover, you will have no shortage of choices in Portugal. This is another craft the Portuguese are exceptionally good at. You will find numerous lovely silverware like pendants, necklaces, bracelets and rings at very competitive prices. A great Portugal souvenir idea if you don't have much room left in your suitcase.
One of the best places to buy jewelry in Lisbon is: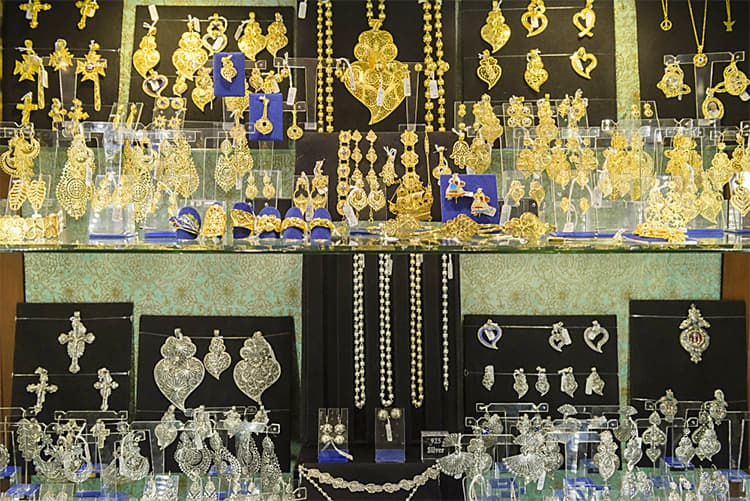 10. Cork accessories
Portugal is one of the largest producers of cork in the world and so it's very common to see cork products all over the country. They are used to make different things like wallets, small bags, coin purses, tablet or phone pouches and even ties. You will find them in many souvenir shops in Lisbon and Porto. Some popular places to get authentic cork in Lisbon are Pelcor and Cork & Co.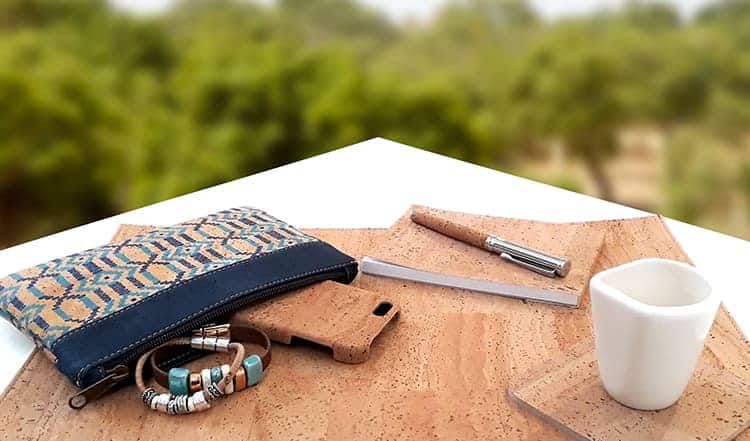 11. Pottery
Pottery has existed in Portugal for many centuries and over the years they have mastered this craft. Buying earthenware in Portugal also makes for fantastic Portugal souvenirs as there is an extensive collection of wonderful pottery and ceramic work all over the country. And it is something you can use at home.
To buy decently priced and quality pottery souvenirs in Lisbon you should go to Fábrica Sant'Anna.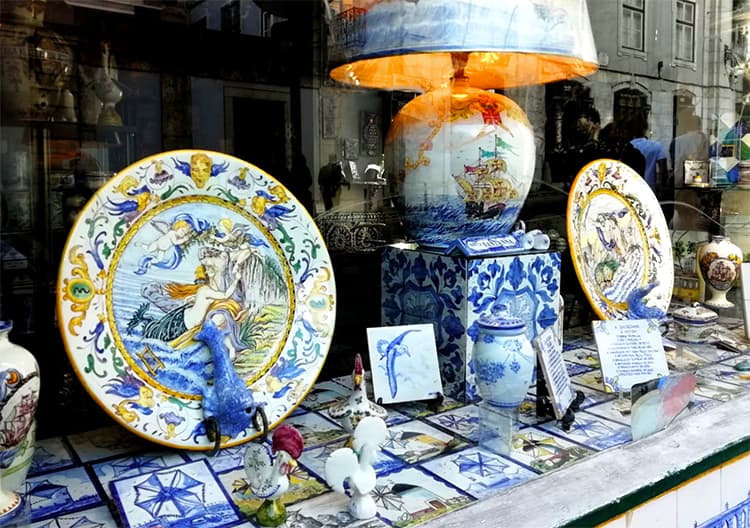 12. Azulejos
Painted tiles ("azulejos") have been part of the Portuguese culture since the 16th century and ever since then it has been used to decorate and beautify all kinds of structures in the country. It is an unmissable feature on churches, palaces, museum and ancient buildings in the capital city. You can but something small or large to take home with you as they all make perfect Portugal souvenirs.
These days you can buy different colours and types of 'azulejos' ranging from small tiles to colourful murals.
For antique 'azulejos' in Lisbon, you should go to these: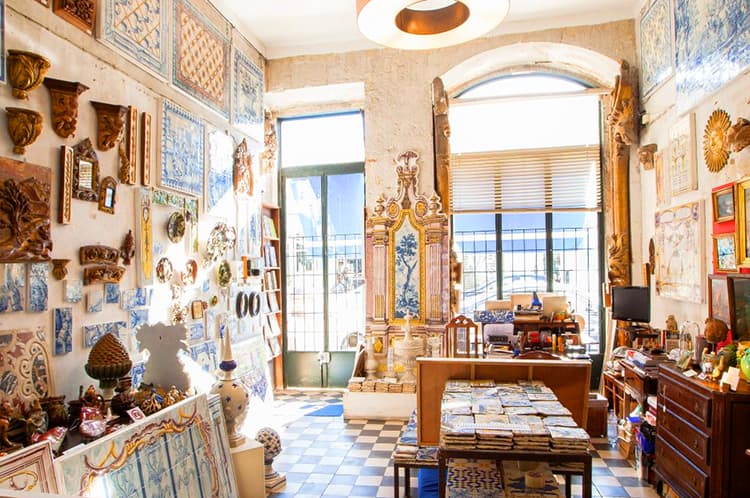 13. Barcelos rooster
The Barcelos Rooster ("O Galo de Barcelos") is one of the most common souvenirs in Portugal and it's found in almost any gift or souvenir shop in Portugal. It is usually vividly coloured and mostly comes in ceramic form depicting the rooster or as prints on shirts and towels. You can also find fridge magnets and bottle openers.
If you would like to know the story of the Rooster of Barcelos, have a look at our article: Portuguese Traditions That Might Surprise You to Know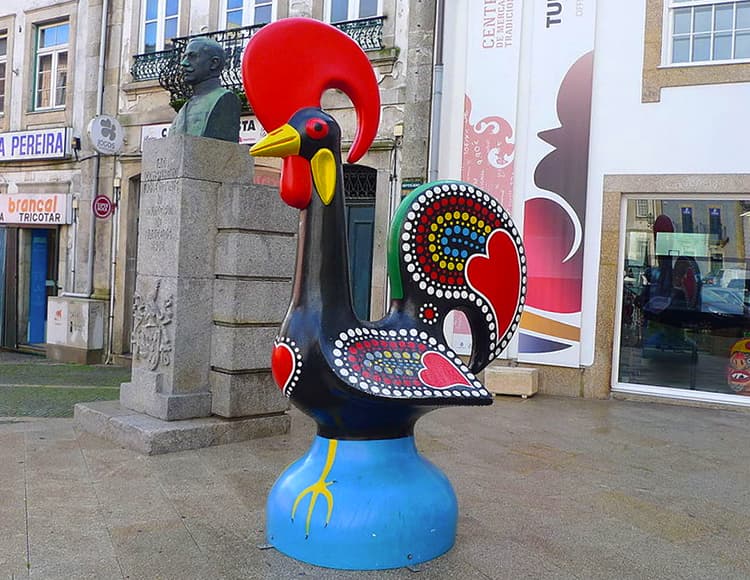 What about buying souvenirs in the airports?
If it's impossible to buy your Portugal souvenirs in the city where you are staying, you can still buy some at Portugal airports although they tend to be very expensive. Some Portugal souvenirs you would find easily in the airport are wines, cork products and jewellery.
I hope this list of things to buy in Portugal makes your shopping in Portugal for unique items very easy.
Did we miss any typical souvenirs from Portugal? Let us know in the comments below.

Disclaimer: Our posts might contain affiliate links, which means we earn advertising fees if you make a purchase. There's no extra cost to you, it just helps us keep the website going.

Temidayo Soyinka
I'm a freelance writer, who's very passionate about economics and everything that is related to business. I'm pursuing a Masters Degree in Management in Portugal, where I live. I love photography, traveling and experiencing new cultures.