Today we are going to clarify what the currency of Portugal is and what you need to know before visiting or moving to this sunny, European country.
You will discover some interesting facts about the history of money in Portugal and how it all changed when they first introduced the euro (€).
We'll also help you figure out the best ways to send money to Portugal, just in case you need to one day.
Know About Money and Banks in Portugal
Portugal is a part of the European Union (EU) so, the euro (€) is the official currency that equals to 100 euro cents. In addition, limited edition souvenir and commemorative coins of various denominations (0.25, €1.50 and €2.50), are also in circulation and are still an official means of payment throughout the country.
Prior to the introduction of the euro in Portugal in 1999, the local currency was the 'escudo' (which means shield). The designation was PTE. It was in active circulation from 22 May 1911 until 2002. The escudo has not been issued since 1979. One escudo was equal to 100 "centavos".
All that gold
The 'real' (meaning royal), was the currency of Portugal in the form of gold coins weighing 4.58 grams (.16 ounces). They were minted in Portugal from the 15th century onwards. The content of pure gold in these coins was 3.43 grams (.12 ounces).
At the beginning of the 18th century, they reduced the amount of pure gold slightly and minted coins containing 3.28 grams (.11 ounces) of gold.
After the revolution of 1911, the escudo was introduced with a gold content of 1.63 grams (.06 ounces) of pure gold. The total weight was 1.87 grams (.07 ounces). One escudo was equal to 1,000 réis (the plural of 'real').
The escudo
The escudo was also the currency of the former Portuguese colonies and was issued by the National Overseas Bank (except in Angola). Today, only the Cape Verdean Escudo (CVE) remains in circulation.
Originally, the escudo was tied to the pound sterling at a ratio of 4.5 to one. After 1914, the exchange rate of the Portuguese currency fell. By 1931, the ration was a staggering 110 to one.
In 1940, the escudo was tied to the US dollar, and in 1949, the exchange rate was 28.75 to one.
Due to inflation, the centavo (remember that was the coin of the escudo) completely depreciated, and these coins were withdrawn from circulation. The new monetary system was adopted in 1986 and existed until the country's transition to the euro.
By the time the country entered the Eurozone in 1999, the escudo exchange rate was at 200,482 to one euro.
In circulation at this time were coins of 1, 5, 10 (made of nickel-brass), 20, 50 (made with copper-nickel), 100 and 200 (made of a bimetallic compound), produced in 1989-1991 and banknotes in denominations of 500, 1,000, 2,000, 5,000 and 10,000 escudos.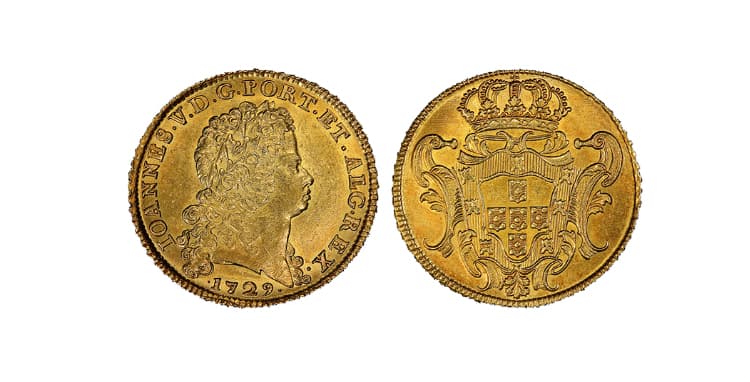 Show me the money
Portugal's escudo banknotes traditionally depicted the outstanding personalities of its history. The last series was released with images reflecting the era of great geographical discoveries:
Juan de Barros (featured on the 500 escudo note)
Pedro Alvares Cabral (featured on the 1,000 escudo note)
Bartolomeu Dias (featured on the 2,000 escudo note)
Vasco da Gama (featured on the 5,000 escudo note)
Enrique (Heinrich) Navigator (featured on the 10,000 escudo note)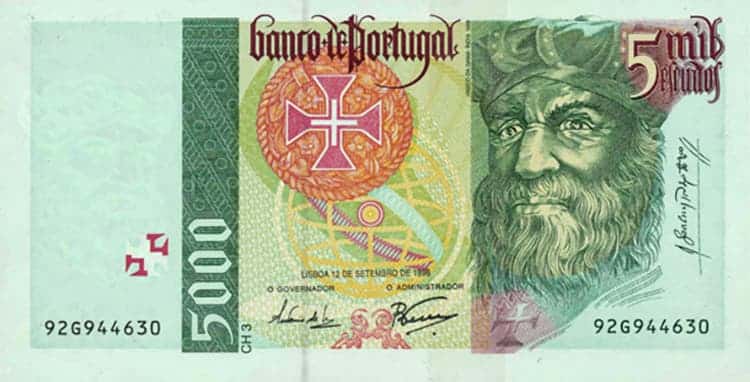 About Portuguese banks
Thinking of opening a bank account in Portugal. Today, banks and currency exchanges work on weekdays from 8.30am to 3 pm. Some banks in Lisbon and tourist areas are closed at 6 pm. In large shopping centers in the Algarve, they are open daily from 9 am to 9 pm.
The Portuguese have a national system of ATMs called "Multibanco" which operate around the clock. You can even pay your bills and top up your travel cards at these machines.
Be prepared
It is well known fact that it is much better to visit a country with a certain amount of cash in your pocket, since the currency converter might be a lot different from what you expect and the ATMs will always take their percentage for withdrawing money internationally.
Please check your local currency compared to the euro before coming to Portugal. We think XE is a pretty accurate online currency converter. You could also consult your local bank, so you don't get surprised when you arrive in Europe.
If you are planning to visit Portugal and have no possibility to get euros in your home country, the most convenient way is to exchange money at the Lisbon Airport as they have a favourable rate and a lower fee.
In banks and hotels the rate is lower, but the fee is higher. For example, in banks, the commission is 0.5% of the value exchanged.
Exchange rates in banks may differ significantly from each other. Some commercial banks do not charge commissions on transactions worth less than €30.
In some private shops and markets, you can pay in US dollars (US$).
If you happen to be in Lisbon and have no possibility to go to a bank, you can try to find an exchange agency ("agência de câmbios"), there are quite a few around.
Tips on how to transfer money to Portugal
Online convenience
If you need to transfer money to or from Portugal, the fastest way would be Western Union or MoneyGram. There is a high probability that the receiver will receive money the same day you send it. For Western Union services, you would have to pay a small fee (from €5 to around €100) per transaction depending on the country and the amount you transfer.
These are handy online services so, you don't have to spend time at the physical office.
Bank transfer
If you decide to make a bank transfer, keep in mind that it will take from three to five business days for the receiver to see the money in their bank account. Depending on the bank you use, there will also be an international fee per operation.
Traveler's checks
Traveler's checks are still accepted everywhere and their rate is more reasonable than cash exchanges, but the fees are quite high (up to 13%), with the exception of American Express checks that can be exchanged without fees.
Credit cards
MasterCard, American Express and Visa credit cards are accepted everywhere. There are ATMs and Multibanco machines in all tourist centres.
The small stuff that's also good to know about money in Portugal
It may serve you well to know that the Portuguese appreciate tipping in a restaurant which is usually around 10% of the bill. It is not expected though so you will probably be treated with a big smile if you leave a tip.
In a bar or café it is at the discretion of the guest. If you go to a hairdresser it is customary to give a tip from €1. At the hotel, be sure to give the porter a minimum of 50 cents.
It is not necessary, but if you would like to tip the taxi driver, 10% of the fare is roughly the going rate.
So what should you budget for while you're in Portugal?
Here are some approximate prices for a day in Portugal:
A pastry and a coffee at a café:€2
Lunch at a restaurant: €15
Fast food: €6
Dinner for two with wine: €30
A bottle of Coca-Cola: €1
A bottle of wine from a supermarket: from €1.50
We recommend that you should budget for at least €50 per day in order to cover your expenses on your holiday Portugal.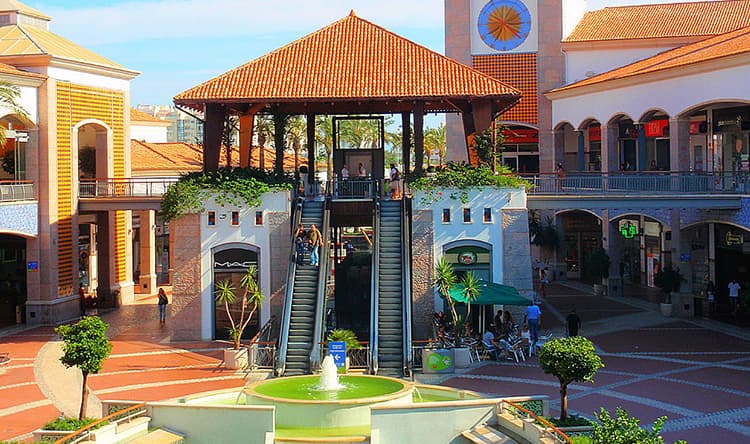 Carrying cash in Portugal
When preparing for a trip to this beautiful and ancient country, it is better to take care of cash in advance and carry small denomination bills, ideally no more than €20.
It is sometimes difficult to pay in large bills in most places like coffee shops and private stores and you even may get refused if you tried to pay for something small with a €50 note.
The Portuguese are not accustomed to large bills and they may not have change in their tills. Of course in large stores and restaurants, you can still pay with a €100 note to cover a  higher bill.
In many shops with many tourists or at the box offices of theatres, there may even be warnings that bills of €200 and €500 are not accepted.
Did we miss any important information? Do you have any experiences to share? Feel free to leave a comment below.
We publish new content every day so be sure to subscribe to our newsletter to get notified of the latest tips for your visit or move to Portugal.

Disclaimer: Our posts might contain affiliate links, which means we earn advertising fees if you make a purchase. There's no extra cost to you, it just helps us keep the website going.

Ira Fedorchak
A Ukrainian expat living in Portugal and bringing up passion to the writer's field by exploring, learning and renovating the lever of knowledge. A community lover with futuristic thinking and business adeptness. A true fashion and style enthusiast communicating with future tech.