The days are shorter, the rain is more frequent, and the temperature is lower. This can only mean one thing!
Winter has arrived in Portugal! Brrrrrr!
While many people relocate to Portugal for its warm climate, the country is certainly not immune to the winter season.
As the beanie months approach, we figure it's time to tell you what Portugal is like during the winter. We will discuss average temperatures around the country, where to find snow, what activities you can do and how to keep warm this winter.
What is Portugal in winter really like?
Now you won't see snowfalls in Lisbon or lakes in the Algarve ice over in winter, but the depth of winter in Portugal can be extreme, especially during December and January. This is mainly due to the extreme variation in temperatures that each day has. Temperatures at night are the coldest, sometimes reaching 2°C (36°F) while day time temperatures can be as high as 20°C (68°F).
Probably the most inconvenient part about winter in Portugal is the rain, which often causes cities to come to a halt. When it rains in Portugal, it pours. Unlike the endless drizzle that you would experience in London, you will often see a month of rain in a couple of hours.
Winter in Portugal is still winter. When there are clear skies overhead, that is usually a sign that a warm winter day will be a cold winter night once the sun sets.
Average winter temperatures in Lisbon
| | | | |
| --- | --- | --- | --- |
| | December | January | February |
| Low | 9°C (48°F) | 8°C (46°F) | 9°C (48°F) |
| High | 15°C (59°F) | 15°C (59°F) | 16°C (61°F) |
Average winter temperatures in Porto
| | | | |
| --- | --- | --- | --- |
| | December | January | February |
| Low | 6°C (43°F) | 6°C (43°F) | 6°C (43°F) |
| High | 14°C (57°F) | 14°C (57°F) | 15°C (59°F) |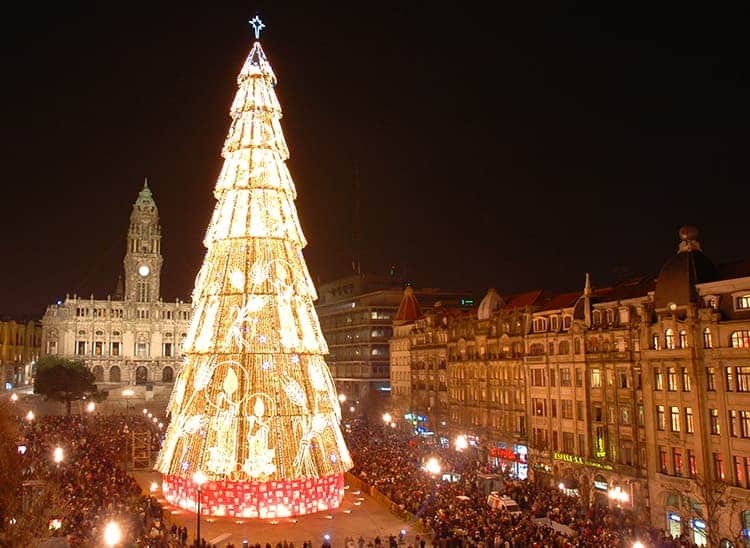 Average winter temperatures in Faro
| | | | |
| --- | --- | --- | --- |
| | December | January | February |
| Low | 9°C (48°F) | 8°C (46°F) | 9°C (48°F) |
| High | 16°C (61°F) | 16°C (61°F) | 17°C (63°F) |
For more detailed weather forecasts, you can visit Weather and Climate online.
Escape winter, head to the Algarve
Down in the southern region of Portugal in the Algarve, is Faro, one of the hottest cities in Portugal and even Europe. There is no 'real' winter in Faro, but rather a long and pleasant spring and around 11 hours of sunshine each day. This doesn't mean that weather conditions are always suitable for beach days, but most days are sunny and lighter clothing is an option.
That being said the nights still become quite cold because of the wind so we suggest you bring a jacket and pair of long trousers if you head to the Algarve over winter.
And the coldest region is…
Porto. It likes to rain in Porto in the winter, and by rain, we mean a lot. The winter months here are not so friendly temperature-wise, but the city still has a natural and almost mysterious beauty to it. You can still enjoy the city's views and famous Port wine.
Where to find snow in Portugal
Yes! It exists!
Most people are surprised to discover that it does snow in Portugal and are even more surprised when they find out you can even ski there.
Serra da Estrela is the highest mountain range on the Portuguese mainland and it receives large snowfall during the colder winter months. The ski resort is located around 300km (186 miles) east of Lisbon, near to the Spanish border. It is also the country's highest point at 1,967 metres (6,453 feet) above sea level.
The ski area is connected by six lifts and can transport up to 8,000 skiers and snowboarders to the top of the slopes every hour!
The slopes are ideal for beginners as it has high safety ratings and helpful instructors. There are intermediate and advanced runs for regular skiers and boarders, but the slopes are not comparable to those in countries like Norway or Switzerland.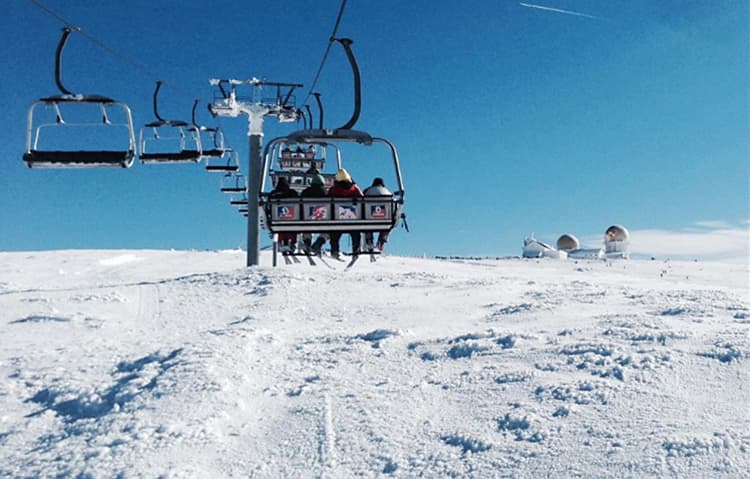 If you don't want to ski, the resort is also a nice place for walks, hikes and, of course, admiring the beautiful mountain views from a cabin or hotel. The city of Guarda, just northeast of the mountain, also has a 12th century cathedral to explore.
If you are in Porto, why not take a day trip and go on a guided tour of Serra da Estrela and it's attractions. If you're with a group of four or more, there is a beautiful full-day nature tour you can take where you can also visit the lagoon, Lagoa Comprida.
In Portugal for the winter? Here's what you can do
While laying on the beach is certainly more enjoyable in the summer time, surfing, rafting, hiking, climbing and many other activities can be best in winter when the waves and rivers are higher and faster moving, and the sun is less invasive.
The west coast of Nazaré also gets the highest surfing waves during the colder months and many big wave surfing competitions are held here. Exploring the landscape can also be much more beautiful during the winter; the cities and sites are less crowded with tourists and the local traditions more colourful.
Warm up your belly with a traditional Portuguese dish
Nothing says winter comfort food like a good serving of green soup ("caldo verde") in a traditional clay pot. The soup is normally served with slices of pork sausage ("linguiça") and cornbread. The Portuguese also love their chorizo sausage ("chouriço"), which is often added to rice dishes, stews or cooked over a flaming hot plate.
A walk through the city in winter will often smell like roasted chestnuts. Street vendors sell this and Portuguese traditional snacks in the autumn and winter months. They are a very typical food to eat, especially during the Saint Martin's Day ("São Martinho") celebrations. On 11 November, Saint Martin's Day is celebrated around the world and in Portugal, the Portuguese eat warm roasted chestnuts and drink "jeropiga", a traditional liqueur. This celebration kicks off the countdown to Christmas.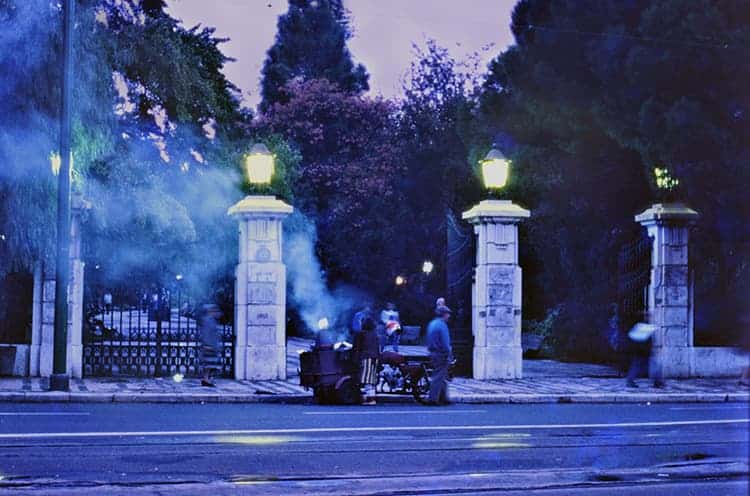 Other national holidays over the winter time are of course Christmas Day in Portugal, New Year's Eve and New Years Day, Catholic Epiphany (6 January) and Carnival, which is held in February.
Keeping warm inside
Often when it's cold outside, we want to stay indoors. In Portugal however, people's homes can be particularly cold, especially in older properties. The buildings are designed to keep out the summer heat rather than stay warm in the winter.
Central heating is very rare and reverse-cycle air conditioning is not ideal for warming an entire home. We advise you to invest in some fluffy blankets, slippers and dressing gowns. Alternatively, plug-in radiators can also work well in bedrooms or hallways.
Portugal in winter is thankfully short
While the winter months may mean more time to catch up on your favourite Netflix show as you snuggle up on a couch, 'real' winter in Portugal is very short. Summer time temperatures generally start around the beginning of May and last well into September. In the meantime, keep warm!
Do you have any tips for keeping warm in winter? Maybe you know some great places to visit in Portugal when it's cold outside? Leave a comment below and let us know what you think.
We'll have more tips and advice for you if you subscribe to our newsletter. No spam, we promise!

Disclaimer: Our posts might contain affiliate links, which means we earn advertising fees if you make a purchase. There's no extra cost to you, it just helps us keep the website going.

Sindy Smith
I'm a freelance copywriter and free-spirited traveller from Australia. I fell in love with Portugal when I arrived here and hope to share with you all the reasons why.