Are you planning a weekend getaway? Travelling to Portugal for holidays, work or school?
Where would you like to stay? Lisbon? Porto? The Algarve?
What about the islands of Madeira or the Azores?
Here's a guide on the airports in Portugal to help you plan your visit and save you some time.
Find out about the airport facilities, how to go to and from the city to the airports and some tips to make your travel through the airport as smooth as possible.
Which are the main airports in Portugal?
Portugal has airports in Lisbon, Porto, Faro, Madeira and the Azores which serve the entire country. The three main airports in Portugal are the airports in Lisbon, Porto and Faro. Amongst these three, the Lisbon international airport is the main international gateway to Portugal as it welcomes over 25 million passengers yearly.
Lisbon Airport
Lisbon Airport (LIS), also known as Humberto Delgado Airport and Portela Airport, is the biggest and main international airport in Portugal. It serves the whole central region of Portugal.
It is a modern airport with great facilities and due to its strategic location, it welcomes the most passengers into the country as it has the most international and European destination flights in and out of Portugal.
Getting to and from Lisbon Airport with public transport
The airport is only 7 km (4 miles) north of the city centre and can easily be reached by bus or Metro (the red line "linha vermelha"). There is also a special Aerobus which picks passengers from the city to the airport. It costs €4 (or €6 for two adults).
Lisbon Airport has two terminals: T1 and T2
T1 is the main terminal in Lisbon Airport. It handles most international departures and all arrivals into the country. It is the busiest of the two terminals and can be reached directly by metro, bus or taxi.
T2 is the other terminal in Lisbon Airport and handles only departures. All low-cost carriers that fly into Lisbon depart from T2.
T2 is not as comfortable as T1 in terms of facilities as it is more of a makeshift shed. Also, there is no direct public transportation from the city to T2, although there is a free bus shuttle between T1 and T2 which runs every 10 to 20 minutes.
Alternatively, you can take a taxi from the T1 to T2 or directly from the city centre which costs around €10 to €15.
Which terminal do you need to be at?
It is important to know the terminal for your departure to avoid wasting time or delays which may lead to you missing your flight.
Get there early
Also, it is important to get to Lisbon Airport as early as three hours before your flight because the Lisbon Airport is notoriously very busy and there are usually very long queues at baggage drop offs, security checks and customs (passport control).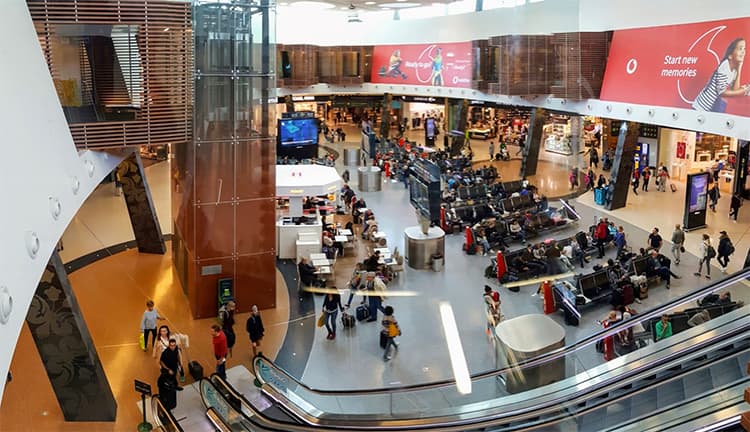 Porto Airport
Porto Airport (OPO), also known as Francisco Sá Carneiro Airport, is the second busiest airport in Portugal and has only one terminal. It serves the northern region of Portugal. It is very modern and has an excellent range of facilities which compares to some of Europe's best airports.
Getting to and from Porto Airport with public transport
The airport is 11 km (7 miles) from the city centre which is a bit far, but it is well-connected by public transportation. Depending on where you want to go, the trip to or from the airport can take from 30 minutes to an hour.
To go to or come from the airport by Metro, you will need to take the Violet line (E). Alternatively, you can go by bus with the following buses: 601, 602 and 604.
Going by taxi is also possible and can cost you as much as €25, but it is more convenient though especially if you have lots of luggage.
You can also arrange a private transfer from your hotel in Porto for up to four people for only €23.
Which airlines fly to Porto Airport?
Porto Airport is well served by low-cost carriers such as Ryanair and EasyJet.
Other airline companies that fly to Porto include some of the following:
Onwards to Spain?
It is also possible to travel from Porto Airport to Vigo in Spain. There are some bus services that go from the airport to Vigo, it takes about two and a half hours from the airport.

Faro Airport
Faro Airport (FAO) is only 4 km (2 miles) from the city centre in Faro. The airport is small and has only one terminal which serves the entire Algarve region, south of Portugal and the Spanish province of Huelva.
The Algarve is a popular tourist destination and attracts people from all over the world, most especially expats from the UK and Ireland. The Faro airport welcomes over 7 million passengers yearly. Most of which visit during the summer period  (the peak season) in the Algarve.
Sorry, there's no public transport to and from Faro Airport
Public transportation to the airport is infrequent as there is no train service or Metro to the airport. Bus services go to and from the airport, but the frequency and schedule are not really tourist friendly. You are most likely better off taking a taxi.
If you plan to stay outside Faro, you can take a taxi to the bus terminal in Faro and then get a bus going to your final destination. You should know that taking a taxi to places outside Faro is very expensive.
Which airlines fly to Faro Airport?
Faro Airport is also well served by the low-cost carriers and other carriers.
Some of which include:
Some of these airlines operate flights to Faro seasonally.
Also going to Spain?
It is possible to also go to Seville in Spain from Faro airport as there are bus companies which ply this route from the airport to Seville. The journey is only a little over three hours, it could be an alternative way to get to Seville.
Cristiano Ronaldo Madeira International Airport
Cristiano Ronaldo Madeira International Airport is popularly known as Funchal Airport (FNC). The airport is in Santa Cruz which is 25 km (16 miles) from Funchal city centre. It serves the Madeira archipelago of Portugal located just 900 km (559 miles) from Morocco.
The airport was once considered to be one of the most dangerous airports to land in because of its short runway, but it has since been reconstructed and now boasts a runway of 2781 metres (9124 feet) in length.
The airport caters to over 3.5 million passengers per year and offers flight connections to over 45 cities in the world. It also has only one terminal which is virtually underground.
Getting to and from Funchal Airport with public transport
To go to and from the airport you can use the bus or get a taxi. The bus lines are: 20, 23, 53, 113 and 208. You can also use the Aerobus express bus service between the airport and Funchal city. The taxi from the airport to the city centre can cost between €30 to €40 depending on the time of the day.
Which airlines fly to Funchal Airport?
Some airlines that fly to Madeira airport are: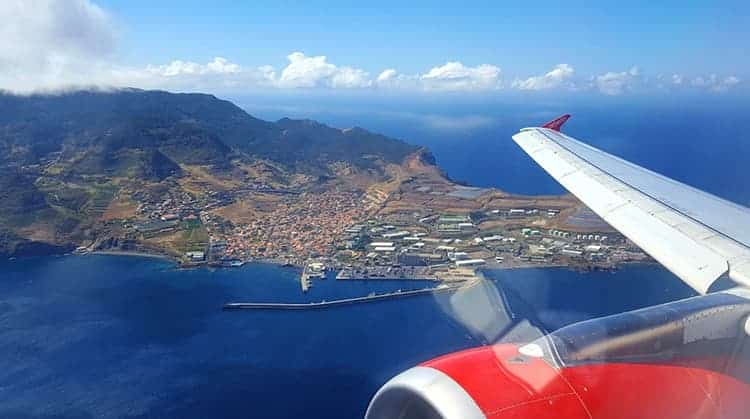 The Azores
The Azores is the other archipelago in Portugal. It comprises of nine islands all of which have airports. The main international airport in the Azores is in São Miguel and is named after Pope John Paul II: Aeroporto João Paulo II (PDL).
It is just 2 km (1.2 miles) from the capital, Ponta Delgada. It has frequent flights to the other islands in the Azores and mainland Portugal. It also offers flights to some European destinations, Canada and the US.
It is also a base for low-carrier Ryanair.
Getting to and from Pope John Paul II Airport with public transport
There is no train service to the airport and bus service to the airport is quite limited. So, you might better off taking a taxi to the city or renting a car to move around.
Be aware that driving a car in the Azores is somewhat difficult because the roads are narrow and there are frequent herds of cows on the road.
Which airlines fly to the Azores?
The Azores has its own airline, Azores Airline. The airline offers direct flights from Boston, Oakland (seasonal), Toronto, Frankfurt and a few other international destinations.
It is very common for travellers to connect to the island through Lisbon as TAP Air Portugal or Azores Airlines have frequent flights to and from the island daily.
Did you find this article useful? Let us know in the comments below if you have any queries about Portugal's main airports.
Never miss a thing about planning for your trip to Portugal by subscribe to our newsletter.
You may also be interested in:
TAP Air Portugal, Everything You Wanted to Know and More
Your Lisbon Airport Guide, Everything You Need to Know

Disclaimer: Our posts might contain affiliate links, which means we earn advertising fees if you make a purchase. There's no extra cost to you, it just helps us keep the website going.

Temidayo Soyinka
I'm a freelance writer, who's very passionate about economics and everything that is related to business. I'm pursuing a Masters Degree in Management in Portugal, where I live. I love photography, traveling and experiencing new cultures.