You have just moved to Portugal and you need to get to your money here. Now what? There are so many questions, so many banks and account options.
Where to start?
Which bank is the best for expats?
How long does it take to open a bank account in Portugal?
We are here to help answer some of your most pressing questions about opening a bank account in Portugal.
What you need to know about opening a bank account in Portugal
An important step for expats settling into their new home is getting your finances sorted out.
In today's global market it is sometimes possible to do without one, but opening a bank account in Portugal is fairly straightforward.
Being honest, the documents and requirements to open a bank account in Portugal aren't many, but the language barrier (if you don't know Portuguese) can make your life harder.
Fortunately, we "translated" the process of opening a bank account in Portugal for you! 🙂
In the meantime, it might be useful to open (and save for later) our ultimate guide on How to send money to Portugal.
Why do I need a bank account in Portugal?
With a Portuguese bank account, your debit card will be accepted in more stores and services, you will be able to receive wages from your local employer and you'll even avoid those annoying international transfer fees from your home bank.
For example, a Revolut card in Portugal is not always accepted by the point of sales terminals in stores. On the other hand, a TransferWise Borderless Account card has very good reviews.
How do I open a bank account in Portugal?
Luckily, there are just a few steps to opening a bank account in Portugal, follow our simple list below and you can't go wrong.
Bring your necessary documents to a branch
There are a few things you should be aware of regarding what documents are required when opening a bank account in Portugal.
First of all, the specific documents needed will vary by bank and different kinds of accounts may have different requirements. For example, if you want to have access to credit facilities, you will likely need to provide the bank with more information about your financial situation.
Similarly, if you are not from an EU country, you will have to provide additional information proving the legitimacy of your residency status in Portugal. That being said, when opening any bank account in Portugal, you will generally need:
Identification (like a passport or EU ID card);
Proof of address (a utilities bill or a rental contract, etc.);
A tax identification number in Portugal which is called a NIF (Número de Identificação Fiscal);
A phone number able to receive SMS;
A minimum deposit which varies from bank to bank.
In some cases, you may need proof of employment. For example, your pay slip or a certificate showing your open activity from Finanças if you are a freelancer or self-employed.
For those of you from countries outside of the European Union, you may need a Portuguese residency card or certificate.
If you are opening up a bank account in Portugal as a non-resident, you will usually have to provide details of your overseas address used for tax purposes.
You will also need to provide any information specific to the account you are opening. For example, if you want to open a student bank account in Portugal, you will need proof that you are a student.
How long does it take and what's it going to cost me?
When opening a bank account in Portugal, once you have all the necessary documents in order, it is usually just a matter of completing a few simple forms and you'll either walk out of the bank with a debit card in hand following one appointment, or you'll receive it in the mail a few days later.
Can I open a Portuguese bank account online?
For some banks, you can even complete the entire account opening process online. The procedure for opening up a bank account in Portugal online is largely similar in terms of the information that you have to provide, the main difference is that you will submit the documents electronically.
The following banks all give you the option of setting your account up online:
In terms of fees, although some banks in Portugal have started charging an increasing amount of fees in the last few years, some don't charge you any ongoing costs. Pick the right bank when setting up a bank account in Portugal, and you won't have to pay anything at all for standard services. ActivoBank and Banco CTT (website in Portuguese) have free options available. Most usage in the eurozone, including regular activities like card use (POS), ATM withdrawals, SEPA transfers, is also free of charge with these banks.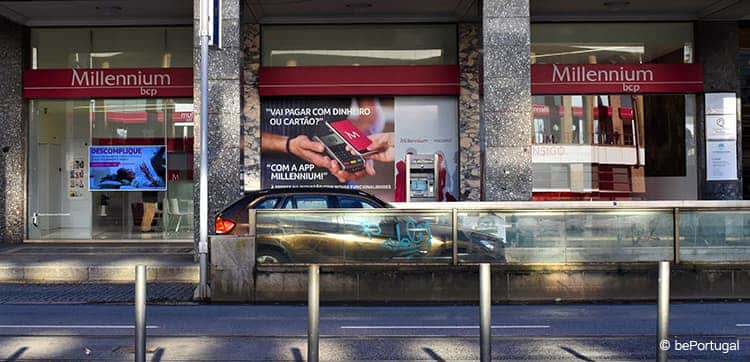 Which bank offers the best options for expats in Portugal?
If you're an expat looking to open a bank account in Portugal, you'll quickly discover that ActivoBank is recommended the most. There are a few reasons for this, including the fact that they have no monthly fees, most information, as well as online banking, is available in both Portuguese and English, and they have well-located branches where the staff speaks excellent English.
It is also worth noting that they are a subsidiary of the largest private bank in Portugal (BCP) which means you can deposit cash in all of Millennium BCP's ATMs.
Another bank with a similar cost structure is Banco CTT (CTT is the Portuguese postal service), but one big disadvantage is the lack of an English on their website and online banking facilities.
Other major Portuguese banks include:
Larger banks, such as those mentioned here, are likely to have at least some English speaking staff who have experience in setting up accounts for expats.
Where can I access my Portuguese bank account?
In addition to the bank itself and through online banking, after opening a bank account in Portugal, you'll also have access to some other useful features.
If you have spent much time in Portugal, you might be familiar with their unique Multibanco system. ATMs in Portugal act like normal ATMs when you use a foreign debit or credit card (for cash withdrawals), but with a Portuguese bank card, you can complete all sorts of actions including topping up your phone plan, paying your utilities bills and even buy tickets to the theatre.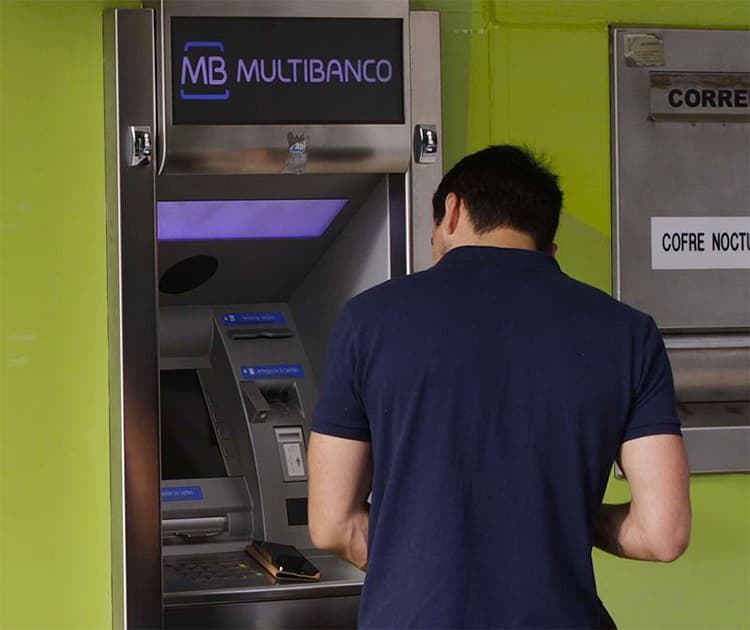 Is it easy to send money to and from my Portuguese bank account?
Sending money in Portugal isn't expensive or difficult, but you do need to compare different services and their rates to find the best deal for you.
After opening a bank account in Portugal, it will be easy and cost-effective to send money within Portugal, but be aware that while banks do send money overseas, it can be very costly for you since their fees are higher compared to companies that specialise in international money transfers like TransferWise.
What about credit cards and buying property in Portugal?
Most banks in Portugal offer different kinds of credit cards. For example, Millennium BCP offers a range of 24 different credit and debit cards including Visa, Mastercard and American Express.
If you're opening a bank account in Portugal in order to buy property and you are a non-resident, it is important to know that most banks will loan only up to 65% of the assessed value of the property or the sale price, whichever is lower.
For those who pay taxes in Portugal, you may be able to find banks that let you to borrow up to 85% to 90% of the sale price. The best way to find such mortgages in Portugal is to ask an experienced mortgage broker.
As is common in other countries, all mortgage providers in Portugal will review your financial position. Most mortgage lenders will not allow the sum of any existing debts and your new mortgage payments to exceed 35% of your monthly income after tax. However, you may be able to find lenders that will allow you to borrow up to 40% of your monthly income.
Opening a bank account in Portugal is not so hard
There are many options for you to open a bank account in Portugal and we hope this guide has been helpful.
It's one of the many things to do when you move to Portugal but it shouldn't be the most difficult.
The staff in most banks, especially in the bigger cities, are usually very friendly and speak English very well so you should not have a problem. Just bring all your paperwork, just in case!
Do you have any experiences to share? Or do you have any more questions? Just drop us a line in the comments section below and we'll do our best to answer them for you.
Don't forget to subscribe to our free newsletter to keep up-to-date with all the latest tips for expats living in Portugal.

Disclaimer: Our posts might contain affiliate links, which means we earn advertising fees if you make a purchase. There's no extra cost to you, it just helps us keep the website going.

Megan Flottorp
I'm a Lisbon-based writer who loves talking culture, travel, and women's sports. Born in Canada, I completed an MA in Humanities in Prague and a Journalism Diploma in Montreal. I'm always on the hunt for surprising stories and new ways to #resistapathy.