If you're anything like me, you're already researching for the best deals and parties for new year's eve in Portugal. I've made a list of the best tips and suggestions for those of you who want to celebrate new year in Portugal.
I'm also sharing some information on what the Portuguese usually do on the 31st of December. Get ready because some of these traditions are pretty crazy.
Come along!
What is new year's eve like in Portugal?
Almost every Portuguese town and city will have a new year celebration hosted by the city or village hall. No matter where you are in Portugal, it's pretty safe to say that if you find the most central square, there must be a party-ready to happen on new years eve.
The Portuguese usually either stay at home with their families or go out and celebrate. Usually the younger ones go out and either go to cafés or clubs. It depends also on where they live.
For those who live by the beach, in the Algarve for example, then almost everyone goes to the beach at midnight to celebrate.
The Portuguese like to party until the early hours of the morning, so if you're planning to go out for new years eve, get ready because it's going to be a very long night.
The new years eve traditions
Some of the most typical Portuguese traditions happen at midnight. The main one involves raisins. If you really want to start the year the Portuguese way, you should eat 12 raisins and make 12 wishes, one at each strike of midnight.
Jumping from a chair to the floor with the right foot is also a very common tradition that means good luck.
Most people will also prefer to wear blue and brand new underpants or boxers, it means good luck and also they're meant to attract money, lots of it!
Another common tradition is banging pans and pots outside the windows.
Espumante is the most common drink on new year's eve, at midnight, together with the eating of the raising, everyone will toast and kiss, one kiss on each cheek, friends and family.
The best places to party in Portugal for New Year's Eve
Some of the best places include all the beaches in Portugal from the Algarve to Nazaré and Figueira da Foz. All the beaches have concerts and the bars and clubs are open all night long.
One of the most popular beaches is Praia dos Pescadores in Albufeira in the Algarve. They have fireworks at midnight and concerts all night long.
Lisbon and Porto also have fireworks every year. In Porto the big place to be is in Avenida dos Aliados.
Ribeira de Gaia is also a very popular destination. If you prefer there are also Douro River Cruises if you want to end the year by going on a two or three-day cruise around the Douro region!
If you prefer Lisbon, there are lots of parties around but the most popular is in Terreiro do Paço. You can go on a cruise on the River Tejo or you can go to the Casino.
Finally, we can't forget the amazing island of Madeira. It is not the cheapest place to go for New Year's but it one of the best places to be.
The restaurants are open, bar, cafés, clubs. There is something for everyone. At midnight there will be one of the best fireworks show in the world. Something you obviously can't miss.
As you are going to Madeira, you must explore the place too! You can visit Funchal, Pico do Arieiro, not to mention the CR7 Museum.
There are other places of course, you have other cities such as:
All of them are great destinations to go for News Year Eve as well. 
Planning your trip
Coming to Portugal for New Year's Eve can be expensive. But if you plan and book your flights and places to stay beforehand, you'll find that cheaper options are available.
You can find cheaper places to stay if you decide to stay at hostels or book through Airbnb. Hotels are more expensive, but they usually include breakfast and a late check-out option if you ask for it.
General prices do tend to rise during the two weeks of Christmas and New Year's so again, plan if you can.
Book your hotel with Booking.com
With Booking.com you can book the best hotels in Portugal for the cheapest price. Get instant confirmation, pay 0 booking fees and even cancel your booking for free at most hotels. 
Booking.com -
Find the best prices and prepare your trip to Portugal today
Our selection of the best hotels
Lisbon
Memmo Príncipe Real – Design Hotels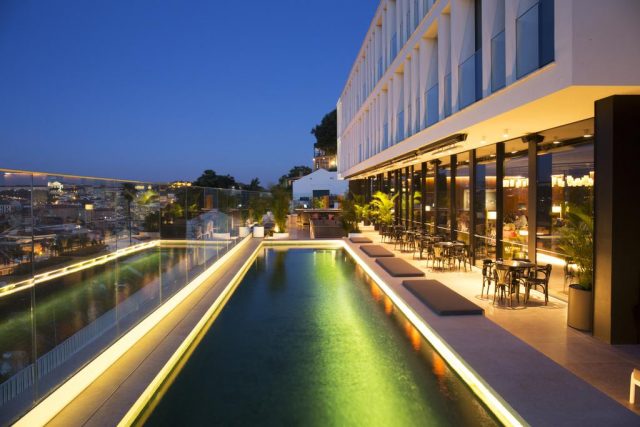 This hotel is set in Príncipe Real, one of the most exclusive and elegant districts in Lisbon.
Bairro Alto and Avenida da Liberdade are 10 minutes away.
The hotel has an outdoor pool and lounge, with amazing views.
There is a restaurant with a terrace overlooking the pool and the city. Breakfast is served here for guests.
Light meals and drinks are available from lunchtime onwards.
The average price for a 5-night stay during New Year's Eve for two adults is 1500€. Book your hotel here.
Porto
PortoBay Flores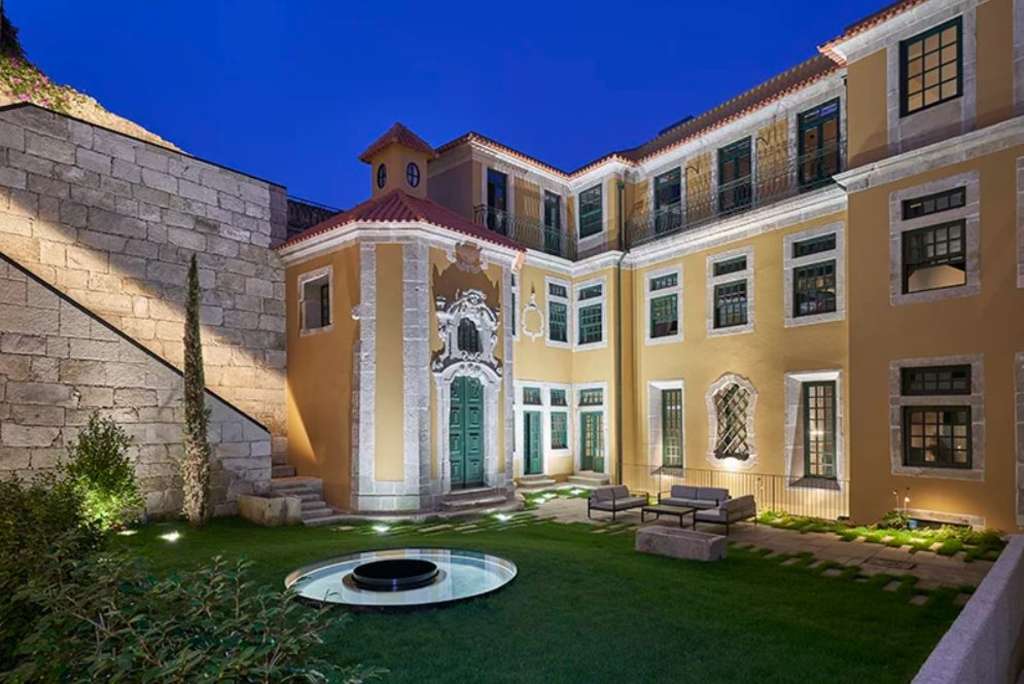 PortoBay Flores hotel is next to Ferreira Borges Market.
PortoBay Flores has air-con in all rooms and a gym. and a fitness centre. You can also find a restaurant, a 24-hour reception and room service and free WiFi.
There is also an indoor pool, spa and wellness facilities including a hammam and a sauna.
Nearby to can find Palácio da Bolsa, Ribeira Square and Clérigos Tower.
Francisco Sá Carneiro Airport – 16 km away.
The average price for a 5-night stay during New Year's Eve for two adults is 900€. Book your trip here.
Madeira
Pestana Royal Premium All Inclusive Ocean & Spa Resort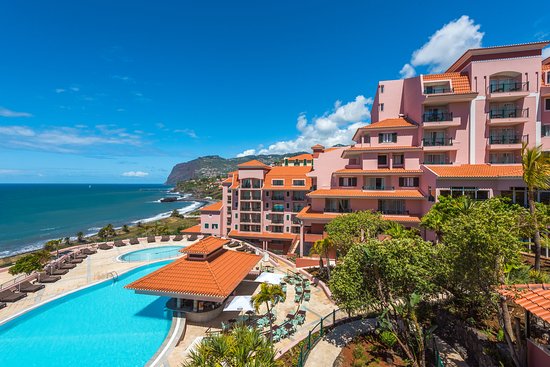 Pestana Royal is based in Funchal – Madeira with gorgeous views of Cabo Girão.
It is a 2-minute walk from Formosa Beach and a 10-minute drive from the Funchal city centre.
The rooms have a private bathroom, TV and free WiFi.
The hotel has a restaurant for all meals and another 3 themed restaurants.
The hotel has 2 bars, where guests can enjoy a drink or cocktail.
CR7 Museum – 4.8 km
Funchal Marina – 6.3 km
Madeira Airport – 22 km
The average price for a 5-night stay during New Year's Eve for two adults is 1200€. Book it here.
Algarve
Crowne Plaza Vilamoura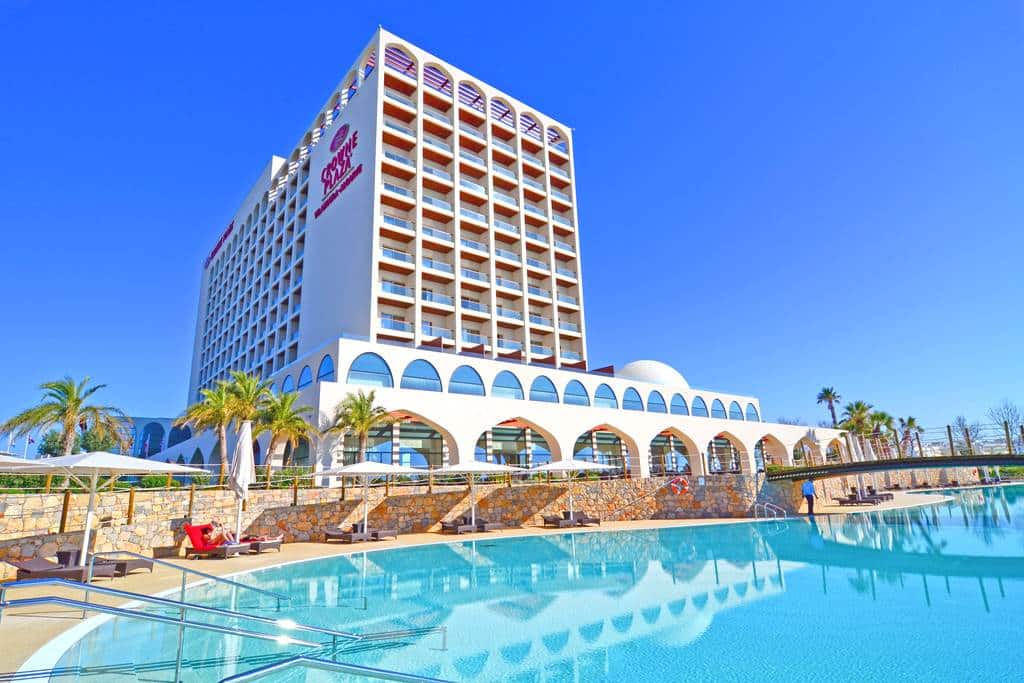 Overlooking Vilamoura Marina on one side and the Atlantic Ocean on the other, this hotel offers a large outdoor pool.
Located in 30,000 m² of private gardens, it features an extensive spa.
All rooms have satellite TV, minibar and a private bathroom.
Tivoli's spa has various body and health treatments, dry and wet saunas and a hot tub.
You can find a bar and restaurant where themed dinners and entertainment shows are held regularly.
Tivoli Marina Vilamoura is a 15-minute walk away and Pinhal Golf Course is a 5-minute drive away. On-site parking is free.
The average price for a 5-night stay during New Year's Eve for two adults is 1000€.
You can confirm prices and book it here.
Boas Entradas!
We hope you enjoyed our guide to New Year's Eve in Portugal. Let us know what you are planning, and as the Portuguese like to say: "Boas Entradas!"
If you have any further inquiries or questions, please contact us and we will do our best to try and help you out!

Disclaimer: Our posts might contain affiliate links, which means we earn advertising fees if you make a purchase. There's no extra cost to you, it just helps us keep the website going.