Are you sick of paying bank fees on your account? Want a bank that's global and secure?
We have found one that might be just right for you.
Opening an N26 account in Portugal is simple and super-fast. You can do the whole thing online in a matter of minutes.
N26 in Portugal
N26 is fully operational in Portugal, it's safe and secure and works all over the country.
Who is N26?
Headquartered in Berlin, Germany, N26 was founded in February 2013 and already has more than 500,000 customers across Europe with 1,500 new accounts being created every day.
Let's take a look at N26 in Portugal and see if it's worth getting one.
Benefits of N26 in Portugal
Fast and FREE sign up;
Free ATM withdrawals in euros (also worldwide);
Easy to use app – set payment limits, lock your card, and send money to Portugal.
Instant notifications on your phone of all transactions so no surprises;
No fees on foreign transactions;
Your account is protected by the German banks' clearing system;
It's safe to use for online purchases;
N26 has excellent customer service; and best of all
No maintenance fees!
If you are looking for a cheap and easy way to transfer money to and from Portugal, take a look at: TransferWise in Portugal.
Getting N26 in Portugal is faster than a regular bank
N26 has simplified a variety of banking aspects which, in a regular bank, would be much more time-consuming and complex. For example, the sign-up process takes approximately four to eight minutes to complete!
And you can use your Portuguese address!
How to sign up for an N26 account in Portugal
Go to the N26 website and fill in these details:
Full name;
Address;
Passport;
Email;
Telephone;
Date of birth;
Nationality; and
Country of birth.
After that, you need to start the video call (in English) to show your passport.
Once you have your registration approved, you will receive an SMS password on your phone.
This is quite a change if you compare it to the 30 to 60 minutes sign up time for a regular bank.
When do I get a card?
It will take around six working days to get your N26 card in Portugal.
Furthermore, the company believes in a more direct and efficient customer communication. So you can safely say "Goodbye" to the tedious music played during your 30 minutes waiting time on a customer service call.
If you want to know more about the regular banks in Portugal, you should read: Best Portuguese Banks: Manage Your Money and Keep it Safe
Also check out: Opening a Bank Account in Portugal, Tips from an Expat.
N26 membership offers
N26 offers three distinct personal membership plans.
Option 1: N26 Account
N26 Account is the free, standard membership plan, and a great place to start. It offers access to your account overview via the N26 mobile and web app and access to N26 Spaces.
You will receive an N26 MasterCard debit card, this is not a credit card, but you can use it at POS machines everywhere as most shops have a merchant arrangement with MasterCard.
Furthermore, with the free N26 Account, you can make free ATM withdrawals in euros and free payments in any currency.
If you withdraw money from a currency other than euros in Portugal, you pay a 1.7% fee on the total withdrawal amount.
Option 2: N26 Black
N26 Black is the next member in line. N26 Black requires a monthly fee of €9.90 which is debited automatically from your account.
Paying €9.90 per month will get you everything the regular N26 Account membership offers, but it also offers free withdrawals in any currency worldwide and an Allianz insurance package on top of that.
Option 3: N26 Metal
If the N26 Black membership still doesn't suit all your needs, you can open an N26 Metal account. This membership will cost you €16.90 per monthly which is also debited automatically from your account.
With this membership, you receive even more dedicated customer support, a world elite MasterCard and access to exclusive partner offers. All these features are provided on top of the normal features of the N26 Account membership.
N26 provides a Fee Information Document for full transparency on each account.
N26 business accounts
If you are looking to open a corporate bank account or if you are a freelancer looking to separate business and personal finances, N26 also offers Business memberships with no monthly fees.
The N26 Business membership consists of a free business MasterCard that allows transaction tracking and is accepted all over the world.
N26 Business also offers a 0.1% Cashback on all MasterCard purchases.
And above all, it has 3D security to protect your account against fraud when making online payments.
To organize your business more efficiently, N26 implemented artificial intelligence to neatly categorize your spending by using tags like #client, #office, etc. These tags can also be customized to your personal preference.
How to sign up
All private and business memberships can be applied for on the N26 website.
N26 apps are very user-friendly
The N26 mobile and web apps are super easy to use providing you with only the necessary information in one place. The elegant design also allows for easy access to the information and services you require.
Upon signing up for an N26 membership and opening the app, you will see three main areas that will enhance your overall banking experience (this is for all memberships).
N26 spending insights
Firstly, your spending insights will show as a graph of your spending habits; what you tend to spend more money on and so forth. This can be a handy tool when looking over your monthly payments like food, electricity, phone bills, etc.
It provides a clear and accurate representation of what you spend money on and how much you are spending in relation to other expenses.
Need to send money overseas? N26 has partnered with TransferWise. You can do international transfers from directly within the N26 App. It's up to six times cheaper than using traditional banks.
Also check out TransferWise in Portugal, What it is and How it Works
N26 spaces
The second is N26 spaces. It is an organization tool that will allow you to allocate your savings to a specific project. This is useful if you are saving up for a trip to South America you always wanted to do or the living room renovations, for example.
N26 notifications and alerts
Thirdly, are the notifications and alerts. These will pop up every time you make a transaction. This allows you to see how much you spend at the moment you bought an item.
This can be especially handy when you are traveling as you will be able to see how much you spend in the currency that you use at home.
And most importantly, it is a great security feature! If the dreadful event of losing your credit card should occur, you will be notified immediately when purchase with your card is being made which will allow you to directly block your card using the mobile app.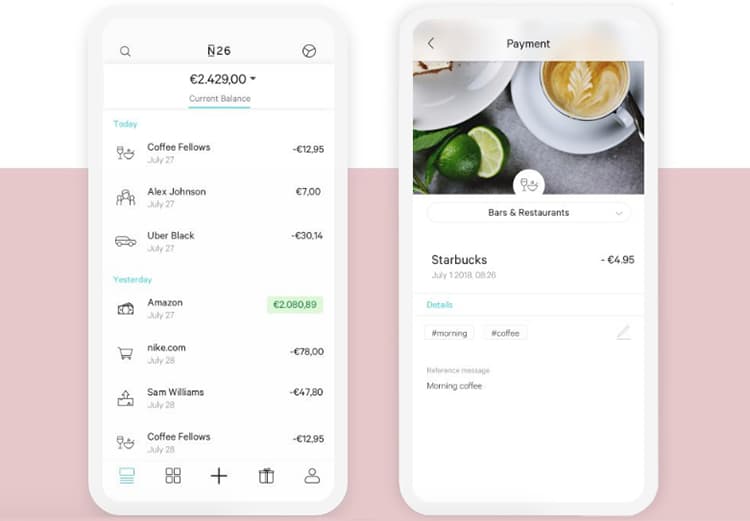 Don't forget to sign up for our free newsletter so you can be kept up-to-date on all the news from bePortugal.
How to make deposits to my N26 in Portugal?
To make deposits to your N26 account, simply go to a Multibanco machine or ATM in Portugal and deposit money into your account, quick and easy. Your app shows your IBAN for easy SEPA payments.
Or even easier, use TransferWise or another bank account online to make a normal bank transfer.
The future of N26 in Portugal
You might ask yourself: "Should I sign up for N26, a bank which is fairly new?"
N26 is a startup based in Berlin, Germany, and having recently been granted its EU banking license, is becoming more and more of a competitor to the great banks of Europe and also of Portugal's banks like Millennium, Novo Banco or Santander Totta, just to name a few.
N26 in Portugal will become a major player in the financial sector due to its innovative and forward-thinking concept (at least that's what's being predicted).
Companies like N26 have set the stage for banking in the 21st century and will dictate what is to come. Are you going to join us?
Curious about other banking options that work in Portugal?
You may also be interested in a Revolut Card in Portugal and a TransferWise Borderless Account.
Our Guest Author today is Henri Maes.
Henri is a Belgian expat who founded Visio Imaging, an online media company dealing in photographs and prints. He is an avid Rugby player and has played in Portugal and Belgium. He loves to share ideas and learn new languages as he speaks English, Dutch, Spanish and Portuguese. Thank you Henri!
Did you find the information you were looking for about N26 in Portugal? Did we miss anything? Let us know in the comments below.

Disclaimer: Our posts might contain affiliate links, which means we earn advertising fees if you make a purchase. There's no extra cost to you, it just helps us keep the website going.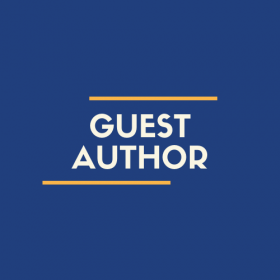 Guest Author