Want to have instant access to your bank account no matter where you go?
Well, one of the most convenient ways these days is mobile banking which is very popular around the world and gladly, it has also reached Portugal.
What is mobile banking and why is it so popular?
Mobile banking is a great option for locals, and most specifically for expats and travelers. In Portugal, there is a varied banking sector that consists of a wide mix of traditional Portuguese banks and the digital-only models.
If you are planning to relocate to Portugal but you are not sure what options you have in banking, then a simple mobile account will help you get by and is also very easy to use.
How does it work?
Even though a majority of people in the country still use the traditional way, the digital and mobile world of banking has already reached Portugal.
Mobile banking is quite simple to use. If you have the banking app on your smart device or mobile phone, you can start transferring and making payments without having to venture out to a bank or ATM. 
What kind of payments can you do?
With mobile banking, you can move money between accounts, transfer money to others, view transaction activity, pay your credit card bills, manage payment accounts and even send international money transfer.
Banking can be made easily with just a simple tap on your phone. All you need is a bank account with an activated online service and a banking app.
So how does this work? Well, the payments between individuals via smartphones are made using Near Field Communication (NFC) or QR matrix bar code technology. This is where the devices are waved over a scanner or payment point.
How can I open a mobile bank account in Portugal?
There are two ways of opening a mobile bank account in Portugal and this entirely depends whether it is for a traditional bank or a mobile-only bank.
I want to open a mobile account with a traditional bank
The whole process of this depends on whether you are already using Portugal's bank services, and which one you're using. 
If you already have a bank account here in Portugal and you are registered for online banking, all you would have to do is download the mobile banking app from the bank's website and follow their instructions.
If you have a bank account but you are not registered for its online banking services, you will have to set this up first before you can use their app.
For those who don't have an account open in Portugal, you will need to open an account first and set up the online banking service.
Not sure what the best bank is for you? Check out our article on the Best Portuguese Banks For Expats. Also, check out our guide on Opening a Bank Account in Portugal.
I want to open an account with a mobile-only bank
Another option you have is to open an account with a mobile-only bank. In this case, you can open an account with most mobile banks in only a few minutes from your mobile phone or tablet.
This process can vary depending on the mobile bank. But you would usually do this process through the banking app or the bank's website.
What you will need to provide when opening an account is your personal details, including your full name, date of birth, address, your mobile number, and email address.
If you want to enhance security protection on your account, you will also need to provide biometric data such as your fingerprint.
To open this type of account, you don't need to be a Portuguese resident as most mobile-only banks are global.
What banking fees am I expected to pay with mobile banking?
If you have a standard mobile account in Portugal, the main services such as transactions, payments, and account maintenance are free with most banks.
The only thing that you would have to pay is the costs of your internet connection or data.
Be aware that some mobile bank accounts do place certain limits on transactions. An example of this is the number of mobile payments or ATM withdrawals that you can make each month with no charges.
To find out more about this, please check the list of charges and limitations on the banks' website before signing up.
For overdraft charges, credit cards and borrowing costs; these are the same as what they would be for a standard bank account. And again, you should be able to find more information on this and other fees on their website.
Is it safe to use mobile banking?
Portugal has a low risk of banking and credit card fraud. This is lower than the EU and Eurozone averages. However, I would still advise taking all necessary precautions to protect your private data as there is still a slight risk of fraud or scams in Portugal.
On the contrary, digital banking is actually the most secure form of banking. With technology, safety features are much more advanced and providers are constantly working to improve its security measures. These features include:
Biometric ID protection (fingerprint, face or voice recognition)

Instant card-blocking features

And high encryption
You can also protect your bank account and personal data by avoiding public WIFI networks when logging into your account and choosing high strength passwords.
Companies available for mobile banking
With mobile banking, there are several companies you can choose from. These online and mobile bank providers include:
1. N26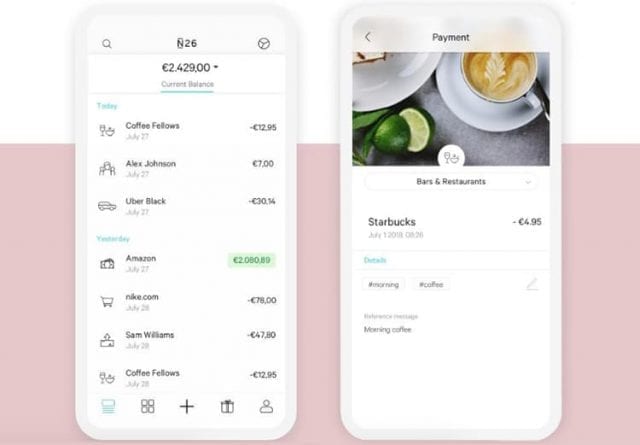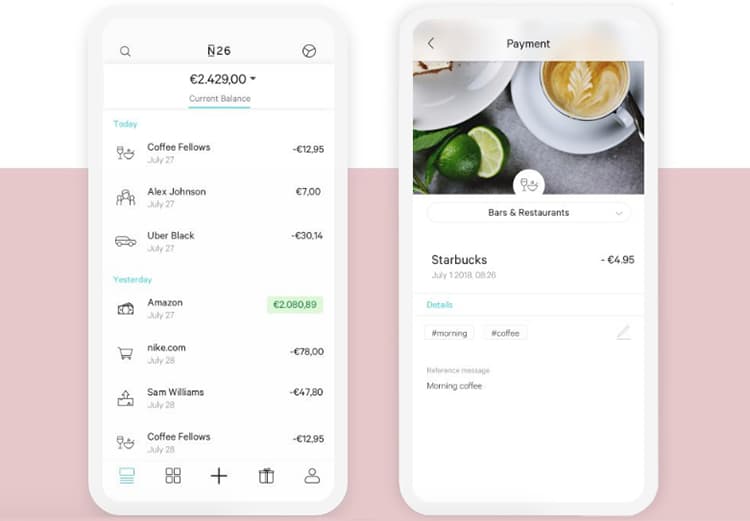 N26  has its headquarters in Germany and it's currently one of the best online banking services out there. It's a 100% online bank, you can order it for free, you can even pick the colour of your card. 
The mobile app is easy to use, N26 doesn't charge you any maintenance fees when using it (usual practice in Portuguese banks) and you can even withdraw cash for free when traveling abroad.
You can use it in: Germany, Austria, Ireland, France, Spain, Italy, the Netherlands, Belgium, Portugal, Finland, Luxembourg, Slovenia, Estonia, Greece, Slovakia, the UK, Poland, Sweden, Denmark, Norway, Liechtenstein, Iceland, Switzerland and the USA. 
So if you need a Euro bank account to save and withdraw money then N26 could be a great option for you. For more information, please check out our article N26 in Portugal: Yes, it works in Portugal and here's how.
2. Monese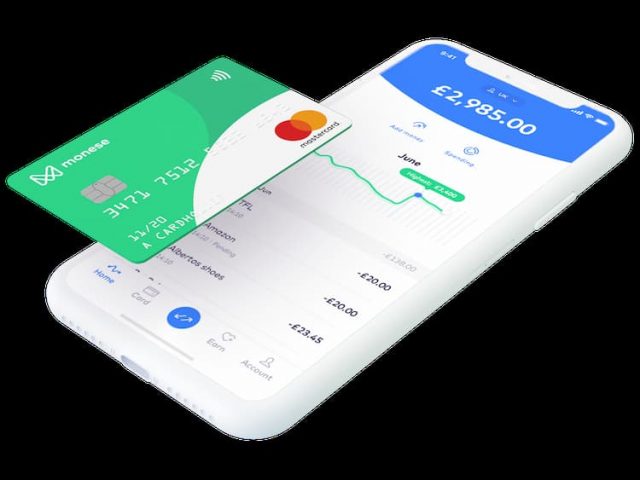 Monese gives you the real exchange rate between Euro and the British pounds sterling without any hidden fees that banks and other providers charge.
With Monese, you can use it everywhere in the European Economic Area as it is portable between 20 countries. Monese is great company, especially for expats who want to take their time making the right choice of choosing a bank in Portugal.
They can easily open an account with Monese for a quick transfer. Want to know How To Open A Bank Account Online with Monese? Check out our article.
3. Revolut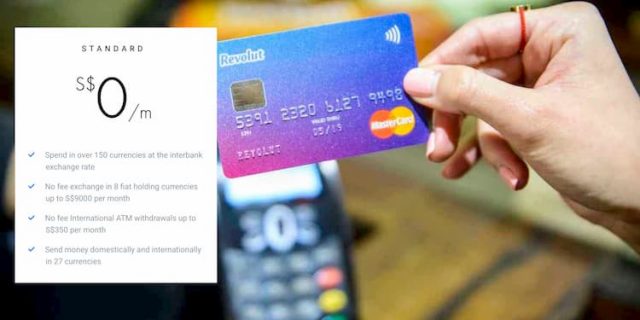 Revolut is a British startup with the aim to revolutionize the banking system, making it much more transparent compared to other companies.
This system allows you to create and upload an account. With this account, you can make payments for purchases online and in foreign countries.
One of the biggest advantages of this is the transparency in exchange rates and the fact that this does not charge commissions.
Revolut is accepted at every ATM as it accepts VISA and Mastercard. Want to know more? Read our complete guide here.
4. TransferWise Borderless Account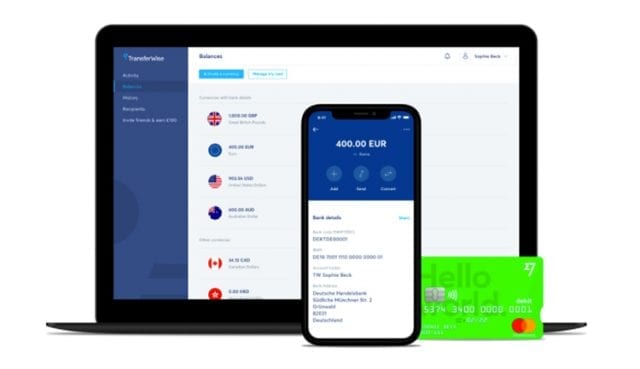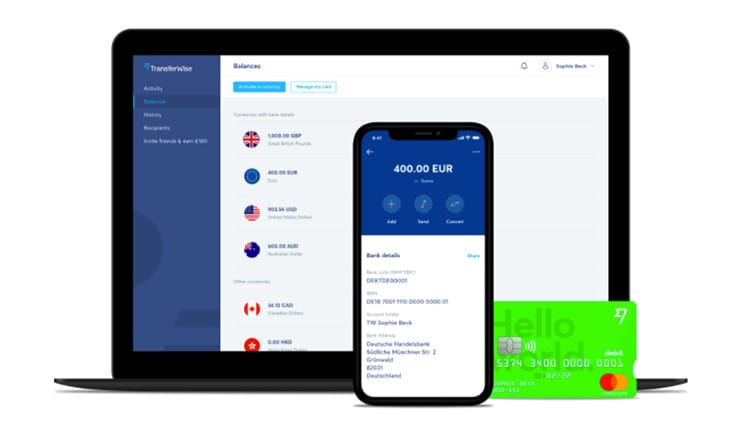 It is an online account that allows you to create a bank account in Euros, British pounds, USD, AUD and NZD without you having to open a bank account in any of those countries.
This is perfect for English expats or travelers who are planning to stay in Portugal, or to those who travel back and forth.
Check out our article if you want to know more about how the TransferWise Borderless Account works.
5. Apple Pay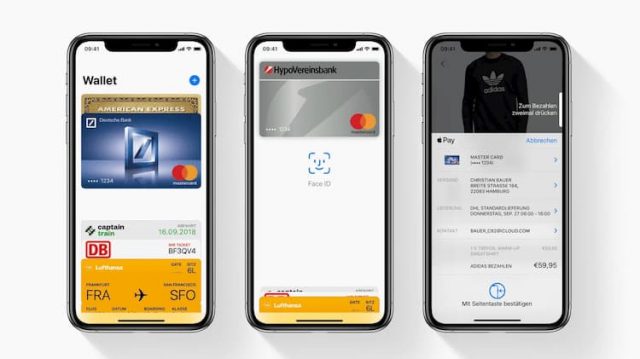 Apple pay is another form of mobile banking service by Apple Inc. It allows you to make payments in person, through iOS apps, and on the web.
Apple Pay arrived in Portugal just recently so you can take advantage of this new form of payment through your iOS device.
But before making any payment, it is important to check whether or not a particular automatic payment terminal is compatible. Want to know more? Read on here.
6. Google Pay
Google Pay is also a new system where you can make payments just by tapping your smartphone to the NFC ATM terminal.
This payment service is expanding to more countries in Europe but is yet to be announced when it will be available to use in Portugal.
The truth is that here in Portugal, we don't feel like we are in need of a service like Google Pay, as Portuguese banks have decided to start charging fees for the famous MBWay service. But who knows? Maybe one day this service will reach Portugal when it's the right time.
Want to know more about Google Pay, check out their website for more information.
Mobile banking is the perfect option for expats in Portugal
On a final note, this new wave of financial apps makes global banking so easy to manage your money and multiple currencies while living abroad. Nowadays, mobile banking offers low fees, efficient customer service, and advanced safety features with many more perks.
With Portugal's economy growing, expats are also able to enjoy the idea of managing their money, payments, transfers, and multiple currencies at their fingertips. And not only that, it makes it easier to keep track of your spending.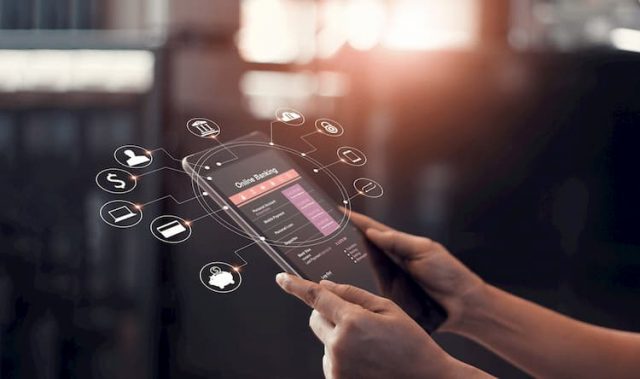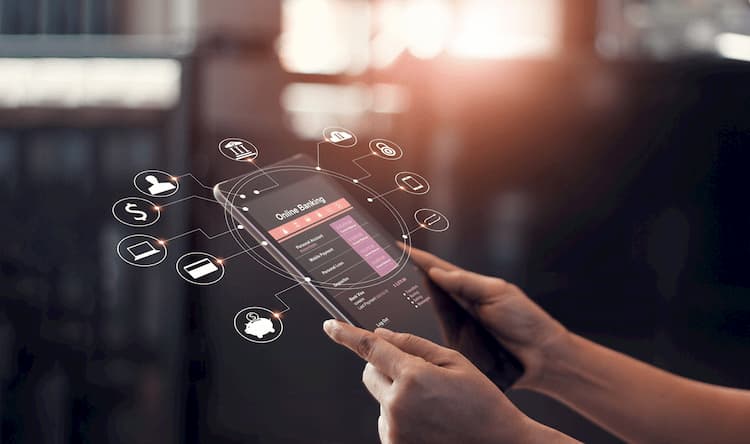 Do you have any questions or suggestions on which banks are the best in Portugal? Feel free to leave a comment below and we'll answer all your queries.

Disclaimer: Our posts might contain affiliate links, which means we earn advertising fees if you make a purchase. There's no extra cost to you, it just helps us keep the website going.

Kim Mifsud
I am a freelance designer, singer-songwriter, born and raised in Australia. I love to venture out and experience different cultures. One day I came Lisbon, fell in love with this beautiful city and haven't left since. I have a passion for music and design; and I enjoy writing during my spare time.