If someone tells you that all the best beaches in Portugal are in the Algarve region, you should know that's not entirely true!
As a matter of fact, there's plenty of stunning, sandy beaches ("praias" in Portuguese) around Lisbon that are real gems.
But which are the best beaches in Lisbon? Are they easily accessible? When's the best time to go there?
You will find the answers to all these questions right here.
All about Lisbon beaches
When is the best time to go to Lisbon's beaches?
The most suitable time for sunbathing on the beautiful beaches in the area of Lisbon is between the beginning of May and the end of October.
The busiest months are usually July and August so we'd recommend going to the beach during the working week, if possible.
The best thing is, there are so many great spots to choose from so you won't necessarily feel the place is overcrowded.
Is the water cold?
Prepare yourself with a wetsuit because, due to the Atlantic Ocean's currents, the water enclosing the Lisbon coastline is exceptionally cold, even during the hottest summer months! The temperature of the water usually goes up to 19°C (66°F) in July and August. Though sometimes, on a really hot day, it's nice to take a refreshing dip so it can be quite pleasant.
Which are Lisbon's best beaches?
It's pretty hard to say which are the best beaches in the area – all of them offer beautiful views and relaxation to visitors.
Besides, it really depends on the transportation you choose.
Our most favourite beaches in the Lisbon region are listed below.
Lisbon beaches accessible by car
Praia de Guincho
Praia de Guincho, about 30 km (19 miles) away from Lisbon is surely one of the best beaches in the Lisbon region that mixes intense surfing with breathtaking scenery.
Praia das Bicas
Praia das Bicas is about 40 km (25 miles) away from Lisbon and is located nearby the famous Campsite 'Campimeco' in the romantic village of Meco.
Even though Praia das Bicas is rather small, its waves are great for surfing and taking amazing photos.
Praia das Maçãs
Praia das Maçãs (translated as the beach of apples) is 45 km (28 miles) away from Lisbon and is one of the most picturesque beaches on the Lisbon coastline. During the high season, Praia das Maçãs usually gets overcrowded due to the tram line which connects it to Sintra in the summer.
Praia da Adraga
Praia da Adraga is 45 km (28 miles) away from Lisbon and it is hiding between massive rocks, beautifully sculptured by the powerful ocean water. Praia da Adraga is surely a very picturesque and relaxing spot.
Praia do Creiro (Serra da Arrábida)
A bit less than 50 km (31 miles) away from Lisbon is Praia do Creiro (Serra da Arrábida) and it is a vivid and inspiring place. The strip of sand is quite small and the water is crystal clear – ideal for swimming.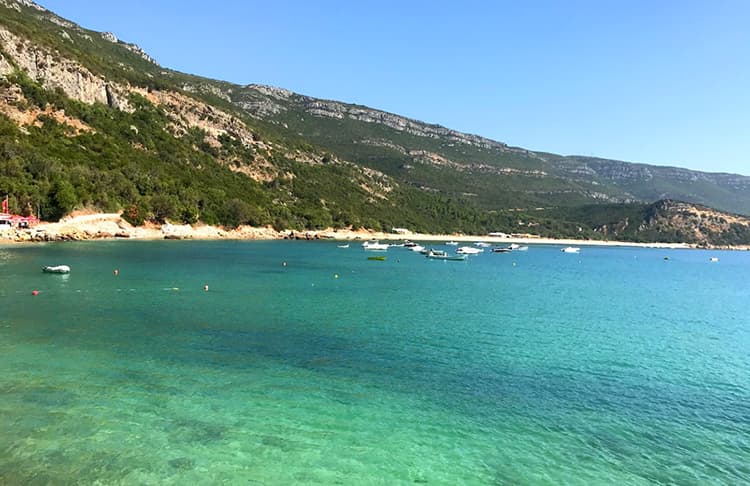 Lisbon beaches accessible by public transport
Praia de Carcavelos
You can get to Praia de Carcavelos by train from central Lisbon in about 30 minutes. It's very accessible, offering an appealing landscape and excellent conditions for surfing in Portugal.
Costa da Caparica
A 30-minute bus ride from Lisbon will take you to Costa da Caparica, a must-visit place! this spot is famous for its broad sandy beach, powerful waves and incredible natural scenery.
Praia São Pedro
Praia São Pedro is about 40 minutes by train from Lisbon and perhaps, this is the best beach option for a day trip from Lisbon because the train station is very close to Praia São Pedro. It's a great spot for sunbathing.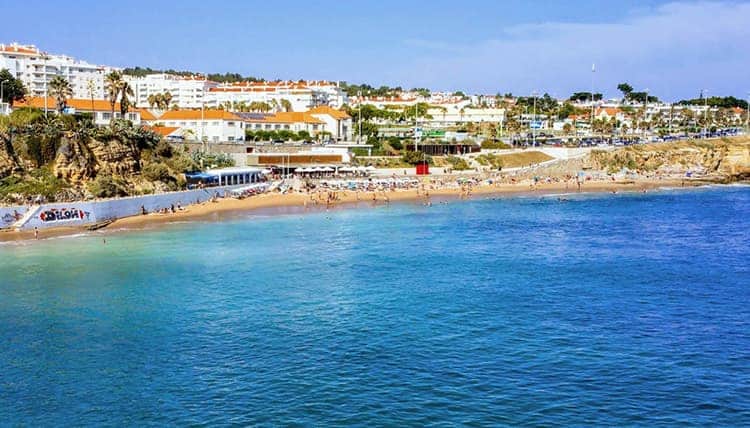 Praia do Tamariz
Praia do Tamariz is close to Estoril a little east of Lisbon and you can get there by train in about 40 minutes. Iit is the most cosmopolitan beach in the Cascais area. As it is very touristic, there are lots of bars on the beach where you can enjoy a nice, refreshing cocktail.
Praia da Conceição
A little further east in Cascais, you can find Praia da Conceição. It takes about 45 minutes to get there by train from central Lisbon. If you travel with little kids, that's the beach you should go. It has plenty of facilities (including a lifeguard) and offers easy access to Cascais' shops and cafés.
Which is Lisbon's best surfing spot?
Costa da Caparica is a popular surfing spot in the Lisbon region. There are constant, but not massive, waves that are mainly suitable for newbies and intermediate surfing enthusiasts. If you are a PRO surfer, go to Peniche, Nazaré or Praia de Guincho (on the Sintra coastline).
Hiring full surf equipment at Costa da Caparica would cost you about €15 for half day and €20 to €25  for a full day.
Fancy to attend a surf school at Costa da Caparica? Check out Caparica Evolution Surf School and Gecko Surf School (website is in Portuguese).
You can also take a tour with our friends at Get Your Guide which includes pick yo from Lisbon city and two hours of surf lessons!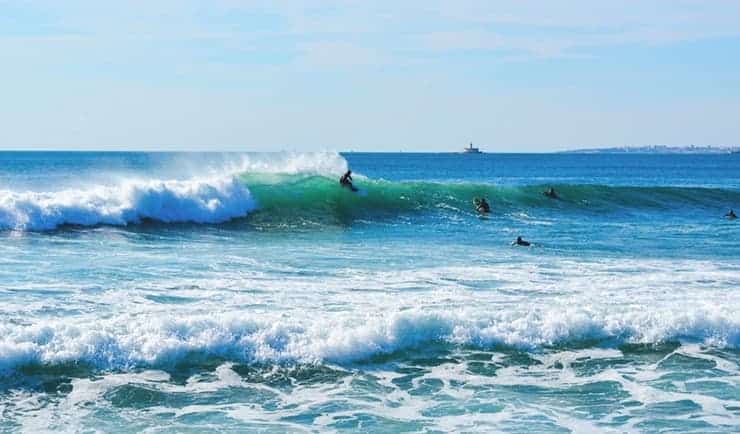 Staying at Lisbon's beaches
Of course, you may like to make more of a trip to the beach for a day and stay a night or two.
Are there any hotels on the Lisbon's beaches?
The sunny coastline of Lisbon offers a broad variety of hotels to suit everyone's personal needs and preferences. Gladly, they are not built exactly on the beach so the coastline doesn't look jammed.
As there are ceaseless hotel choices, here are some suggestions to help you make a decision.
Heading to Cascais, Farol Hotel is a real gem for couples who are not restricted by the budget. Guests can choose either a twin-room with a garden or a twin-room with sea view. During the high season, the price for a night spent in Farol Hotel can go up to €400.
For all the surfers traveling on a budget in Costa da Caparica, do not worry – there are several great, affordable options for accommodation offering a price for a night €25 to €70, such as:
One more beach location near Lisbon
An honourable mention where Lisbonites love to go in summer is the picturesque village of Ericeira and its surrounding beaches. They are perfect for day trips with the family or surfing the great waves of the Atlantic Ocean.
The town was built around Fishermen's Beach ("Praia dos Pescadores") which is ideal for swimming with the family.
Other great beaches in Ericeria include:
Ericeria is about an hour away by car from Lisbon or you can take a bus from Campo Grande which takes about an hour and a half.
Did we convince you to go on a beach tour in the Lisbon region? If you've already been there, would you like to share your personal thoughts with us? Feel free to leave a comment below. Cheers!
Don't miss out on anything about visiting Portugal, subscribe to our newsletter today. It's completely free!

Disclaimer: Our posts might contain affiliate links, which means we earn advertising fees if you make a purchase. There's no extra cost to you, it just helps us keep the website going.

Teodora Gospodinova
I'm a freelance copywriter, creative content strategist & ghostwriter who has lived in Portugal for a while. I'm very passionate about creating content that people can easily connect with. Loves black coffee, rainy days and cats. Veggie person. :) Enjoying the simple delights of travel.