Airports are usually a great reflection of the country you're travelling to and Lisbon Airport stamps a solid first impression for travellers: It is well-connected, organised and inexpensive.
Here's everything you need to know before flying through Lisbon Airport.
All about Lisbon Airport
Lisbon Humberto Delgado Airport is one of the largest airports in Southern Europe serving as the main international gateway between Portugal and the rest of the world.
Lisbon Airport features two passenger terminal buildings: Terminal 1 is Lisbon Airport's main terminal and caters for all arrivals and most international departures while Terminal 2 caters for departures of low-cost airlines only.
It's important to note that access to Terminal 2 is only possible via the free airport shuttle from Terminal 1, so make sure you allow at least 15 minutes extra time if your flight leaves from Terminal 2.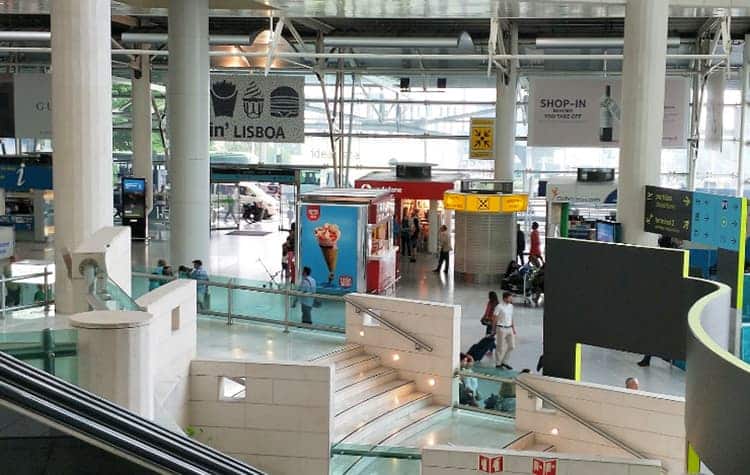 Where is Lisbon Airport?
Lisbon Airport is located roughly 7 km (4.3 miles) from downtown Lisbon so, unlike most other European capitals, Lisbon Airport is relatively close to the city centre. Its convenient location means there are great, well-connected transport choices all readily available upon arrival.

If you're looking for details about traveling to Lisbon, It might also be interesting to read about the best time to visit Lisbon.
What are the best ways to get to or from Lisbon Airport?

Transport options to or from Lisbon Airport are plentiful with a great network of trains, buses, shuttles and taxis all available to connect you to your onward destination, whether it's to the city centre of Lisbon, Sintra, Cascais or onwards to explore the rest of Portugal.

We've compiled a handy list to help you decide the best transport option for your journey to or from Lisbon Airport.
Lisbon Airport to or from downtown Lisbon

Metro
Price: €1.95 (includes €0.50 for the Viva Viagem reusable Metro card).
Journey time: approximately 20 to 30 minutes.

Lisbon Airport has great connections direct to the city centre via the Metro station 'Aeroporto' – which can be accessed at the south end of the arrivals area in Terminal 1.
Simply jump on the Red line ("Vermelha") that connects Lisbon Airport with the city centre and changes onto either the Green ("Verde"), Blue ("Azul") or Yellow ("Amarela") line to reach your final destination.
The Lisbon Metro is clean, cheap and well-connected which means you can get to or from Lisbon Airport easily within a few stops!
Aerobus
Price: €4 one-way or €6 for a return ticket.
Journey time: approximately 25 to 40 minutes.

Ideal for travellers with large luggage, the Aerobus is a direct service between Lisbon Airport Terminals 1 and 2 to all the main destinations and hotels in the city centre. A dedicated baggage compartment, free wifi and USB chargers are provided onboard to ensure a smooth and hassle-free journey, preparing you for everything you need!

Taxi
Price: €10 to €20.
Journey time: approximately 15 minutes depending on the time of the day.

Sometimes you just want to get into a taxi without the hassle of lugging around that heavy suitcase. Lucky for you, since Lisbon Airport is in such close proximity to the city centre, catching a taxi is a great option and also fairly inexpensive. Available 24 hours-a-day, the taxis are available right outside the arrivals gate of Lisbon Airport.
All fares should be based on the metre and there is a surcharge of €0.80 on each piece of luggage.

Uber
Price: €11 to €15 via Uber.

Want a taxi but prefer to keep the transaction electronic? Good news! Uber operates in Portugal and the cars used by drivers are all relatively new and impeccably clean.
A designated pickup point is found in the 'Kiss & Fly' parking lot at the airport. Simply exit out of the departures level, located on the first floor of Terminal 1, and cross the street. Your driver will be ready to pick you up upon arrival.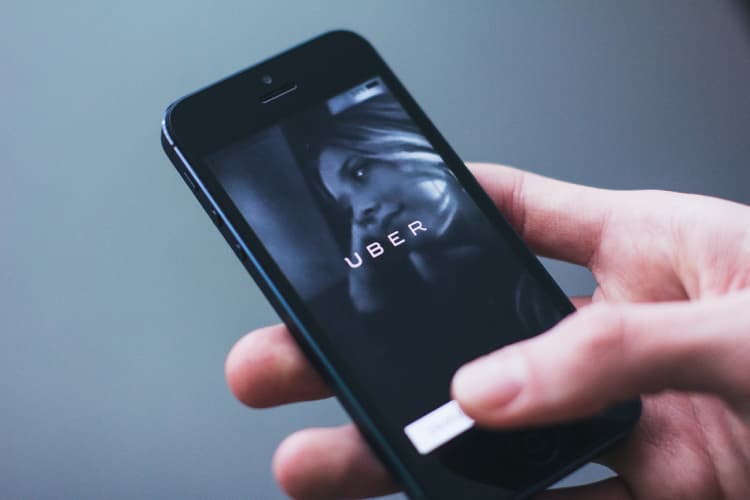 Lisbon Airport to Sintra
For travellers staying in the picturesque, mountainside of Sintra, the cost of a taxi direct from Lisbon Airport is approximately €40 to €60 with an estimated journey time of 30 to 40 minutes. This can vary based on time of day and the traffic.

For budget-conscious travellers, a bus or a train from Lisbon Airport will also get you to Sintra for a fraction of the cost.
The Aerobus from Lisbon Airport drops you right in front of Rossio station in the centre of Lisbon and there, you'll be able to catch a train directly to Sintra station. While this will take roughly an hour and a half, the cost of this journey is much cheaper at about €6.50.
Lisbon Airport to Cascais
If you are staying in the coastal, resort town of Cascais, the cost of a taxi from Lisbon Airport is about €25 to €40 with an estimated journey time of 35 to 45 minutes. This can vary based on time of day and traffic.

For travellers on a budget, a bus or a train from Lisbon Airport will also get you to Cascais for a fraction of the cost. Catch the Aerobus or metro from Lisbon Airport to Cais do Sodré train station and then change to catch the urban train to Cascais (the last stop on the line).
The estimated journey time is an hour and a half and the cost of the journey is roughly €6.50.

What's available at Lisbon Airport?
With over 26.6 million passengers served last year, Lisbon Airport's growth reflects the popularity of the city as a red-hot travel destination for visitors all around the world. Lisbon Airport offers a wide range of facilities and services on hand to ensure your experience at the airport runs smoothly. Here's a handy list of services you might need to access:

Wifi: Need to get online? Free wifi is easily accessible throughout Lisbon Airport. All you'll need is your email for registration and you're instantly back online to access emails and start sharing your holiday pictures.

Car rental: All the major car rental offices are available at Lisbon Airport and can be accessed within the arrival hall at Terminal 1. There are a few car rentals located outside of Lisbon Airport and operate shuttle services upon your arrival in Terminal 1.

ATMs and currency exchange: In desperate need of cash? There are plenty of ATMs and currency exchange offices available in Lisbon Airport. They can be found in the arrivals hall of Terminal 1 and before the security gates in Terminal 2.

Restaurants and cafés: Lisbon Airport has a great range of Portuguese and international cuisine available to cure hungry stomachs. From local Portuguese dishes to all the familiar international fast food chains. It's never too early (or late) for a 'pastel de nata'!   

Duty-Free: Too busy sightseeing all of Portugal's attractions and forgot to go shopping? Lucky there's a great Duty-Free store in both terminals with an extensive range of products and all the traveller's favourites.
As Terminal 1 is larger, the selection available is greater than Terminal 2's offering which is a bit more limited.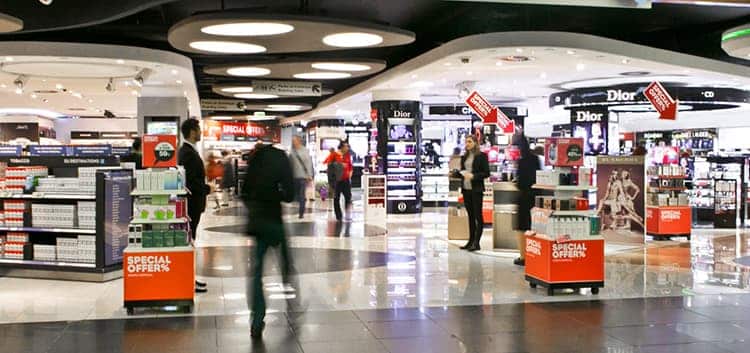 Luggage storage: Lisbon Airport also has a useful luggage storage service near the P2 Car Park for tourists who need to drop their luggage off. The 24-hour charge is €3.32 for up to 10 kg (22 lbs), €4.92 for 10 to 30 kg (22 to 66 lbs) and €9.74 for over 30 kg (66 lbs).

What hotels are close to Lisbon Airport?

While Lisbon Airport Terminal 1 remains open 24 hours a day, most airport services close by midnight and only reopen at 5 am. Terminal 2 closes between 1.30 am and 3.30 am. If you're scheduled for an early flight, staying at a hotel near the airport may be a better option for a good night's sleep.

TRYP Lisboa Aeroporto Hotel and Star Inn Hotel are the two closest hotels to Lisbon Airport, located next to Terminal 1.
Some of the best hotels in Porto Portugal near Lisbon Airport include:
All of these hotels are within 15 minutes from Lisbon Airport and can be accessed with relative ease via free shuttle bus services to and from the hotel.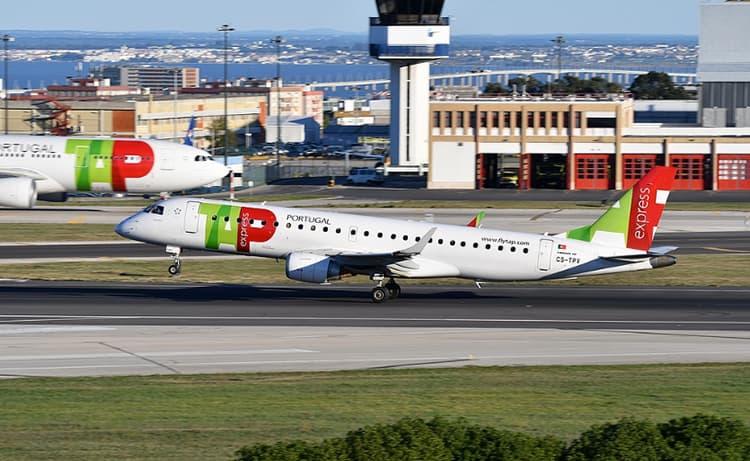 Final tips for Lisbon Airport
Make sure you allow plenty of time to arrive at Lisbon Airport. We recommend allowing for at least three hours before international flights and two hours before domestic flights.
Utilise the great transport options available to and from Lisbon Airport to best match your situation. Assess the cost against the number of travellers in your group and the time of day you will be arriving.  
If you are ever in doubt, there's plenty of signage at Lisbon Airport to assist you to find where you need to go. A friendly 'Hello' ("Olá") at the Airport Help Desk also awaits any travellers in need of extra assistance. Happy travels!
Did you find out everything you wanted to know about the airport in Lisbon? Do you have any experiences to share? Feel free to leave a comment below.

Disclaimer: Our posts might contain affiliate links, which means we earn advertising fees if you make a purchase. There's no extra cost to you, it just helps us keep the website going.

Gabriel Virata
I'm a global creative – raised in Australia, worked in London and currently based in Lisbon, Portugal. I'm passionate about storytelling and using the most engaging and effective methods possible to share our human experiences. Over the last 10 years, I've worked across the entire media industry from television, design, production, fashion, branding, and marketing. When I'm not working you can find me completely disconnected and travelling to a new part of the world!