Near the Tagus River in the parish of Belém is the magnificent Jerónimos Monastery, one of Portugal's finest example of Manueline architecture.
Known in Portugal as Mosteiros dos Jerónimos, this architectural wonder was built by King Manuel I of Portugal in the 16th century and is one of Lisbon's most popular landmarks.
The History of Jerónimos Monastery
It all started when King Manuel I ordered the construction of a church and cloister for the hieronymite religious order.
This token of gratitude was built close to where Prince Henry the Navigator had built a church, this one dedicated to Santa Maria de Belém, back in the 15th Century.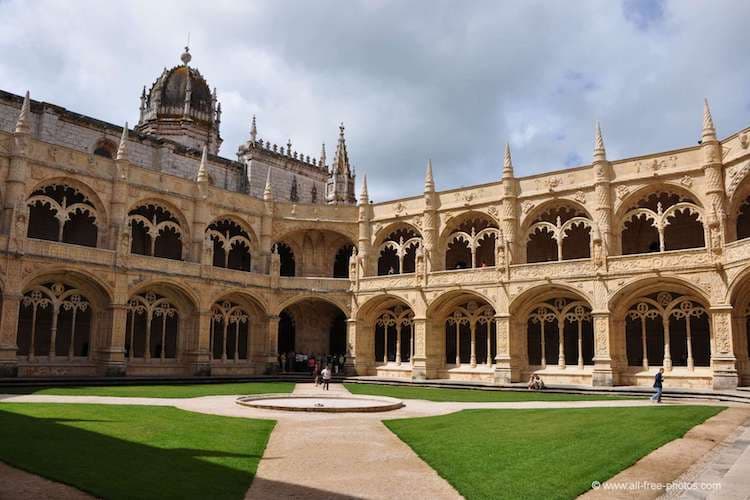 With an astonishing view of the Prince Henry memorial, King Manuel I chose to name the monastery Jerónimos Monastery, dedicating it to the Order of St. Jerome.
Jerónimos Monastery is a cultural point of reference that has attracted artists, historians and travellers in the course of its five centuries of existence.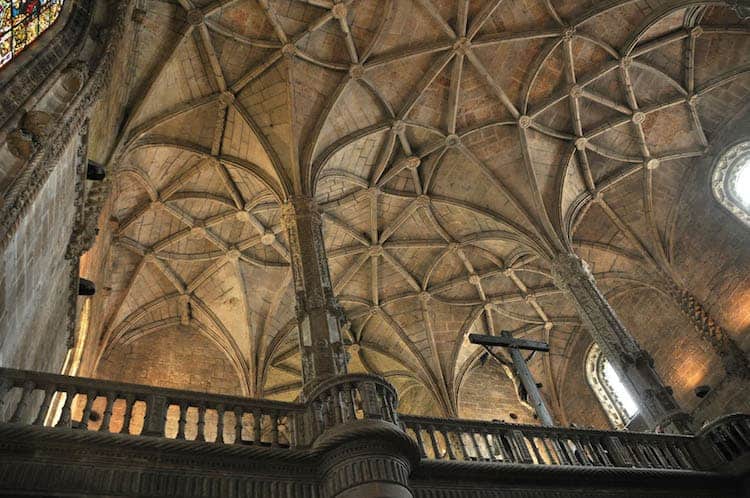 With vaulted ceilings and sophisticated decorative elements, its architecture is unlike any other; as it reflects the royal commissions that characterise the era in which it was built.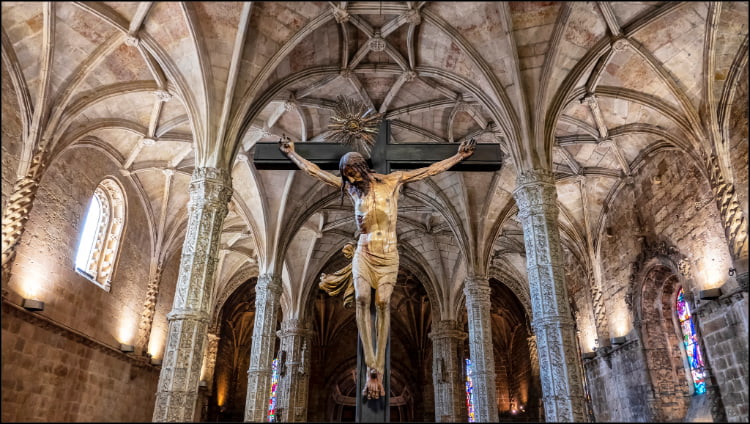 The religious purpose of the monastery is shown through the images of the Passion of Christ, the Cross of the Order of Christ, the Royal Coat of Arms, botanical motifs, and late medieval images of beasts that all combine to depict its royal associations, and highlight the exceptional artists that were employed at the monastery.
If are visiting Lisbon you might also like to see the top museums in the capital of Portugal.
The Age of Exploration in Portugal
Jerónimos Monastery symbolises the age of exploration, Portugal's power and wealth; when intensive national maritime campaigns spanned the globe.
In the1 5th and 16th centuries, Portuguese explorers reached new cities and worlds, opening up new trade routes and bringing exotic goods to Europe. The monastery became a burial place for kings and later, poets.
Today it is admired by many people all over the world, not only as a remarkable piece of architecture but also as an integral part of Portuguese traditions, culture, and identity.
Since you're in Lisbon, why don't you check out the 25 things you should do and see in Lisbon.
How To Get to the Jerónimos Monastery
Jerónimos Monastery is located in the charming district of Belém, to the west of central Lisbon.
A trip to Belém makes an enjoyable half day excursion as it is the setting for many of the capital's most iconic tourist attractions.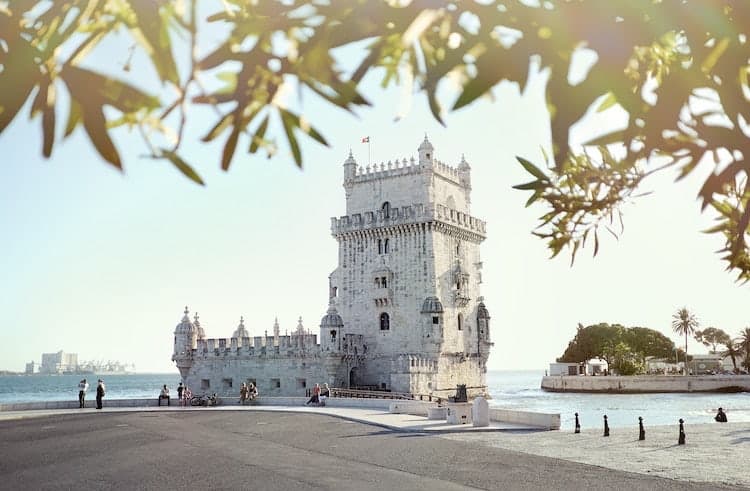 When you visit Lisbon, don't forget to check out Belém's fascinating tower, museums and attractive formal gardens, all of which line the cooling waters of the Tejo Estuary.
There are three ways to get to Jéronimos Monastery and the Church of Santa Maria with public transportation. You can travel by train as the monastery is only 10 minutes walking distance from the station.
Trains – If you are coming from Cascais, the trains will take you directly to Belém station. Though sometimes you may have to change trains from Oeiras station in order to get to Belém.
Buses – If you are coming from the centre of Lisbon, you also have the option to travel by tram line 15, the metro and several buses.
Buses 727, 28, 729, 714 or 751 will take you directly to the park across from the monastery. From Cais Do Sodré you can also catch the Cascais line train that will stop at Belém station.
Taxi – Another option is to catch a taxi or UBER that is a 14-minute drive from Cais Do Sodré.
As an alternative, you can buy the Lisbon Card with 24h, 48h and 72-hour options and it gives you free admission to 23 museums and historic buildings including Jerónimos.
What Are The Opening Hours of The Jerónimos Monastery?
October to May
From 10.00 a.m. to 5.30 p.m. (last admission at 5.00 p.m.)
May to September
From 10.00 a.m. to 6.30 p.m. (last admission at 6.00 p.m.)
Closed: Mondays and 1 January, Easter Sunday, 1 May, 13 June and 25 December
The Jerónimos Monastery is free to visit on Sunday mornings. However, during the week enjoy free entrance to the main chapel and pay only €7 entrance fee for the monastery.
Children age 14 and under have free entrance.
For a better deal, purchase a combined entrance ticket for the monastery and Torre de Belém just for €13, and get the most of your day with these wonderful sights.
You could also do a full-day city tour around Lisbon with your own personal local guide for only €44. 
Guided tours at the Jerónimos Monastery
Free tours in Lisbon
Discover Walks
For travellers on a budget, you can book a free tour of Belém with Discover Walks and explore the most memorable sights and rich culture of Lisbon.
The tour is free, however, you can pay your guide whatever you want with a small tip (€13 is the average).
Book now and enjoy these amazing highlights of Lisbon during your visit to Portugal:
• Stand where the famous Vasco de Gama set out to sea, not knowing where he was going.
• Find out why Portugal turned Christopher Columbus down;
• See with your own eyes what the gold from shipping trade could buy, with the beautiful tour of the Jerónimos Monastery and the Tower of Belém;
• "The Caravel", the great Portuguese ship. And what was so great about it;
• Enjoy Lisbon's great parks, gardens and vistas – There is a reason why the President of Portugal lives there;
• Find out why people make a detour for the famous Belém pastries
Discover Walks tour goes for a relaxed 90 minutes and runs at 11 am every day (closed on January 1st only). You will meet at the high statue in the middle of Jardim Afonso de Albuquerque and will end near the Monument of Discoveries.
SANDEMANs New Europe
You can also explore Belém and gain insight into Portugal's rich maritime heritage with a tour organised by SANDEMANs New Europe.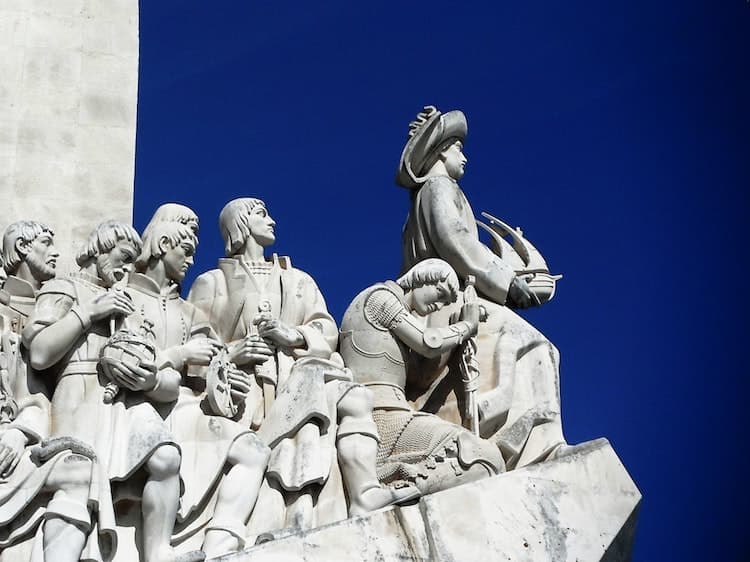 Book here and enjoy a stunning 2.5-hour stroll along the riverbanks, taking in iconic views like the Discoveries Monument and UNESCO World Heritage sites like the Belém Tower and the Jerónimos Monastery.
The prices for this tour is €14 for adults, €12 for students and free entrance for children 12 years and under. With this tour you will explore the main highlights starting by the monument at Praça do Comércio:
• Learn about the Age of Discovery and Portugal's greatest explorers
• Learn more about the 25th of April suspension bridge
• View the impressive Monument of Discoveries that stands on the banks where the great voyages began
• Look at the Wind Rose marble map that shows the most famous routes of the great explorers
• Explore the UNESCO World Heritage site of Belém Tower and the gardens that surround it
• Visit Empire Square Gardens built for the Portuguese World Exhibition
• Visit Jerónimos Monastery which is the final resting place for some of the great Portuguese explorers
When you visit Portugal, the Jerónimos Monastery is one of the most important monuments in Lisbon making it worthwhile to see.
It is surely one that you shouldn't miss and is also one that you won't regret visiting.
The Tomb of Vasco da Gama, the Symbols of Discoveries, the Cloisters, the Poets, Writers and Presidents, and the South Entrance of St Mary's Church are unmissable. This monastery is like no other, making it one of the top-rated tourist attractions of all.
If you're planning your trip to Lisbon and looking for a place to stay, check out our list of the best hostels in Lisbon.
Landmarks Near the Jerónimos Monastery For You To Visit
After visiting the majestic Jerónimos Monastery, we recommend heading to the Archaeology Museum, which is located in the building that is adjacent to the monastery.
Don't forget to also check out the Belém Tower and the Monument to the Discoveries that are close by.
These two monuments and the Jerónimos Monastery represent Portugal's most prosperous period and are definitely worth visiting.
Are you thinking of visiting Lisbon and the Jerónimos Monastery? Share your questions with us and feel free to leave your thoughts below.
Also, why don't you sign up to our newsletter? We'll email you every time we have new tips on visiting or moving to Portugal.
If you liked this you might also like:
Top 10 Monuments in Lisbon, the Best Tips from a Local
Facts about Lisbon, Get to Know Portugal's Capital a Little Better

Disclaimer: Our posts might contain affiliate links, which means we earn advertising fees if you make a purchase. There's no extra cost to you, it just helps us keep the website going.

Kim Mifsud
I am a freelance designer, singer-songwriter, born and raised in Australia. I love to venture out and experience different cultures. One day I came Lisbon, fell in love with this beautiful city and haven't left since. I have a passion for music and design; and I enjoy writing during my spare time.