Are you planning to spend Christmas in Portugal? Or do you want to know about Christmas in Portugal?
Then this story is for you.
Here, we will be talking about Christmas traditions in Portugal, where to go and how to celebrate Christmas in Portugal.
All about Christmas in Portugal
At Christmas time in Portugal, the entire country is filled with Christmas entertainment with colourful and sparkling decorations in the city centres. The streets are lined with stands and shops selling pastries and cakes. A traditional cake is the Kings Cake ("Bolo-rei") full of fruit and nuts.
Christmas in Portugal is also a time when families gather together and celebrate the festive season.
Firstly, we should learn how to say Merry Christmas in Portuguese which is 'Feliz Natal' or, alternatively, you can say: 'Boas Festas'.
Christmas traditions in Portugal
The Christmas season in Portugal officially starts on 8 December (Immaculate Conception Day). It is a day set aside to commemorate the conception of Jesus. As Portugal is predominantly a Catholic country, most people go to mass to celebrate the occasion.
Usually, after the Immaculate Conception Day, the Portuguese begin to set up nativity scenes ("presépio"), Christmas trees and decorations as they gear up towards Christmas Day.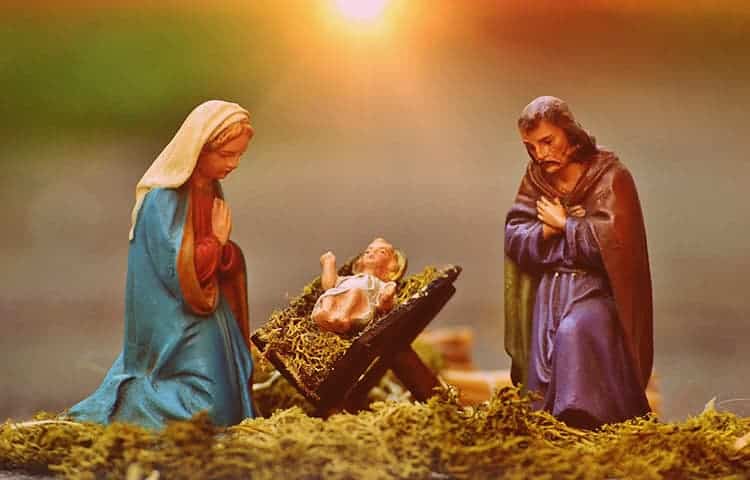 Christmas in Portugal is a very family oriented affair and quite different from the traditional British or American Christmas celebrations. It starts on Christmas Eve and people feast and party right through to the early hours of Christmas Day.
Christmas Eve
The family comes together to have dinner ("consoada") as they feast on the traditional Christmas dish of cod ("bacalhau"). A Christmas in Portugal without 'bacalhau' would be incomplete as it epitomises the season.
It is usually served with cabbage, boiled eggs, chickpeas and potatoes. A very tasty dish! The Kings Cake ("Bolo Rei") has a special place within the Christmas celebrations as it is a traditional Portuguese dessert very common during this festive season. A delight for the sweet tooth.
Speaking of bacalhau, you might want to check out what's the best fish and seafood to taste in Portugal.
Missa do Galo – Midnight Mass
After the 'consoada', some people go to church for the midnight mass service ("Missa do Galo"). During the service, everyone queues up to kiss the image of baby Jesus.
As gift-giving is an essential part of Christmas celebrations in Portugal, the presents are left under the Christmas tree or in shoes by the fireplace before going to the midnight service.
When everyone gets back from church, they open their gifts. People that don't go to the midnight service put the gifts under the tree and the family opens the gifts when they wake up on Christmas Day.
Christmas Day
Christmas Day in Portugal is usually quiet as the family is recovering from their late night, so they spend the day eating the leftover food.
Business hours over Christmas
Most businesses and shops close very early on 24 December as people need to travel to meet up with their families for the Christmas Eve dinner. On 25 December, most businesses, shops and restaurants remain closed except for some Chinese and Indian restaurants.
Then, on 26 December, everything returns to normal as there is no holiday or Boxing Day on the 26 December in Portugal.
Weather in Portugal During Christmas
December is one of the coolest months in Portugal with temperatures as high as 15°C (59°F) and as low as 7°C (45°F). But generally, the weather is still good enough to enjoy some outdoor lunch in the afternoons as it is usually quite sunny.
Up north in cities like Porto, it is usually very cold and there is usually a lot of rain. In places like the Algarve, the weather is a bit drier.
If you want to enjoy the warmest Christmas in Portugal, then Madeira would be the place to go as you can enjoy warm weather there at this time of the year.
See also if Christmas Season is the best time to visit Portugal.
Where to spend Christmas in Portugal
Here are some Christmas hotspots in Portugal you could go to experience the local traditions.
Christmas in Lisbon
From Wonderland Lisboa to Christmas markets, ice rinks and Christmas shows, the city of Lisbon really turns on the glitz around this time of the year. If you're around Lisbon during this time, you can even take a tour around the city and check out the Christmas lights while relaxing on a Sitway!
Christmas in Madeira
If there is a place to spend Christmas and New Year's, then this archipelago serves up one of the best places to spend your time and enjoy the festivities.
The island of Madeira is right in the middle of the Atlantic and it is a natural beauty. The temperatures are very mild at Christmas time as they range between 20°C (68°F) and 25°C (77°F), ideal for walking around and exploring the cities.
The streets are stupendously decorated and huge fireworks displays usher in the new year. These festivities attract many tourists in cruise ships and visitors from all parts of the world. A Christmas in Madeira is a Christmas like no other. If you're planning to visit the pearl of the Atlantic soon, you can even book a tuk-tuk trip specially designed to show you the Christmas lights in Funchal.
You can book it here.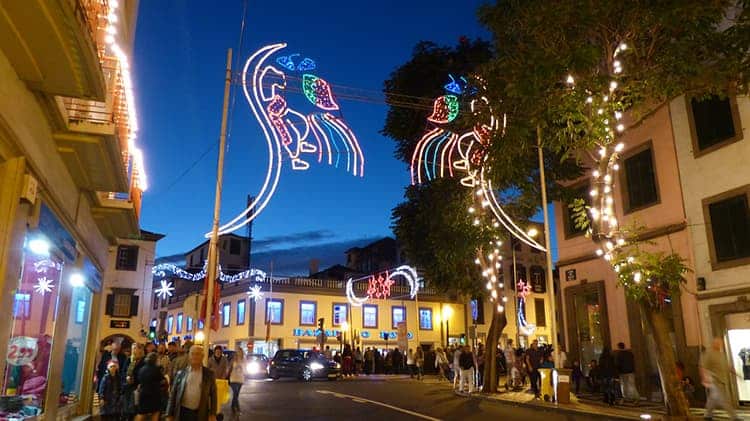 Porto
Porto is another interesting destination for Christmas, although it is colder than other regions in Portugal. You can expect some showers but you will have a good time in Porto as Christmas activities there are very charming.
Throughout December, there are music concerts, fairs and markets and on New Year's Eve, everyone flocks to Baixa do Porto to see the fireworks. If you're around Porto at this time of the year, we suggest you go see the Christmas lights in all their glory with this stupendous tour (Port wine tasting included).
Know that we've also written an article about visiting Porto. Check it out.
Serra da Estrela
Go skiing in Serra da Estrela, and enjoy a rare, snowy Christmas as it is the only place in Portugal where it snows. It is the highest mountain range in mainland Portugal and has spectacular scenery. This is an awesome place to spend a cosy, wintry Christmas in Portugal.
Celebrating New Year's in Portugal
After Christmas Day, everything returns to normal and the next celebration the Portuguese looks forward to is the new year. There is a lot of partying from New Year's Eve until the early hours of the new year.
Most people go to see the fireworks as there are usually amazing displays put on in most towns or cities to start the new year. While watching the fireworks, people drink champagne and toast to the new year and the partying continues.
Some people in the south go to the beach to spend their last night of the year.
Finally, all festive activities officially end on 6 January on the Three Kings' Day ("Dia de Reis").
Enjoy the festive season in Portugal
If you are willing to experience a different kind of Christmas from the traditional British or American Christmas, then spending the season in Portugal would be an ideal choice as it offers a unique experience.
What about you, do you like Christmas in Portugal?
Let's us know your opinion in the comment section below.
Also, don't forget to subscribe to our newsletter and receive the latest tips for your visit or move to Portugal.

Disclaimer: Our posts might contain affiliate links, which means we earn advertising fees if you make a purchase. There's no extra cost to you, it just helps us keep the website going.

Temidayo Soyinka
I'm a freelance writer, who's very passionate about economics and everything that is related to business. I'm pursuing a Masters Degree in Management in Portugal, where I live. I love photography, traveling and experiencing new cultures.