Although it doesn't snow in this seaside city, Lisbon doesn't lack in festivities and things to do around Christmas time. A city full of tradition and all things Christmas related, Lisbon should be at the top of your list of holiday destinations.
Christmas in Lisbon: A unique and illuminating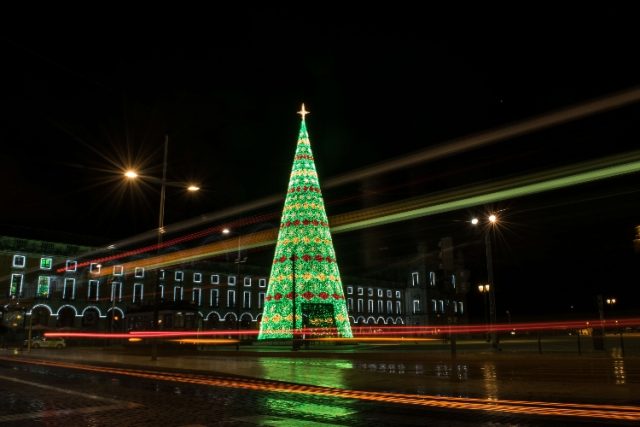 Weather in Lisbon around Christmas?
This southern Mediterranean city sees fairly mild winters with a bit of rain and chilly nights. You will want to bring warm clothes and a winter jacket, but will most likely experience sunny days as Portugal boasts 300 days of sunshine a year.
You can expect daytime temperature averages around 60°F (15°C) while nighttime temperatures fall to an average of 45°F (8°C).
What to do in Lisbon around Christmas?
In addition to the many holiday markets, delicious food, and gathering with friends and family for Christmas Eve and Day, Lisbon has plenty more to do.
Boasting the tallest Christmas tree in Europe, located in Terreiro do Paço, Lisbon opts for extravagance when it comes to decorations. This artificial, lit-up tree averages a height of 250 ft (76 meters).
In addition to the bright green and red tree, the city puts up countless decorative lights. In the major squares and along the large avenues, Christmas lovers will be marveled by the strings of lights, which include happy holiday signs and other lit-up decorative items, such as wreaths and reindeer.
Many Christmas lights also aim to weave together the local culture and traditions, as is seen with the strings of lights aimed to imitate Portuguese filigree. On average, about two million light bulbs go into the decorations around the city.
Another key decoration that visitors will enjoy are the varied presépios, or nativity scenes, spread throughout churches, homes, and large squares and public spaces. As a primarily Catholic country, the religious elements of the holiday are important to represent.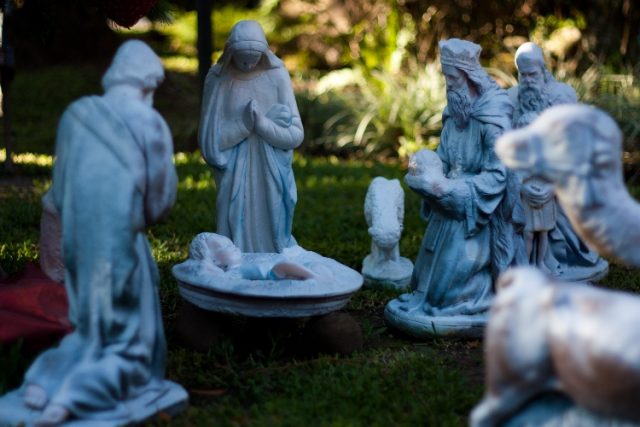 Best Christmas markets in Lisbon
There are plenty of themed attractions and markets for you to check out in Lisbon during the weeks leading up to Christmas.
Wonderland Lisboa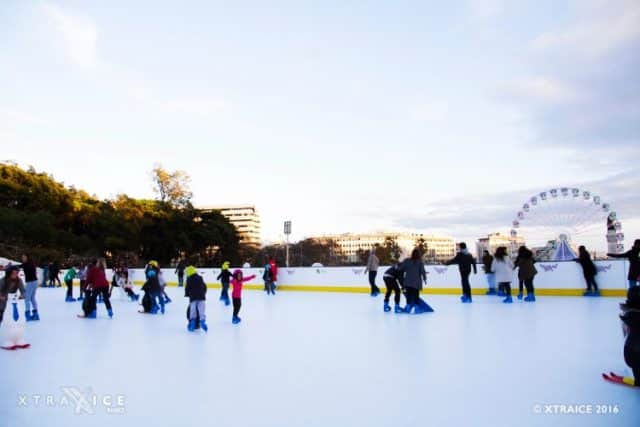 This is the largest Christmas event in Lisbon, which takes place throughout most of the month of December, until January 1. Taking place in the famous Parque Eduardo VII in Marquês de Pombal, the event is spread over the sprawling grounds and includes a variety of activities and festive foods for attendees to enjoy.
Wonderland Lisboa includes a Ferris wheel, an ice skating rink (not made of real ice as it is too warm for the ice to stay frozen in Lisbon), fair rides, and visits with Santa Claus. You can also check out a large lighted Christmas tree and various market stalls where you can buy handmade gifts and regional products.
The event is open between 12:00 pm and 9:00 pm Monday through Thursday.
On Fridays, it closes at 10:00 pm and on Saturdays and holidays, it is open between 10:00 am and 12:00 am.
On Sundays, it opens at 10:00 am and closes at 10:00 pm.
While admission is free, you will have to pay for the various attractions.
Rossio Square Christmas Market
Right in Baixa, by Bairro Alto, you'll find the Rossio Christmas Market, this is the perfect spot to buy some original presents. You'll find a mix of regional products, lots of different designs and hand made objects. You can peruse the different stalls while enjoying a glass of warm mulled wine.
Natalis
Natalis takes place at the beginning of December, entrance is free and it's another amazing place to find those perfect Christmas presents you can't find anywhere else. Apart from the gift stalls, there are usually workshops, show cooking, play areas and so much more to explore.
Discover it all right here.
Christmas Market At Campo Pequeno
Another shorter Christmas market, this one takes place just during the first few days of December. More than 100 exhibitors set up stalls to sell national products, which include clothes, toys, old books, vintage pieces, and costume jewelry. The best part is that everything sold is Portuguese in origin.
The market is open every day that it runs from 11:30 a.m. to 9:30 p.m. Admission costs €1 and is deductible for purchases worth €8 or more.
New to Lisbon? Don't worry about getting lost when you check out The Ultimate Lisbon Map Guide to Get Around The City.
What to eat around Christmas?
As opposed to many locations around the world, Portugal doesn't adhere to the typical Christmas staples, such as ham, pudding, and cranberry sauce. Instead, it has a rich and long history of delicious Christmas dishes and foods that will guarantee that you come back for more.
Salted cod is the traditional main Christmas Eve meal, which is accompanied by boiled potatoes and carrots, hard-boiled eggs, and cooked cabbage. Appetizers, including codfish cakes and rissóis (small, savory fried turnovers) are also enjoyed.
The highlight of the Christmas foods are the desserts, which are varied and appeal to a variety of tastes. The two traditional Christmas cakes are the King's Cake and the Queen's Cake. Both consist of a bread-like cake filled with dried fruits and nuts and topped with candied fruit and powdered sugar.
The Queen's Cake differs from the King's Cake in that it is filled with a higher quantity of nuts and raisins and does not include candied fruits on top. Other desserts include custard tarts, sonhos (sugary fritters), filhoses (fried dough made into a thin, rectangular shape with flared edges and covered in cinnamon and sugar), and arroz doce.
While the big meal is enjoyed on Christmas Eve, on Christmas Day, it is traditional for the Portuguese to eat the leftovers from the night before as their lunch.
Are you a sweet tooth? Try the 20 Mouth-Watering Portuguese Desserts (Recipes Included).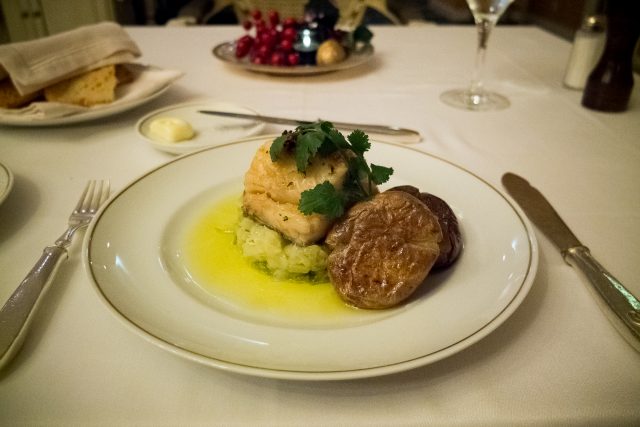 What are some Christmas traditions in Lisbon?
Christmas Eve is when the Portuguese typically celebrate Christmas, gathering with family and friends to eat and enjoy one another's company.
Most children are allowed to stay up until midnight with their families to ring in Christmas Day and receive their presents from Santa Claus.
While Santa has taken over as the Christmas figure in many homes, the Portuguese traditionally left out shoes for the Baby Jesus, as opposed to stockings for Santa.
Many Catholic families also attend Christmas Eve mass (Missa do Galo) after dinner where they wish members of the community a Merry Christmas and celebrate the birth of Jesus.
The main part of the mass includes all members of the congregation lining up to kiss Baby Jesus. After mass, families return home to open presents.
Interested in more holiday traditions? Check out Easter in Portugal: What are the Traditions and Celebrations Like?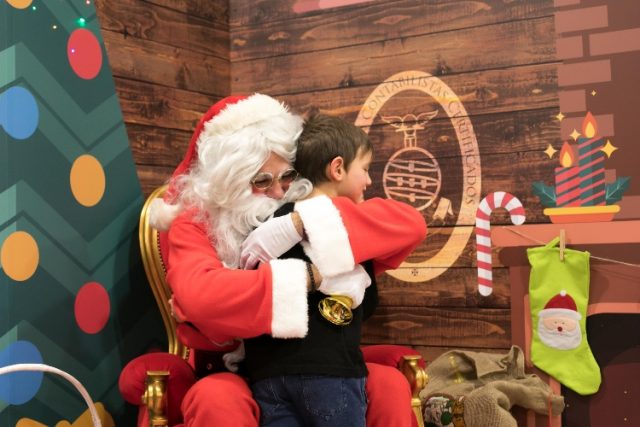 Business hours over Christmas
Most shops and businesses close early on December 24, Christmas Eve. It is important to the Portuguese to spend time with friends and family on this night.
Similarly, on December 25, most businesses, shops, and restaurants remain closed except for some Chinese and Indian restaurants. By December 26, everything returns back to normal.
Where to buy a Christmas tree in Lisbon?
If you are looking for artificial Christmas trees, you can find them in various locations throughout the city:
Loja de Gato Preto,
El Corte Ingles,
Arca,
Aki
Leroy Merlin
Are just some examples of stores with a wide variety to choose from.
If you prefer a real Christmas tree, head to Horto de Campo Grande, Monceau Fleurs or Fleurs à Lisbonne. It is recommended to get in touch with these locations early at the end of November or early December to pre-pay for a tree as demand is typically high for a real tree.
Enjoy the festivities in Lisbon!
If you're looking for a unique location to spend the Christmas holidays and one that is full of tradition, festivities, and everything Christmas related, look no further than Lisbon, Portugal.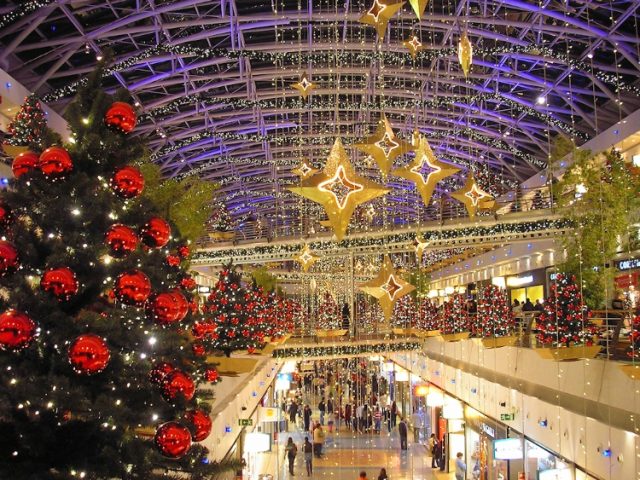 What about you, what do you like about Christmas in Portugal?
Let us know your opinion in the comment section below.
Also, don't forget to subscribe to our newsletter and receive the latest tips for your visit or move to Portugal.

Disclaimer: Our posts might contain affiliate links, which means we earn advertising fees if you make a purchase. There's no extra cost to you, it just helps us keep the website going.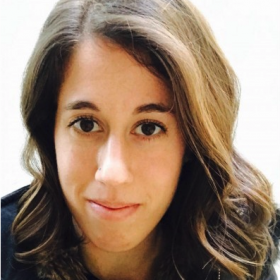 Isabel Cohen
Isabel Leah Cohen is a writer for BePortugal. She has a degree in psychology with a focus in linguistics and communication and has worked as a journalist for global entertainment and lifestyle publications. Isabel enjoys writing about politics, health and wellness and travel. In her spare time, she enjoys staying active with her dog, traveling and reading books.