Just under an hour away from Lisbon by train, Cascais is a must-see destination with beautiful sights and a unique history. It is a perfect stop for shopping, beach breaks, and dining on traditional seafood dishes (some with a contemporary twist).
From 5-star luxury to cool boutique hotels or seaside accommodation, Cascais has something for everyone – so get booking!
Best hotels in Cascais
Palácio Estoril Hotel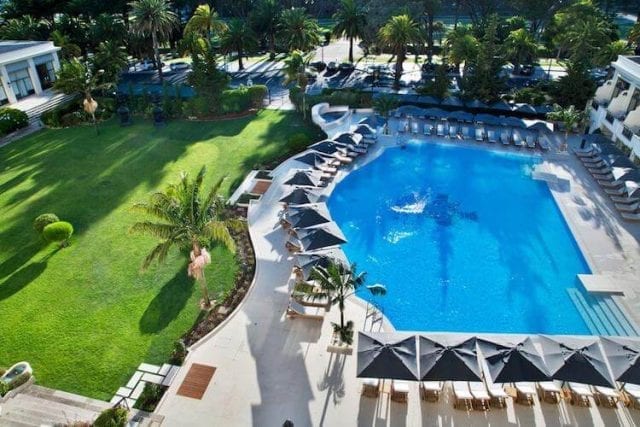 Still swathed in the glamour of the old times is the Palácio Estoril Hotel, opened in the 1930s. It has hosted royalty, film stars and statesmen and it was even the setting for the James Bond movie "On Her Majesty's Secret Service".
The hotel is set in a perfect location, neighbouring the Casino Estoril and facing the Atlantic Ocean in the heart of Estoril. It is just a few minutes walk away from the Estoril train station, which can take you to Lisbon in just 30 minutes, and to the centre of Cascais in 5 minutes.
If you'd rather walk, you can also take a stroll along the footpath from Estoril beach to the centre of Cascais in just 25-30 minutes. Pretty handy if you're not renting a car and don't mind the nice breezy walk by the seaside.
There are 161 rooms that are quite elegant with size and view, and depending on the price, some rooms have balconies.
The hotel also has a spa, the Banyan Tree Spa and a Wellness Centre, with an indoor swimming pool and studios for pilates, yoga and treatment rooms.
And if this wasn't enough, at this hotel you will also find an 18-hole golf course, which overlooks Estoril and the sea.
At the end of a summer's day, why not enjoy a meal at one of the two restaurants which offer a wide selection of dishes.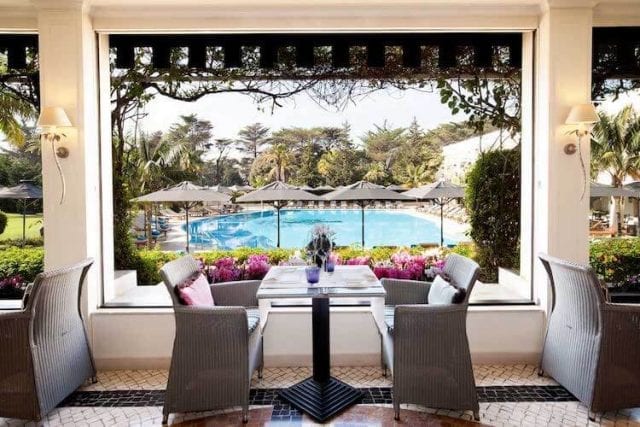 You have the Bougainvillea Terrace Restaurant which overlooks the pool, and the Grill Four Seasons Restaurant, which has a more Portuguese approach with dishes. And not to mention, The Bar which is a perfect place to explore the local wines.
Price: Doubles from €155 per night in low season and from €235 in high. Breakfast included.
Address: Rua Particular 2769 504, Estoril
Phone: +351 214 648 000
Website: www.palacioestorilhotel.com/
InterContinental Estoril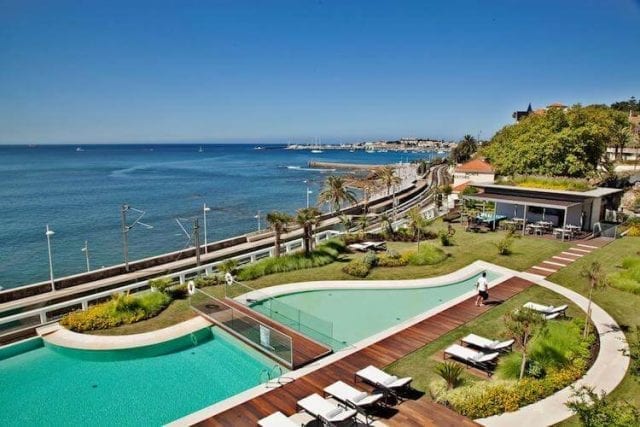 The InterContinental Estoril hotel is an oceanfront luxury hotel that features an outdoor swimming pool, indoor pool and a fitness centre.
It is a luxurious 5-star, set in front of the Atlantic Ocean and is ranked #1 of 18 other hotels in Estoril.
The InterContinental Hotel is perfectly placed within walking distance to the Casino Estoril, 20 minutes walk away from Cascais centre. It also neighbours the Monte Estoril station making it easier to travel to and from Lisbon without having to catch other forms of public transport.
This clean-lined contemporary hotel stands on the site of the old hotel Atlântico and has 59 rooms with white-on-white interiors and breezy open spaces that bring the sky-meets-oceans views into the heart of the hotel.
There are outdoor and indoor pools and not to mention, the beautiful ocean views from every room. The service is quite friendly and efficient with a spa, gym, sauna and steam room.
You can also enjoy treatments including:
manicures,
pedicures,
massages,
facials,
scrubs
The Atlântico Bar and Restaurant is the hotel's gourmet dining area with a menu that revolves around the Atlantic.
Breakfast is served at the end of the hotel's lobby lounge with excellent poached eggs and avocado upon request as well as a variety of local pastries, fruits, regional hams and cheeses on the buffet.
Price: Doubles from €160 per night in low season and from €260 in high. Breakfast included.
Address: Avenida Marginal, 8023 2765-249, Monte Estoril, Cascais
Phone: +351 218 291 100
Website: estorilintercontinental.com
Hotel Cascais Miragem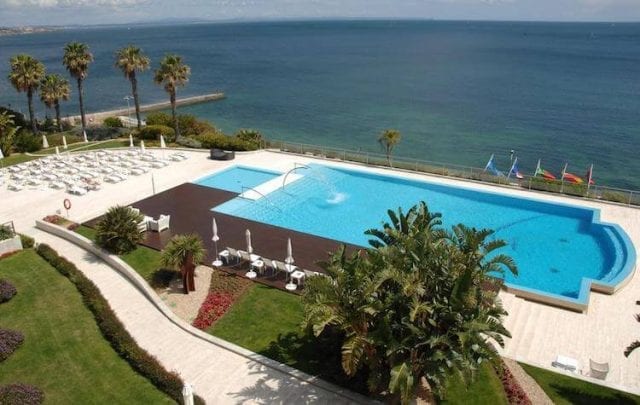 The Hotel Cascais Miragem is a 5-star hotel that offers an outdoor infinity pool and amazing views of the Atlantic Ocean. The hotel features a spa, a health club, restaurants and free wi-fi throughout the property.
It is only 300 meters away from Monte Estoril Station and is a 25-minute drive from the Lisbon Portela Airport.
The rooms at Cascais Miragem Health & Spa Hotel include a marble bathroom with a bathrobe and luxury toiletries. There are some rooms that have floor-to-ceiling windows and a furnished terrace with great views of the Cascais bay.
There is also a new area available for all guests: the Mirage Water Lounge.  An adult pool and a family pool, a saltwater lake, a sauna and a relaxation area.
You can get an aromatherapy massage in one of the treatment rooms at Holmes Place Spa. All guests benefit free access to the Holmes Place Health Club with fitness classes, a gym, an indoor pool and treatments with views of the ocean.
So far, so good? Well, there's more!
Every morning in the hotel's dining area, you can enjoy a buffet breakfast. You can also enjoy traditional Portuguese dishes in the Gourmet Restaurant that is also available to you with great views over the Cascais Marina.
The hotel also has an international buffet style restaurant as well as a pool bar. Excellent for a trip for two.
Price: Doubles from €160 per night in low season and from €320 in high. Breakfast included.
Address: Avenida Marginal 8554, 2754-536 Cascais
Phone: +351 210060600
Website: www.cascaismirage.com
Grande Real Villa Itália Hotel and Spa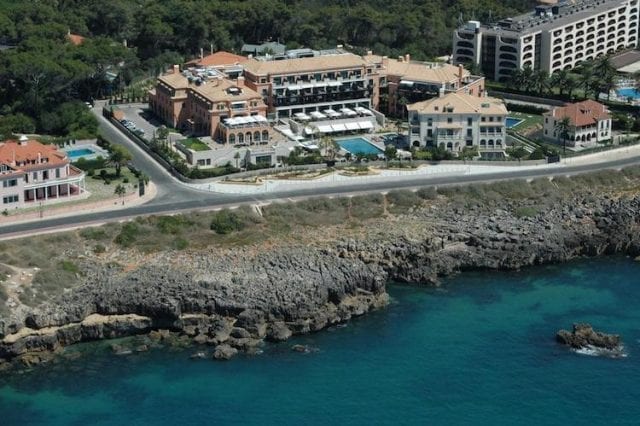 The Grande Real Villa Itália Hotel was the former residence of the exiled Italian Kings and faces the wonderful Atlantic Ocean in Cascais.
It is close to popular attractions including Casino Estoril and Sintra, which is just a 30-minute drive away. The rooms of Grande Real Villa Italia Hotel and Spa are combined with classical furnishings with modern appliances, free wi-fi and a flat-screen cable TV.
All bedrooms and suites have clean lines and a sleek feel with blues and beiges that dominate the colour scheme.
The bathrooms are also quite luxurious with Italian marbles and Venetian mosaic tiles, favoured by interior designer Graça Viterbo. Viterbo's signature marine look is quite breezy with light-filled interiors.
The Grande Real Villa Itália is a great value for money with impeccable service from the very moment you arrive.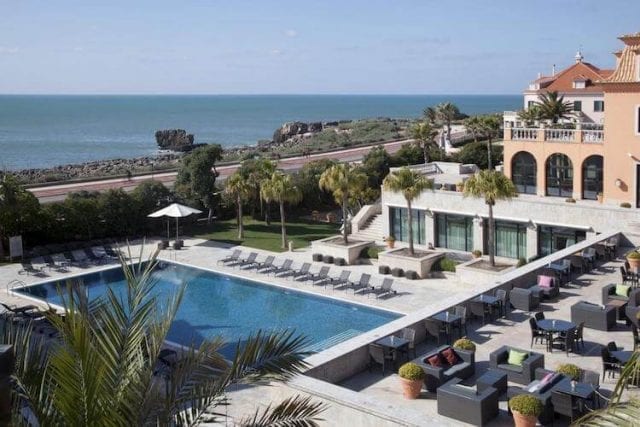 Facilities and services include four restaurants, a big outdoor pool, thalassotherapy pool circuit in the Real Spa Marine as well as a gym, hot tub and sauna.
There are also massage treatments available with the use of Portuguese ingredients from the exfoliation with local rice, to the massages with sunflower oil and calabashes from the north of Portugal.
With food and drink, you can enjoy a huge variety of choice on offer at the buffet breakfast, from cooked dishes to fruits and pastries as well as the Lounge Bar and the Mare Pool Bar, both serving light meals.
For a lovely treat, why not head up to Belvedere Restaurant where they serve Italian dishes such as risotto of artichokes and scallops on a beautiful terrace under the stars and overlooking the ocean.
Price: Doubles from €120 per night in low season and from €220 in high. Breakfast included.
Address: Rua Frei Nicolau de Oliveira 100, 2750-319 Cascais
Phone: +351 210966000
Website: www.granderealvillaitalia.realhotelsgroup.com/
| Get even more insights about Portugal with our newsletter. Click here and subscribe today.
Senhora da Guia Cascais Boutique Hotel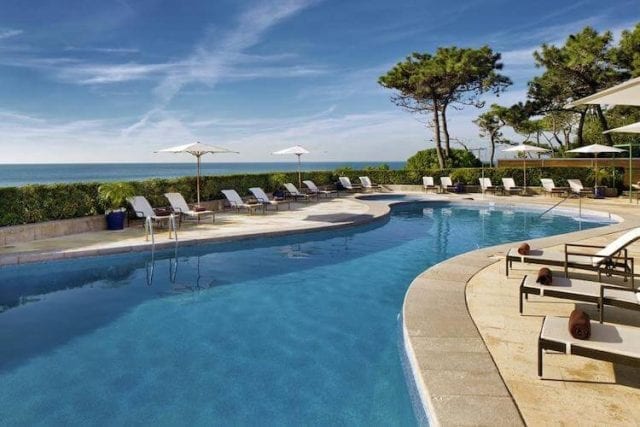 Within this privileged environment located between Cascais and Guincho Beach, you will find the luxurious Senhora da Guia. Set within a green garden with pine trees and a salt-water pool, the charming Senhora da Guia is a classic case of how to do things right.
The hotel is just a 10-minute drive away from the Guincho Fortress and the city centre of Cascais. The rooms have a fresh and modern décor as well as air-conditioning, flat-screen TVs and balconies.
There are 41 rooms with large and luxurious. There's also a spa and a restaurant.
Most rooms come with a sea-view balcony, stylish public areas, lounge with bar, fireplace and a terrace that looks beyond the saltwater pool and to the Atlantic Ocean.
There is also a variety of wellness facilities that are provided by the hotel, such as an indoor heated pool, a Turkish bath, hot tub, sauna and a gym.
There are a variety of massages and beauty treatments that can also be arranged too. At the end of the day, you can enjoy a meal at the restaurant x and watch the sunset in the Atlantic Ocean.
A meal that I would suggest to try is the Mediterranean risotto.
Price: Doubles from €120 per night in low season and from €235 in high. Breakfast included.
Address: Avenida Nossa Sra. do Cabo 1162, 2750-005, Cascais
Phone: +351 214 869 239
Website: www.senhoradaguia.com/
Farol Hotel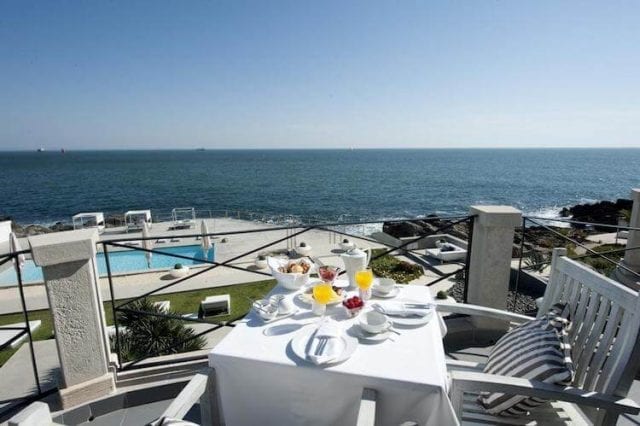 Located right beside the Cascais Marina is this private little 5-star boutique hotel which was built in the 19th century as a summer escape by an aristocrat seeking the ocean breeze.
The hotel features a sundeck terrace that stands on the water's edge overlooking the Atlantic Ocean.
It is walking distance from the elegant centre of old Cascais and just a 20-minute drive will take you into Lisbon, or up into the hills to visit that palaces of historical Sintra.
The style and character of this hotel is a successful blend of old and new with huge glass windows that let the light stream in.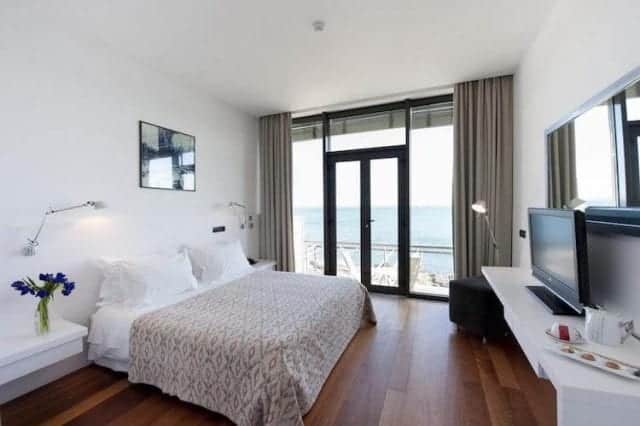 There are 33 rooms and suites with each one being remarkably different to suit one's taste. Some rooms with a bright red theme, whilst others are quite white and simple.
Then you have some that are black and gold themed with a decadent vibe, or blue and classically elegant. There are also cosy attic rooms and suites that have floor-to-ceiling windows that overlook the Atlantic Ocean.
Most rooms at the Faro Hotel comes with a message column and features bathrobes with slippers, free wifi and minibars. The hotel also features an On the Rocks lounge bar from where you can see the saltwater pool.
For dining, there are two options:
The Mix – a restaurant that serves Mediterranean dishes.
Sushi Design – a small restaurant on a terrace that overlooks the Atlantic Ocean, serving fresh and mouth-watering sushi for all you sushi lovers.
At each of the classically stylish Farol Bar and the Bar On The Rocks, you can enjoy a cocktail and indulge in some tasty snacks as well as exploring the world of Portuguese wines.
Price: Doubles from €195 per night in low season and from €390 in high. Breakfast included.
Address: Av. Rei Humberto II de Italia 7, 2750-800, Cascais
Phone: +351 214823490
Website: https://farol.com.pt/en
| Cascais is one of the richest and most charming cities in the country, discover it with us.
Sheraton Cascais Resort – Hotel & Residencies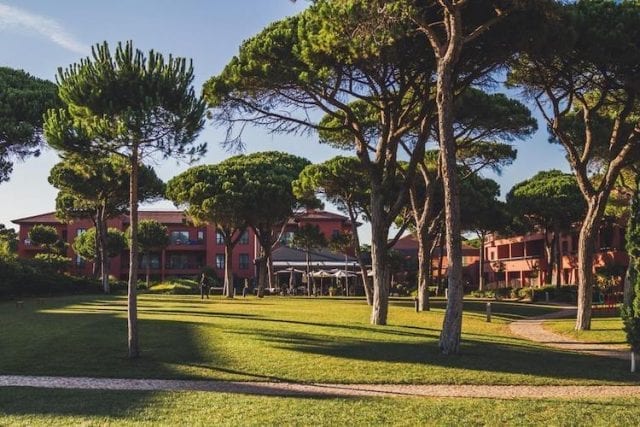 Sheraton Cascais Resort is relatively a recent addition to Portugal's Atlantic coastline. The 5-star hotel is surrounded by quality golf courses that lie within easy reach and is only a 4-minute drive from the Atlantic Ocean.
To get to the busy centre of Cascais, it only takes 5 minutes to get to via car, 30 minutes to get to Lisbon; and 45 minutes away from Lisbon Airport.
This hotel has got style and character whilst never neglecting comfort.
There are 149 rooms that all have access to the gardens or large balconies that overlook the surrounding greenery. All rooms are quite spacious with working desks and beds that offers a Sheraton custom-designed sleep experience.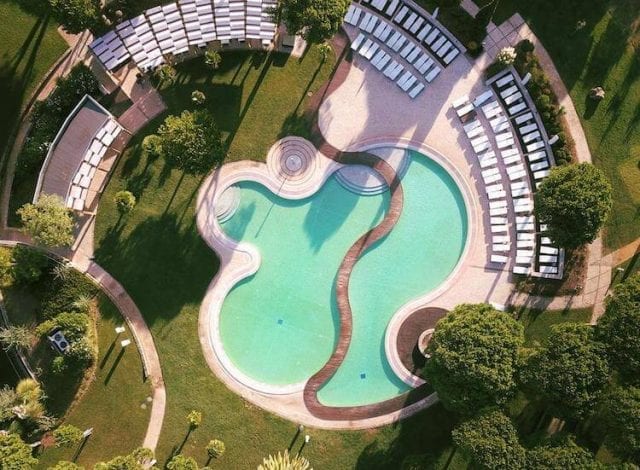 The hotel is great value for money as it offers true resort facilities, from its vast swimming pool to the spa and kids' club. You can also book a massage to unknot those muscles. There are also hot dining options that you can choose from at the hotel.
With the booking of a room, you can indulge in a buffet breakfast that is accompanied by an egg station for omelettes, scrambled eggs or pancakes.
For a nice drink and a snack, there is also a bar that offers a cocktail-centric menu that pairs with food.
From the menu you can choose interesting beverages including Popping Sour (rum-based with passion fruit) or Clear Mary (which is made with vodka and infused with the basil, tomato juice and raspberry vinegar) and match these drinks with a salmon ceviche, a tuna tataki or a mix of red fruits to make a light fun meal.
The Glass Terrace Restaurant, however, offers traditional Portuguese dishes with a mix of international favourites.
Price: Doubles from €115 per night in low season and from €135 in high. Breakfast included.
Address: Rua das Palmeiras 5, 2750-005, Cascais
Phone: +351 214 829 100
Website: www.starwoodhotels.com/sheraton/
Villa Cascais Guesthouse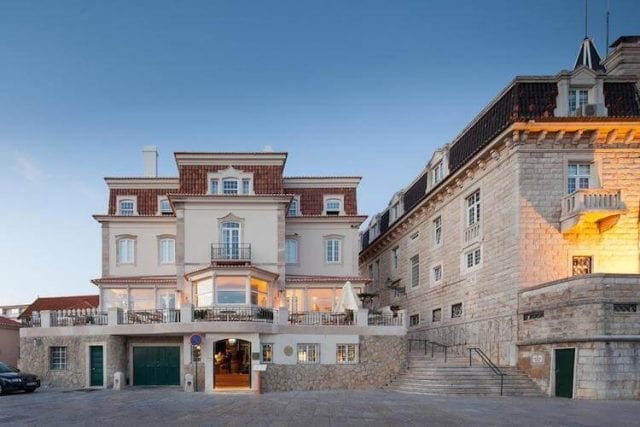 Villa Cascais is a 19th-century villa that is now a 2-bedroomed guesthouse that perfectly overlooks the Bay of Cascais and the fishermen's beach.
Just 30 minutes away from Lisbon on one side, and the Unesco heritage jewels of Sintra on the other, Villa Cascais place its prime position in the cobble-stoned heart of Cascais.
The villa faces the main square and offers affordable luxury and a real sense of place.
The style and character of this place is quite contemporary. It was built in the 19th century but was recently refurbished with a matte gold staircase cutting up through the bold blue walls, and furnishings that dominate the wooden flooring throughout the building.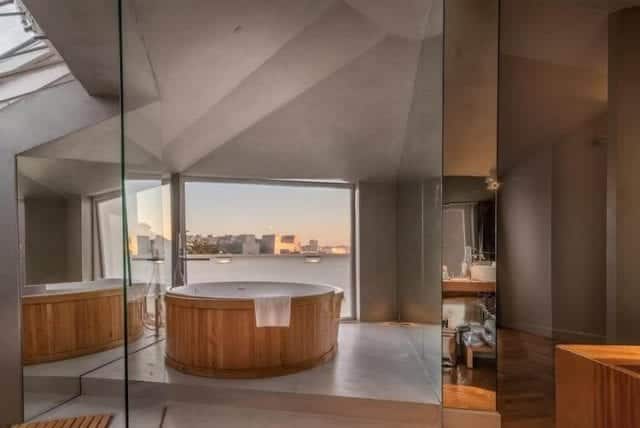 All rooms have light and views of the Cascais Bay and towards the Estoril Coast. There are white wooden shutters and fireplaces; with some rooms having both shower and bathtub, and other rooms with shower only.
The type of room ranges from superior to deluxe sea view. You also have the choice of grand deluxe sea view which offers a 360-degree view from its three terraces on the top floor.
There is a new restaurant called Reserva that was recently opened and delivers some of the best signature dishes by its chef Olivier.
You can enjoy a delicious meal on the terrace a beautiful sunny day with views over the main square and out to the sea. You can also try a sample of some of the best wines in Portugal at the bar which is adjacent to the restaurant.
Price: Doubles from €92 per night in low season and from €152 in high. Breakfast included.
Address: Rua Fernandes Thomaz, 1, 2750-342 Cascais
Phone: +351 214 863 410
Website: thealbatrozcollection.com/villacascais/m/home
Hotel Fortaleza do Guincho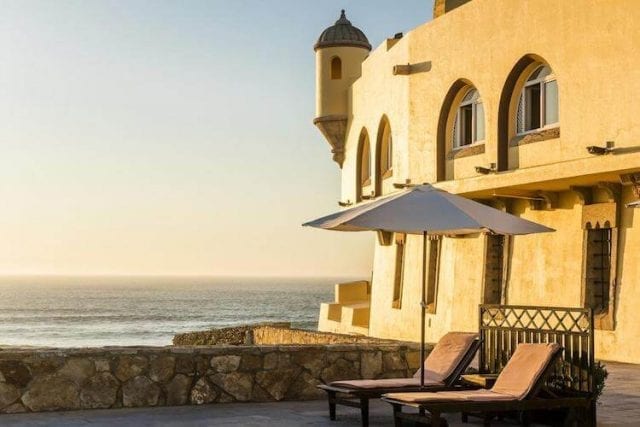 This hotel is built on the site of a 17th-century miniature fortress that overlooks the Portuguese surfers' paradise, Guincho Beach.
To the left you will find the gorgeous, golden, Guincho beach which is famous for it beautiful sunsets; and to the right, you can see the lighthouse of Cabo de Roca, Europe's westernmost point.
The hotel is also just a 30-minute drive from the city of Lisbon.
Built in the year 1642 as a defensive fortress, the Fortaleza had been renovated and restored over the years, with two canons on either side of the entrance remaining as an indication of its original purpose.
Behind the exterior lies polished tiled floors and gleaming antiques that are set within the exposed stone walls of a central courtyard.
There are 27 rooms and suites that are drawn on their historic heritage, even though they vary in décor; they are equipped with heavy wooden furniture, velvet armchairs, vaulted ceilings and tiled floors.
Hotel Fortaleza is another great value for money with outstanding services that comes with a smile.
The facilities that are available to you and can be arranged:
watersports
kite
surf
diving lessons
golf
tennis
regular wine tastings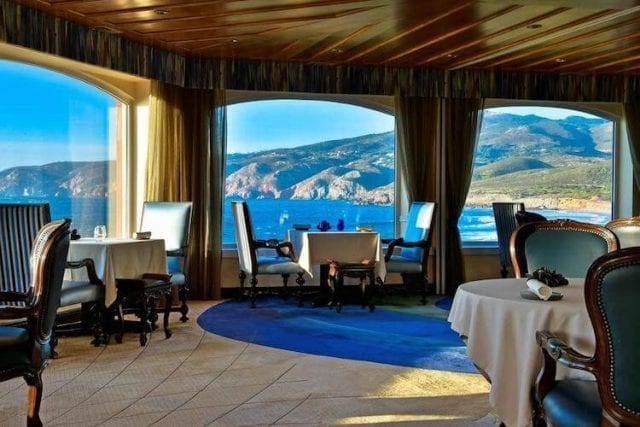 It is a luxurious hotel that boasts a Michelin star award-winning gourmet restaurant with the same name with sweeping Atlantic Ocean views.
You will find an interesting menu in the low-beamed dining room with the chef's duck foie gras, quince and tonka broad bean consommé.
And for all you wine lovers, there is a wine list of 850 wines that are available to you at the restaurant.
Price: Doubles from €170 per night in low season and from €270 in high. Breakfast included.
Address: Estrada do Guincho, 2750-642 Cascais, Portugal
Phone: +351 214 870 491
Website: www.fortalezadoguincho.pt/
The Albatroz Hotel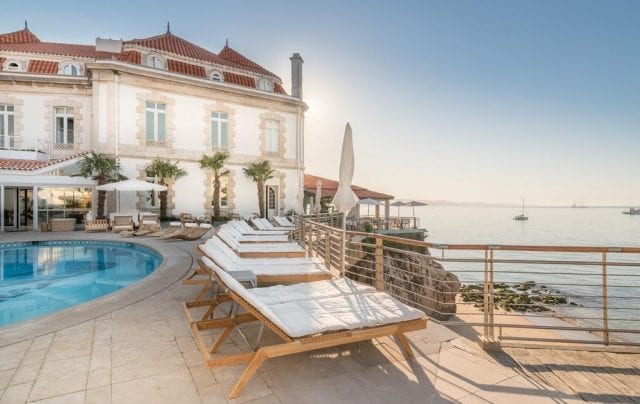 Along the beautiful coast from Lisbon is this 19-century Albatroz Hotel which stands on the edge of the Atlantic Ocean.
The hotel sits on a cliff head between two golden beaches. At the back of it, you will find the cobbled streets of Cascais.
Albatroz is just a 30-minute drive away from Lisbon and another 15 minutes from its airport; with the town centre being just a walking distance away.
The style and character of this historic hotel were originally built in 1870 as a summer house for the Dukes of Loulé. It is a nice white-washed villa that is topped by red clay tiles with views over the ocean.
The interiors of the hotel resonate with a sense of places such as the hand-painted tiles, chandeliers and marble staircases, and a calm, beachy feel with pale wood and marine-blue fabrics.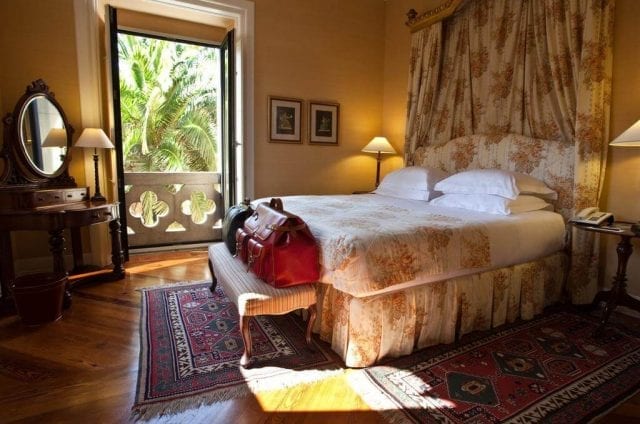 There are 41 rooms in total with 'collection' rooms in the old building that are very cosy.
Most of the rooms have wonderful ocean views and come with a small welcome of port wine, plus straw baskets that can be used on the beach or by the pool.
This hotel is a great value for money with long-service staff that will go out of their way to look after you.
There is a bar right at the end of the cliff and an elegant restaurant that overlooks the beach and serves some of the Portuguese specialities.
Breakfast is provided and offers regional pastries and a great selection of hams and cheeses.
Price: Doubles from €150 per night in low season and from €435 in high. Breakfast included.
Address: Rua Frederico Arouca, 100, 2750-353, Cascais
Phone: +351 214 847 380
Website: www.thealbatrozcollection.com/albatrozhotel/the-albatroz-hotel
| A trip to Sintra is a must if you're holidaying somewhere around Estoril, Cascais or even Lisbon. Check out our guide and find out all you can do and discover here.
5-Star Hotels in Cascais That Stand Out From The Rest
The Oitavos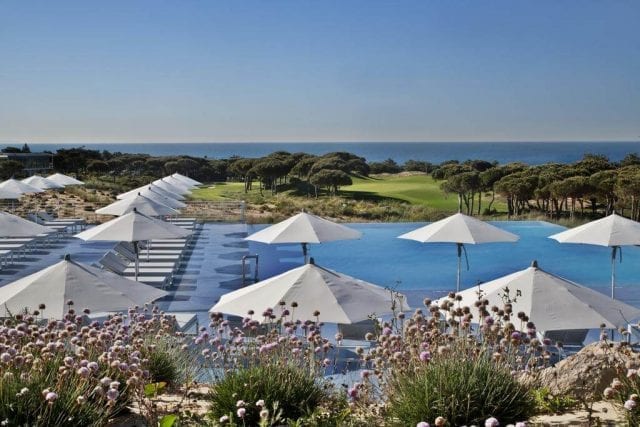 For the golf lovers: Located within the Sintra-Cascais National Park, is this 5-star hotel that is set on a 168-acre estate of waving dune grasses and stone pines.
This hotel is surrounded by a top 100-rated golf course, but this is not your traditional golf hotel. It is not even your traditional hotel, as it looks more like a city art gallery rather than a hotel.
The style and character of this hotel are quite modern with the construction of steel and glass. It is very spacious, flooded with natural lights; with the colour theme inspired by the sky and the ocean.
This hotel has four restaurants plus a sushi bar working on Fridays and Saturdays. The cuisine is quite international-meets-regional, and the two restaurants in the public area are quite simple.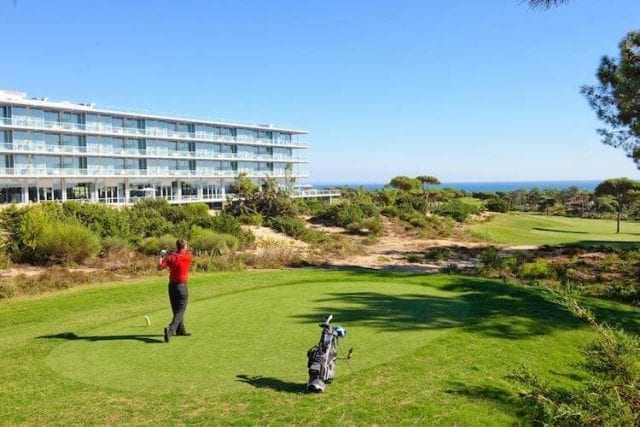 However, the restaurant in the golf club provides service that is quite impeccable with sardines that are grilled to perfection. You can count on spending around €22 for lunch and €40 for dinner.
Price: Doubles from €153 per night in low season and from €235 in high. Breakfast included.
Address: Rua de Oitavos – Cascais, 2750-374, Cascais
Phone: +351 214 860 020
Website: https://theoitavos.com/
Pestana Cidadela Cascais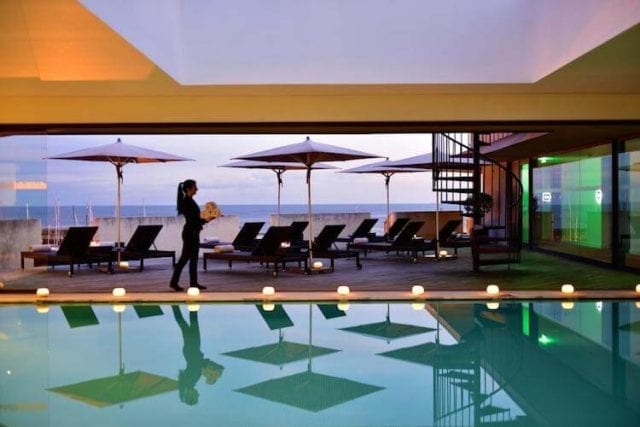 Art District: Want to test your creative mind? Why not surround yourself with studios and galleries.
Pestana Cidadela Cascais is a 5-star hotel and is one of the first hotels in Europe to have an integrated Art District inside.
Centrally-located in Cascais features an indoor pool and an additional lawn-surrounded exterior swimming pool with marina views; and is surrounded by studios, galleries and museums.
Pestana Cidadela is just a 35-minute drive away from Lisbon International Airport, a 3-minute walk from the beach, and a 5-minute walk from the centre of Cascais.
The hotel is very close to several beaches, such as the Guincho beach, as well as being extremely close to parks, museums, shopping centres and also the Estoril Casino.
Each room has a private bathroom with slippers and bathrobes, and feature modern decor and wooden floors.
Just like the other hotels, you can enjoy a free buffet breakfast in the hotel's dining area which features an amazing view ranging from Cascais Bay, through to the Santa Maria Lighthouse.
This hotel has two restaurants, Maris Stella, which specialises in fish and seafood dishes, while Taberna da Praça serves quite a selection of tasty tapas and snacks.
Price: Doubles from €75 per night in low season and from €125 in high. Breakfast Included & WIFI
Address: Av. Dom Carlos I, 2750-310 Cascais
Phone: +351 214814300
Website: www.pestanacollection.com/en/hotel/fortress-cascais
| Since you're thinking of coming on holidays to Portugal, here's some inspiration on some of the dishes you should try when you're here.
Martinhal Cascais Resort
Perfect for children: The hotel has 72 spacious rooms and suites and is considered to be a children's paradise with an amazing Kid's Club (which is set across from the hotel entrance with large space) that is well-staffed and with superb facilities both indoors and out to suit your children's needs.
Is a holiday with children difficult or impossible? Not anymore!
The founders of Martinhal have worked on making every hotel room special for families as well as being children-friendly.
Here you will find one of the top hotels that successfully brings together the elements of luxury, family, design and genuine hospitality.
Located in the region of Lisbon and set between 2 championship golf courses, this beautiful family resort hotel overlooks the beach which is just 6km away from the historic centre of Cascais.
Martinhal has boutique-style rooms and villas with private balconies and terraces which will be a unique and wonderful experience for you and your family.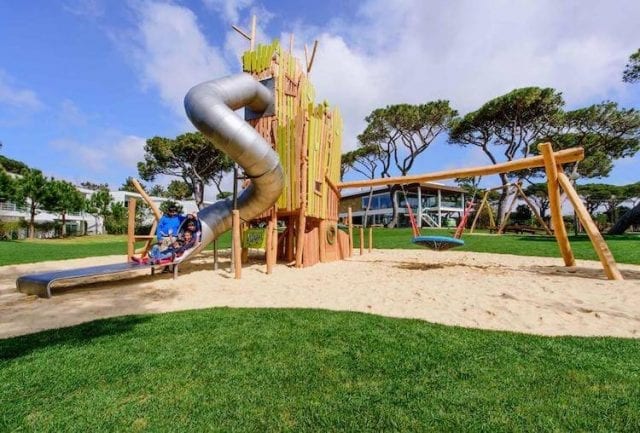 Each room has similar decor, overall looking quite sleek and modern with bleached wood, floor-to-ceiling glass windows and soft lighting which creates a warm atmosphere.
All rooms have Nespresso machines, free wi-fi and a bathroom that is separated from the bedroom. The suites also have televisions in the bathroom mirrors.
There are other services and facilities which includes a spa, an excellent range of treatments, indoor heated swimming pool and three outdoor swimming pools.
You can also enjoy a buffet breakfast at O Terraço Restaurant which also serves Portuguese-inspired dishes at dinner. There is also an age-structured kid's menu with recommendations for certain age brackets.
In the children's clubhouse, you will find the M Bar which serves snacks and ice-creams as does the pool hangout during the summer season.
Price: Doubles from €178 per night in low season and from €248 in high. Breakfast Included & WIFI
Address: R. do Clube Casa 36, Quinta Da Marinha, 2750-002 Cascais, Portugal
Phone: +351 214860150
Website: www.martinhal.com/cascais
Hotel Quinta da Marinha Resort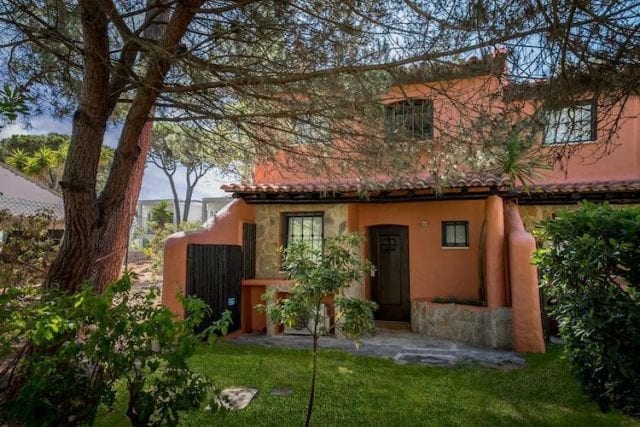 Golf Course: Imagine a five-star hotel where everything you desire for the perfect holiday is close-by: the beaches and mountains, sports for the active and the city for shopping.
Hotel Quinta da Marinha is another luxurious resort that is well-situated in the Sintra-Cascais Natural Park overlooking the Atlantic Ocean. It is located in the coastal town of Cascais and is just 4km away from Guincho Beach.
You can easily travel to Lisbon's historic areas such as Chiado, Rossio and Bairro Alto with just a 35-minute drive away from the hotel, and visit the scenic and beautiful Sintra in just 10-15 minutes.
Each room in the Hotel Quinta is equipped with air-conditioning, a minibar, flat-screen TV and a private bathroom. The rooms also have a spacious balcony with panoramic views of the golf course or the Sintra mountain range.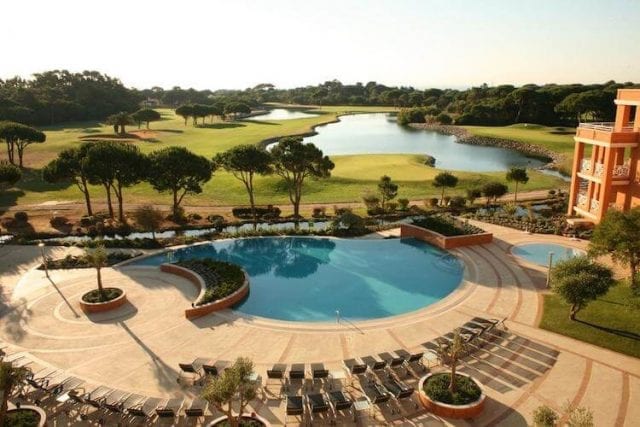 Guests can enjoy a relaxing pedicure or body treatment. There is a full health club, a spa, an indoor pool as well as an 18-hole golf course.
You can also go to two restaurants at the hotel. The Five Pines Restaurant is a great place where you can dine in and enjoy international buffet meals. The Rocca Restaurant serves traditional gourmet Portuguese cuisine which is something new for you to try.
And don't forget the Trent Jones Bar where you can have a drink or two whilst listening to some live music.
Price: Doubles from €120 per night in low season and from €235 in high. Breakfast Included & WIFI
Address: Rua Palmeiras, 2750-005 Cascais
Phone: +351 214860141
Website: www.quintadamarinha.com/
Cascais – Portugal Hotels
So whether you are on a family trip with the kids, or you are travelling alone with your lover, Cascais has a lot to offer with several top luxurious and affordable hotel rooms and suites that will bring you, your partner and your family a great experience.
Well, what are you waiting for? Get booking for the summer!

Disclaimer: Our posts might contain affiliate links, which means we earn advertising fees if you make a purchase. There's no extra cost to you, it just helps us keep the website going.

Kim Mifsud
I am a freelance designer, singer-songwriter, born and raised in Australia. I love to venture out and experience different cultures. One day I came Lisbon, fell in love with this beautiful city and haven't left since. I have a passion for music and design; and I enjoy writing during my spare time.