If there's one thing you should know about Portugal, it's that you can't talk about Portuguese culture without also talking about football.
The Portuguese live and breathe football and with thunderous roars heard across cities and villages during football season, it's no wonder the sport is also considered the national sport.
All about Benfica Stadium
One of the top Portuguese clubs, Benfica, has a remarkable story that ties in with the Portuguese people and their history. The club's home stadium, the amazing Benfica Stadium, is an iconic landmark that fills capacity each year with Benfica fans gathering from all around the world to cheer on their beloved team.
Whether you're a football fan or not, visiting Benfica Stadium is a must when you're in Lisbon to experience firsthand the exhilarating live games and electric cheers from the crowd.
So, ready to make your pilgrimage to Benfica Stadium yet?
Well, here's everything you need to know about Benfica and Benfica Stadium before your visit!
Benfica football club
Sport Lisboa e Benfica or Benfica for short, is one of the most famous football clubs in the world, with its club origins dating all the way back to 1904!
Belonging to one of the "big three" teams of Portugal – together with Futebol Clube do Porto and Sporting Clube de Portugal, Benfica Stadium is considered a national icon, a revered stadium where fans from all over the world make their pilgrimage each year to watch their sporting heroes play on the field.
Benfica has one of the world's biggest fanbases
In 2009, Benfica set the Guinness World Record for "the most widely supported football club" with a total of 160,398 paid members. Even more impressive is that Benfica is estimated to have over 14 million fans around the world, each as passionate for the club and constantly attending each game at the iconic Benfica Stadium.
Despite having an already inimitable football fanbase, Benfica is not just a football club but also has teams which compete in other sports such as athletics, basketball, futsal, rugby, table tennis and volleyball.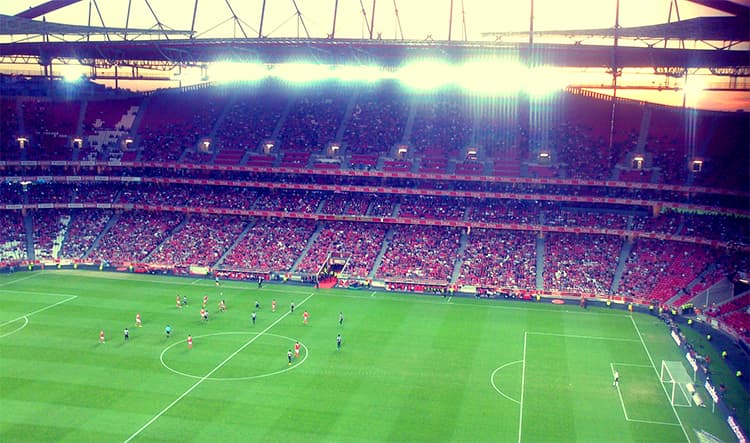 The magnificent Benfica Stadium
Benfica Stadium, nicknamed "Catedral" (the cathedral), is an absolute mecca for football fans around the world and with a capacity of 64,642 seats, Benfica Stadium is also the biggest stadium in Portugal.
Benfica Stadium, officially named Estádio do Sport Lisboa e Benfica and also known as Estádio da Luz, is a multi-purpose stadium built in 2003 on the same grounds as the old Benfica Stadium – as Benfica was bidding to have Benfica Stadium as part of the UEFA Euro 2004 competition.
Notable matches that have taken place in Benfica Stadium include the UEFA Euro 2004 Quarter Final match which saw Portugal beat England in a thrilling penalty shoot out, the UEFA Euro 2004 Final and the 2014 UEFA Champions League Final which saw national hero, Cristiano Ronaldo, play for Real Madrid.
Benfica's famous eagles
Benfica is also famous for its iconic mascots Águia Vitória and Águia Gloriosa, two real-life eagles which fly over the fans at the beginning of every game at Benfica Stadium. The fans erupt with thunderous cheers each time they see the eagles, a magnificent spectacle for everyone that's ever watched a game at Benfica Stadium.
In 2014, an online poll by L'Équipe voted Benfica Stadium as the most beautiful stadium in Europe.
How do I get to Benfica Stadium?
Benfica Stadium is located in Lisbon and you can easily get there from the centre of Lisbon by metro, catching the Blue ("Azul") line to Colégio Militar/Luz station which is the closest stop to Benfica Stadium.
Alternatively, you can also catch the bus to Benfica Stadium with buses 750, 754 and 768 all stopping at the Colégio Militar bus terminal.
For those who prefer to catch a taxi or Uber, the estimated cost from downtown Lisbon will be between €10 and €15 depending on traffic.
Are there tours available at Benfica Stadium?
There are various tour options available for your visit to Benfica Stadium which include tours to Benfica Stadium, Benfica Museum and a combined tour of both. Prices for the individual stadium and museum tours are €12.50 and €10 respectively. The combined tour is €17.50 which is awesome value if you wish to see both!
A highlight of the Benfica Stadium tour, which includes a tour of the stands, the dressing rooms, the technical areas at the side of the pitch and the press room, is a photo opportunity with Águia Vitória or Águia Gloriosa, the two bald eagles which are the symbol of the Benfica club.
Visit the Benfica Museum
On the Benfica Museum tour, you will be able to see the hundreds of trophies won by the various Benfica teams as well as learning the history of the Benfica club and some of its stars like Eusébio.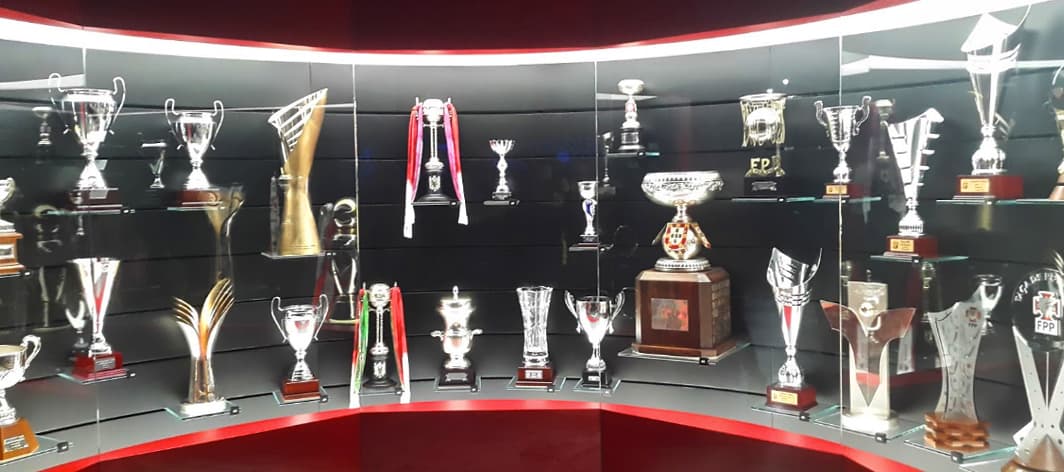 You'll even learn about the history of Portugal through the times of the dictatorship by António Salazar and the world's' most famous Fado singer, Amália Rodrigues.
The Benfica Stadium guided tours last between 45 minutes and one hour and the self-guided tour of the Benfica Museum lasts between one and one and a half hours.
Why not let the team at Get Your Guide pick you up from your hotel and give you a personal, guided tour of the stadium and the museum? Your guide speaks English, French, Spanish and Portuguese. You can book this tour any time and we can definitely recommend it.
How do I watch a Benfica game in the Benfica Stadium?
Watching a Benfica game at Benfica Stadium is a truly amazing experience. From the Benfica eagle flying above you before the start of the game, to the echoing chants of almost 65,000 people in the crowd, this definitely should be on your bucket list for your time in Portugal.
You can buy tickets to all the games directly at the Benfica Stadium, its website or the various Benfica Official Stores around Lisbon. There's also various reseller websites like OLX (website is in Portuguese), where you can find some last-minute discounted tickets.
How much does it cost to watch a Benfica game?
Prices for games at Benfica Stadium can vary depending on the type you wish to attend. The average price for a Primeira Liga match, the top professional association football division of the Portuguese football league system, can be found for around €25.
Tickets for a derby match, a match usually played between two rival teams belonging to the same geographical area (for example, Dérbi de Lisboa which is played between Lisbon clubs Benfica and Sporting), can be found for around €50.
Tickets for international competition matches like the Premier or Champions League also start at around €50.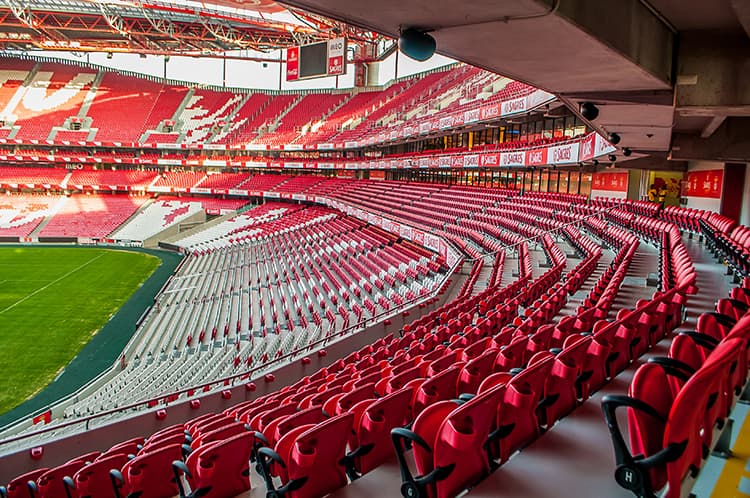 Is it worth visiting Benfica Stadium?
Absolutely! Whether you are a football fan or not, it doesn't matter!
We can't recommend it enough to make sure you experience firsthand the amazing energy of a live game at Benfica Stadium and to see so many fans united together in one place.
With no minimum or maximum age to be a football fan, visiting the Benfica Stadium and Benfica Museum is also an experience available for everyone!
Whether it's the chance to take a picture with the iconic Benfica eagles or to attend a proper football match (ideally a derby!) your visit to Benfica Stadium is truly an experience you will never forget!
Have you been to Benfica Stadium? Let us know what you thought of the experience in the comments below.
We would also like to invite you to join our mailing list to be kept informed of everything about Portugal.

Disclaimer: Our posts might contain affiliate links, which means we earn advertising fees if you make a purchase. There's no extra cost to you, it just helps us keep the website going.

Gabriel Virata
I'm a global creative – raised in Australia, worked in London and currently based in Lisbon, Portugal. I'm passionate about storytelling and using the most engaging and effective methods possible to share our human experiences. Over the last 10 years, I've worked across the entire media industry from television, design, production, fashion, branding, and marketing. When I'm not working you can find me completely disconnected and travelling to a new part of the world!