Olá damas and gents! Today we are going to write about Portugal's pride: the beaches ("praias").
As usual, you know you can count on us for your number-one source of information about this little, but beautiful country by the ocean. Stick around for our top 10 beaches in Portugal!
Enjoying the beaches in Portugal
If you are thinking about traveling to Portugal any time soon, remember that the best beaches in Portugal are not necessarily located in the Algarve (although, to be fair, the Algarve has some spectacular beaches).
How are the beaches in Portugal?
With more than 70% of its territory being coastline, you can find all kinds of beaches along the country. From white sand to rocky shores, from crystal clear waters to gigantic waves, natural pools, hidden coves and amazing cliffs, there is something for every beach lover.
Is the water cold?
Well, no, but, it depends on the season and which part of Portugal you are traveling to, of course.
The further north you go, the higher are your chances to be chilled to the bone from swimming at the beach.
Some years, it is possible to find milder waters up north but, to get warm water, you need to go south.
There are some hidden treasures in the least obvious places. For the adventurer, Portugal is a unique country to explore and get lost in. Portuguese people often prefer to find hidden corners of their own country instead of going abroad.
Learning from the locals
During my time here, I've often heard this said by locals: "Why go abroad if we don't even know Portugal?". Although I find this thought highly debatable, I often find myself thinking if they are actually right.
Anyway, one of the reasons to explore Portugal is, without a doubt, the beaches. We are going to try to show you a top 10 that has votes from all over the country instead of focusing only on the Algarve area (that has the most famous beaches).
Choosing the top 10 beaches in Portugal
As you might know by now, Portugal has a huge coastline and because of the awesome year-long weather, it makes it somewhat difficult to choose 10 beaches in Portugal that stand out.
We are going to mix the old but gold locations with the emerging trendy beaches to give you something to look forward to when visiting Portugal.
Are you ready for our top 10? Keep reading!
1. Praia da Rocha
Located in Portimão (the Algarve), with high cliffs and sculpted rocks, Praia da Rocha is perhaps, Portugal's 'Queen Beach'. It is, however, highly massified, as is the town, but worth visiting.
2. Praia da Luz
For its crystal-clear water and natural beauty, Praia da Luz definitely has a place on this list. This beautiful beach is located in Luz, near Lagos, also in the Algarve.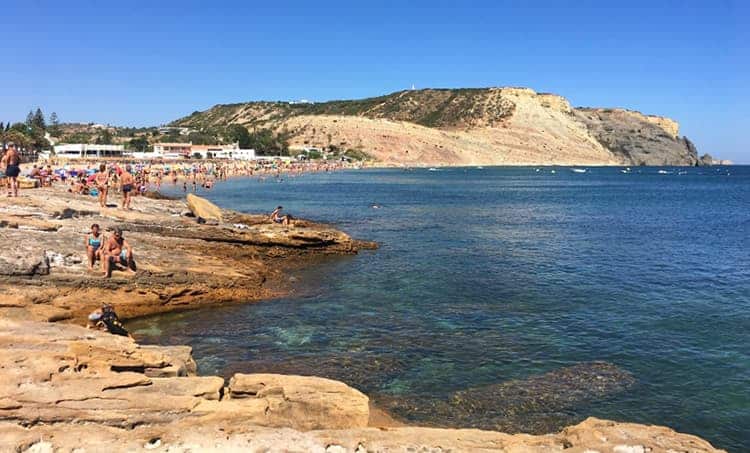 You are beginning to see a trend here, right? Let's try something different…
3. Fonte da Telha
At Fonte da Telha beach, you can enjoy the natural beauty of the park hanging in the cliffs behind the beach. As a side note, this natural park is called "Arriba Fóssil da Costa da Caparica" and it is probably worth a look for the adventurers. It is also possible to go for a hike or a drive through the park.
Back to Fonte da Telha. For only a short drive away from Lisbon, you can enjoy this spectacular beach any time of the year. Watch out for traffic, though! In the summer, almost every beach on the other side of the river from Lisbon gets very crowded and you may face hours of traffic to and from Costa da Caparica.
4. Manta Rota
Here we are, straight back to the Algarve. Manta Rota is worth it though. Located between Tavira and Monte Gordo, it is a magnificent stretch of golden sand and warm water far from the tourist clutter. It has all the beauty of the Algarve without the massive flows of people. Over the years, it has grown in notoriety so it is possible to find a lot of people there in the summer season particularly in July and August.
5. Praia da Marinha
Praia da Marinha, near Lagoa in the Algarve, has a place on Europe's top 10 and on the world's top 100 best beaches so it should be mandatory to make it part of the list. With extraordinary rocky formations, tunnels, caves and clear, warm water, will this be your next destination?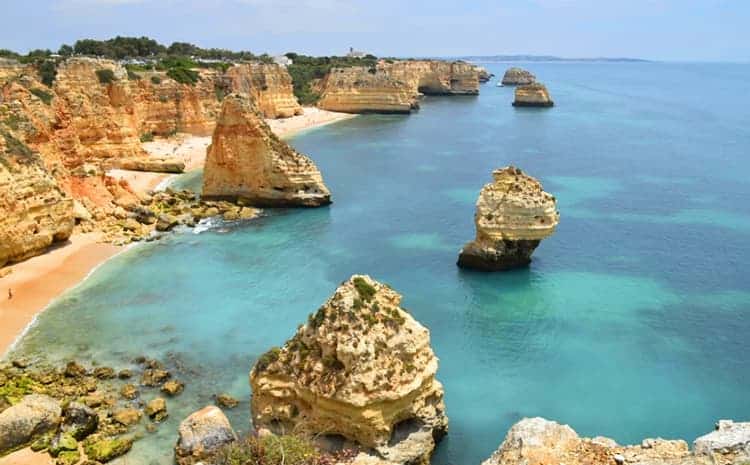 6. Praia do Guincho
Going back to Lisbon, Praia do Guincho is located between Cabo da Roca and Cascais and is a very beautiful and unique beach on the outskirts of Lisbon. It is also one of the surfer's favorites. Even if the weather is not inviting, this beach is worth a trip if only for the view. Take a chance!
7. Portinho da Arrábida
Located in the natural reserve, Portinho da Arrábida is a thin, sandy beach and is thought to be one of the most beautiful in Portugal. Its waters allow for some fun diving! To the fishing and/or underwater fishing enthusiasts, hold your seahorses! Since the sea is also considered to be part of the reserve, fishing is forbidden. Well, there are plenty of other spots to fish!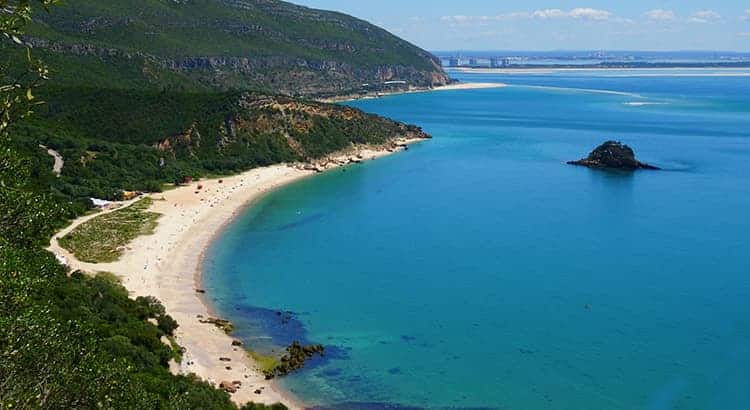 8. Moledo
Located high up in the north of Portugal, close to Caminha, Moledo has a place on this list due to its beauty. If you have a chance to visit the beautiful, north of Portugal, remember to check out this beach!
9. Nazaré
Nazaré is known for its surf mavericks and the city has been taking advantage of it lately. It has successfully drawn surfing personalities like international big wave explorer, Garret MacNamara, to enjoy the massive surf in this area.
Aesthetically speaking, not only is Nazaré a beautiful seaside city, but the surrounding beaches are also stunning.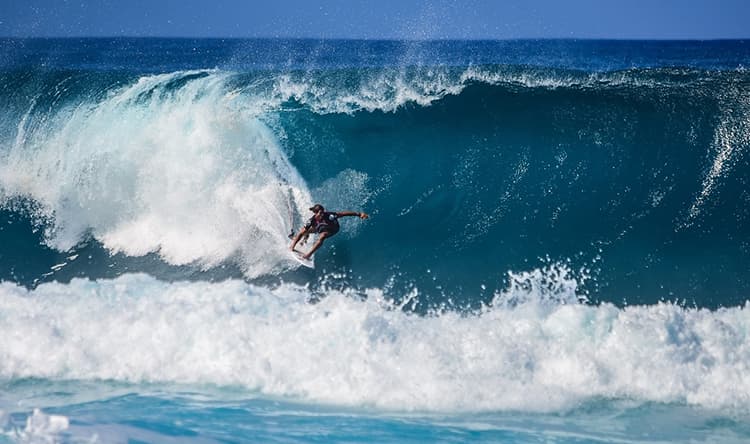 10. Praia do Baleal
Located in Peniche, a town about 80 km (50 miles) north of Lisbon, Praia do Baleal is unique for its shape and its environment. The water is usually calm when compared to the other beaches in the area that are the joy of Portugal's rising surfing community. For the surfers out there that want to find a spot away from the Lisbon crowds but are not brave enough to face Nazaré's challenging waves, this might be the place for you.
Keep in mind that surfing is not an unknown sport in Portugal anymore, the community has grown exponentially and there are a lot of places in the country that have begun to explore its potential.
Bonus beaches in Portugal you can't miss
Let's not forget that Madeira is part of Portugal and we didn't make any reference to its beaches yet so you should know that Porto Santo has an amazing nine kilometre (5.6 miles) beach.
Porto Santo is a small island located close to Madeira. We included this beach for its beauty although we consider the Azores and Madeira to be a whole different experience.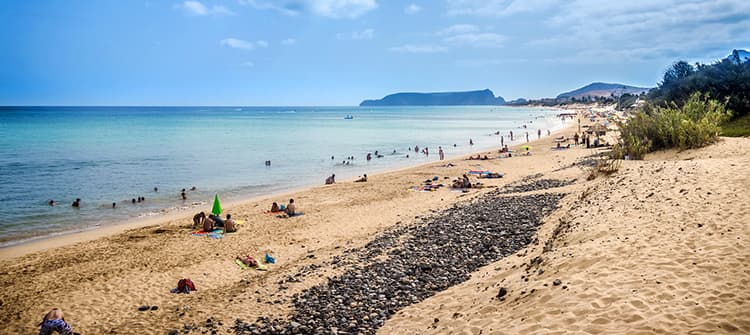 We also added the Island of Tavira ("Ilha de Tavira") as a bonus for its uniqueness. If you happen to come close to the Tavira region in the Algarve, consider visiting the island as it is one of the best places to see in Portugal. You will have to take the boat there but, when you get there you will be faced with a small fishing village and a campsite.
There is a small area full of bars and restaurants and then a huge stretch of white sand. If you go a little away from the touristic zone, you can enjoy blazing sun and bathing in crystal-clear waters with lots of fish.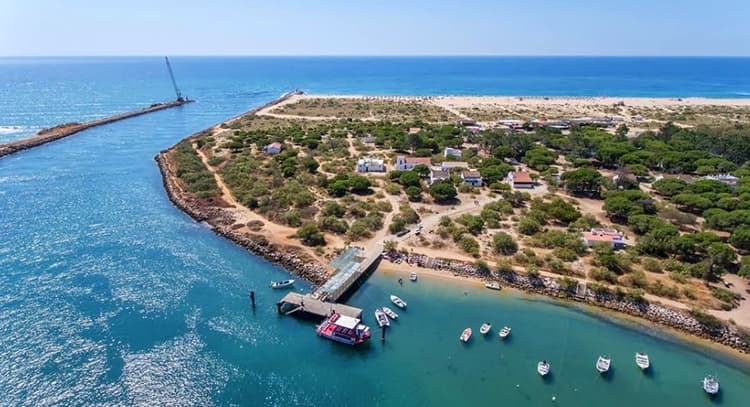 Did we convince you to go on a beach tour? Do you have any extra entries worth sharing? Feel free to leave a comment below.
We publish new content every day so be sure to subscribe to our newsletter to get notified of the latest tips for your visit or move to Portugal.

Disclaimer: Our posts might contain affiliate links, which means we earn advertising fees if you make a purchase. There's no extra cost to you, it just helps us keep the website going.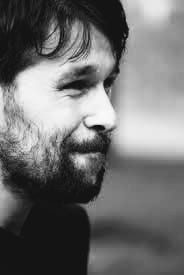 Jack Johnson
A man only has maybe two or three chances to decide to change his life completely. In one of those moments, I discovered Portugal and fell in love. Since then, I divide my time between Portugal and New Zealand searching for the perfect wave and scribbling for a living.