The Algarve beaches are some of the most beautiful in the world. From golden sands to pristine waters, there's a reason why the beaches of the Algarve are regularly voted to be Europe's best.
Even more appealing is the fact that this special region of southern Portugal has so much variety to offer.
Best Algarve beaches
In terms of both landscape and lifestyle, you can find it all in the Algarve.
Whether you're looking to hide out on a cosy cove beach, spread out across an enormous stretch that goes on for miles, strip down to your birthday suit, or suit up for surf, you'll find the perfect beach in the Algarve.
Here are a few of my favourite Algarve beaches and what makes them so unique.
Praia de Cabanas- For the nature lovers
This isn't the kind of beach you'll just stumble across, as you have to put in a little work to get there, but you're sure to be rewarded if you put in the effort.
Close to Tavira, located on Ilha de Cabanas, the beach is located across the river from Cabanas village on a spit of land with the river on one side and the sea on the other.
This blend of fresh and saltwater is always a guarantee for unique flora, fauna, and wildlife, so nature lovers are sure to be delighted with this discovery.
The beach is accessible by water taxi, which leaves regularly from the jetties in the town and costs just a few euros for a return trip.
Another bonus of this beach is that the water tends to be warmer than in other parts of the Algarve. The beach itself is extensive and boasts several bars where you can find refreshments, snacks, and ice cream.
There are lifeguards on duty and sunbeds for hire, making it a great place to spend a relaxing day with the family away from civilization.
Praia do Barril- Relax and discovery some Algarvian history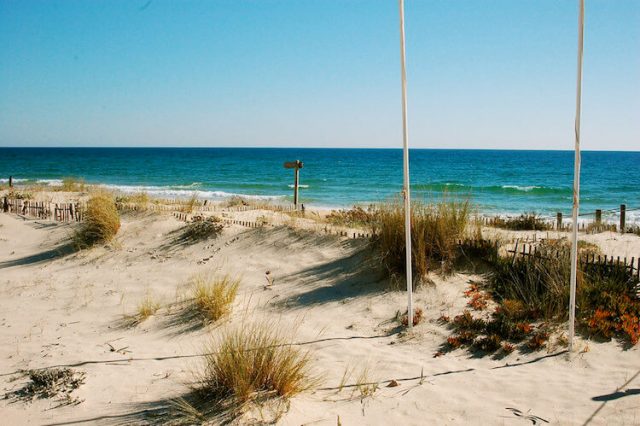 Located on the island of Tavira, at Praia do Barril you will find a blanket of silvery-white sand and transparent blue sea.
From Santa Luzia, you will cross a small bridge which leads to the place where you can take the mini train or enjoy walking the last scenic kilometre to the beach.
Either way, you'll get to enjoy a beautiful view of the island.
This beach is also an interesting place to discover a bit of history about the eastern Algarve.
The beach was once the location of a small tuna fishing community, and remnants of this bygone industry can still be found today. The most notable of which is the Cemitério das Âncoras (the Anchor Graveyard).
These rusting anchors, once used for fishing, are embedded into the nearby sand dunes, standing as a memorial to this former tuna fishing fleet.
Praia de Vale do Lobo- For a taste of the high life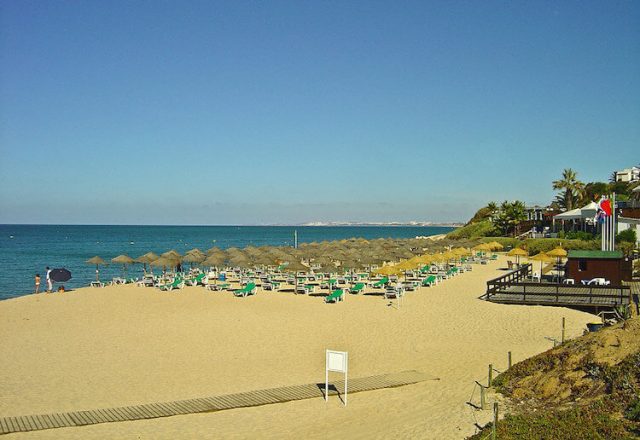 If you're looking to experience a little glitz and glamour while beaching in Algarve, a day spent at Praia de Vale do Lobo is sure to impress.
Located right in the heart of the so-called "Golden Triangle," this place is known as a playground for tv personalities, models, and even the occasional Hollywood A-lister.
You don't have to be rich or famous to visit this beautiful beach, but you would be well-advised to arrive early to get a good spot for people-watching.
The beach also offers several acclaimed restaurants, including the local favourite, Sandbanks, where you'll be sure to enjoy a glamorous seaside meal.
Praia do Vale de Centeanes- Snorkelling adventures await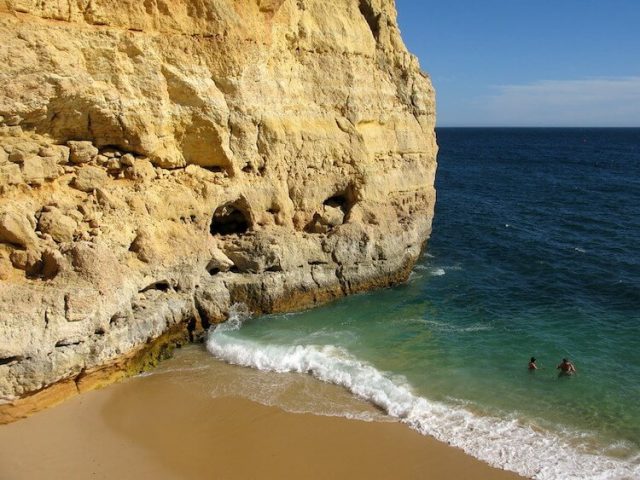 This stunning beach is surrounded by a single imposing cliff that dramatically enters the water.
The crystal-clear sea is so transparent that one you see to the bottom of it even when standing on the golden sands.
About 4 kilometres away from the centre of Carvoeiro, this relatively small beach is a great place to bring your snorkelling equipment for a day of fun and exploration. There are bars and restaurants in the area and a nice wooden pathway leading down the beach.
You'll also find showers, toilets, and a lifeguard on duty, making it one of the best beaches in the Algarve for families.
Praia Grande- For calm waters and live music vibes
This idyllic beach in central Algarve is located between Carvoeiro and Portimão. The beach borders both the Atlantic and the River Arade, guaranteeing gentle waves and calm waters all year round.
The shielded waters also make this beach perfect for nervous swimmers and children. There is also a large part of the beach that features rocks to climb on and views of a historic fort.
Further down, there is another area with a dedicated sports pitch and even a small play park on the sand for younger children. During the summer months, this beach takes on a second life as a popular destination for live music shows.
Praia da Arrifana- Welcome to surfers' paradise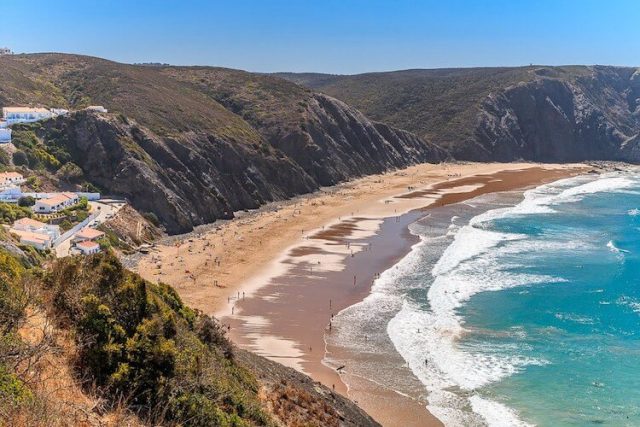 If your idea of a beach day well spent involved waves and surfboards, the Algarve has also got you covered. Although Praia de Arrifana is also a great place to get a tan or build a sandcastle, what it is really known for is surfing.
Located along the western coast, the beach gets to feel the full force of the Atlantic. Not great for swimming, but exceptional for surfing.
With lifeguards on duty during the summer months, this is a great place to visit to sign up for your first lessons or rent the equipment you need to start catching some waves.
If surfing is not really your cup of tea, you can still enjoy the great water quality and the dramatic cliffs that surround this gorgeous beach.
Discover more about Portugal when you subscribe to our newsletter.
Praia de Tavira (Praia do Homem Nu)- If you want to let it all hang out
If you're looking for a place to go au naturel in the eastern Algarve, then look no further than Praia do Homem Nu. One of five nudist beaches in Portugal, here you don't have to worry about remembering to bring along your swimsuit.
Of course, you're absolutely allowed to keep your clothes on but don't be surprised if many of those around you choose not to.
This beach also has a large campsite and numerous bars and restaurants.
To reach this little oasis, you can take a ferry or taxi boat from Cais das Quatro Águas. To get there, you simply follow Estrada das 4 Águas until the end.
As well as being a beach for those who like to strip down, the beach is also home to many chameleons and other wildlife.
Praia de Odeceixe- Experience nature, untouched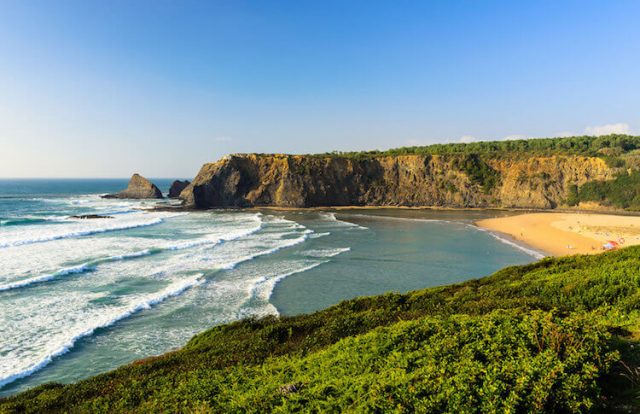 Continually ranked among the most beautiful beaches in Portugal, Praia de Odeceixe offers extensive sand and virtually no signs of building or construction nearby.
Appearing virtually untouched by Man, this unique beach also boasts the particularity of containing a river beach.
Delimited to the northeast by Ribeira de Seixe, here you can cool off in a river or the ocean, depending on your mood.
Just follow the signs in Odeceixe to Praia de Odeceixe, head down the wooden walkway and stairs, and you'll find yourself in this little slice of heaven.
Water Temperature
The first time you dive into the Atlantic Ocean in Portugal, you might be met with a bit of a surprise. The Portuguese coasts are rather cold compared to those of the Mediterranean Sea and a period of mental and physical preparation is necessary to enjoy a swim in these cooler waters.
That being said, the Algarve is where some of the warmest swimming opportunities can be found.
You shouldn't expect to be comfortable wading for hours on a cloudy day, but the warmer waters of the south definitely offer some relief from the heat when the sun is out and the chance for a relaxing swim.
Should you go to an Algarve beach?
All in all, the Algarve beaches have plenty to offer no matter what kind of beach vacation you're looking for. Throw in the addition of bountiful fresh seafood, super friendly locals and you really can't go wrong.
Just don't forget your sunblock!

Disclaimer: Our posts might contain affiliate links, which means we earn advertising fees if you make a purchase. There's no extra cost to you, it just helps us keep the website going.

Megan Flottorp
I'm a Lisbon-based writer who loves talking culture, travel, and women's sports. Born in Canada, I completed an MA in Humanities in Prague and a Journalism Diploma in Montreal. I'm always on the hunt for surprising stories and new ways to #resistapathy.